THE MODERN MINT BLOG
Modern Mint Reaches 300 Blog Posts!
Less than 3 years since we started blogging at Modern Mint, we have reached our 300th blog post today, with this one! 300!
It has been a monumental effort by a few different people (Darren, quite a lot, Chloe, a fair bit, then some other fantastic garden writers too…)
There have been some amazing and incredibly useful posts along the way. Some awful ones too (hands up again Darren!) But it goes without saying that you need to throw yourself out there and do it, in order to find your voice.
And after 300 blog posts we think Modern Mint really has got its voice.
The First Blog at Modern Mint was a short little number. We started our days as a garden design outfit here in Chelmsford, Essex and that is reflected in the blog. The website was 5 pages wide. These pages consisted of:
homepage
about page
contact page
blog
portfolio
The Modern Mint green was a lighter shade, rather than the little olive number we have now. Even the logo had a different tag line…
The second stage of the Modern Mint blog was a call to arms for gardeners. We wrote extensively about best gardening practise and interviewed lots of wonderful people in the horticultural industry, who spoke passionately and with great clarity on their specialist subjects.
For example, we wondered where the herbicide loving gardeners had gone? John Walker told us about earth friendly gardening. Flower grower Carole Patilla shared her thoughts on growing flowers. And we met a cycling gardener from Liverpool who inspired us immensely with his new business.
Our most popular blog of this time, one still linked to often and helping people get out and garden is this one…
We also ran several projects at the Chelsea Fringe, one year curating an ebook of 100 word essays on gardening, by gardeners. You can read 'Contemporary Green' here, for FREE.
The third stage of the Modern Mint blog is when we really came into our own. We updated the website, taking out the portfolio and turning it into a full-time shop – because that is what you wanted from us!
We kept being asked what we thought the best tools were for use in the garden, or the best garden furniture or if this product could really be of use…. or did we have anything to give a difficult family member at Christmas, as a gift?
We knew from the queries that we were curating some remarkable products that people would appreciate. Rooting them in the garden, or the natural world, or giving them an air of the earth friendly (check out this brilliant book, for example!) helped us forge our identity as an online shop with a grand following.
"Thank you for sending me my lovely Nunki a few weeks ago. I loved the kind and simple way it was packed – with bits of wool. I have recommended your site to another friend who will be buying a Nunki from you very soon."

A satisfied customer, recently… who then bought our last Nunki weeder. We hope to have some back in stock soon…! Keep checking back!
The Modern Mint blog now tells you about why we have certain products on here. Why we use them. How you can get the best from them.
That really is where we are at – Modern Mint at 300 – an online (and Christmas Fairs) shop with a love of the natural.
Do check out the rest of the blog – we have been 300 posts in getting here!
November 2 nd 2016
Feb22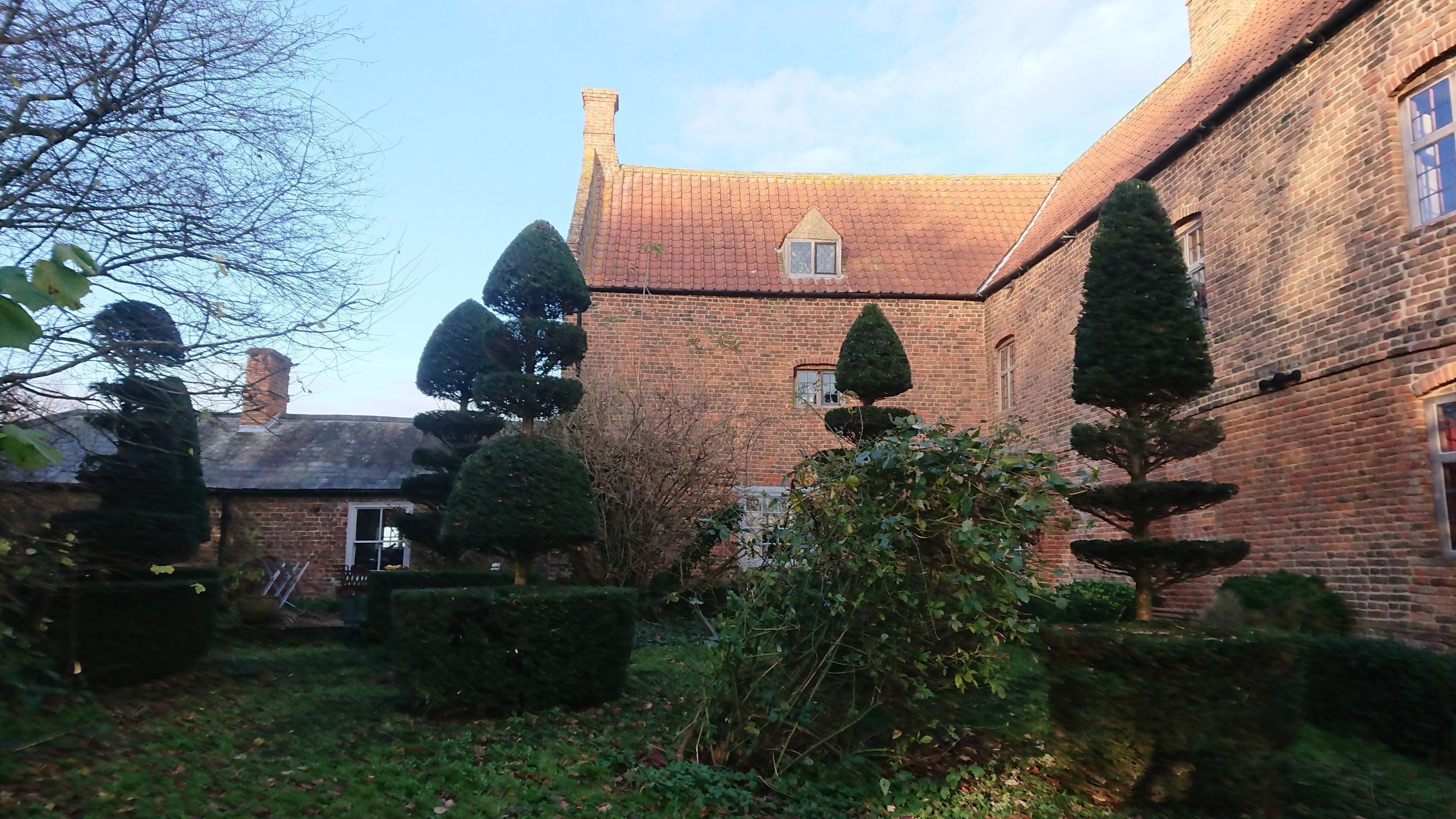 Guanock House needs a trainee topiary artist! Some of you may know it as the first home and garden of designer Arne Maynard, but is now owned and maintained by Michael Coleman and his wife Michelle. They offer meditation workshops and retreats there and it is as beautiful a house and garden as you could wish to visit. They called me in last Autumn to help shape up some of the topiary as it was all getting out of hand, but what it really needs is someone with a steady hand and lots of patience to take over the clipping …
Feb09
Here are some photos of work I have been doing at the garden of Charlotte Molesworth in Kent. Snow and ice brings out the depth of the different planes and angles carved into the boxwood. A garden has to look beautiful in winter – and topiary (green architecture)  helps do that! For more topiary pictures, click here.
Feb05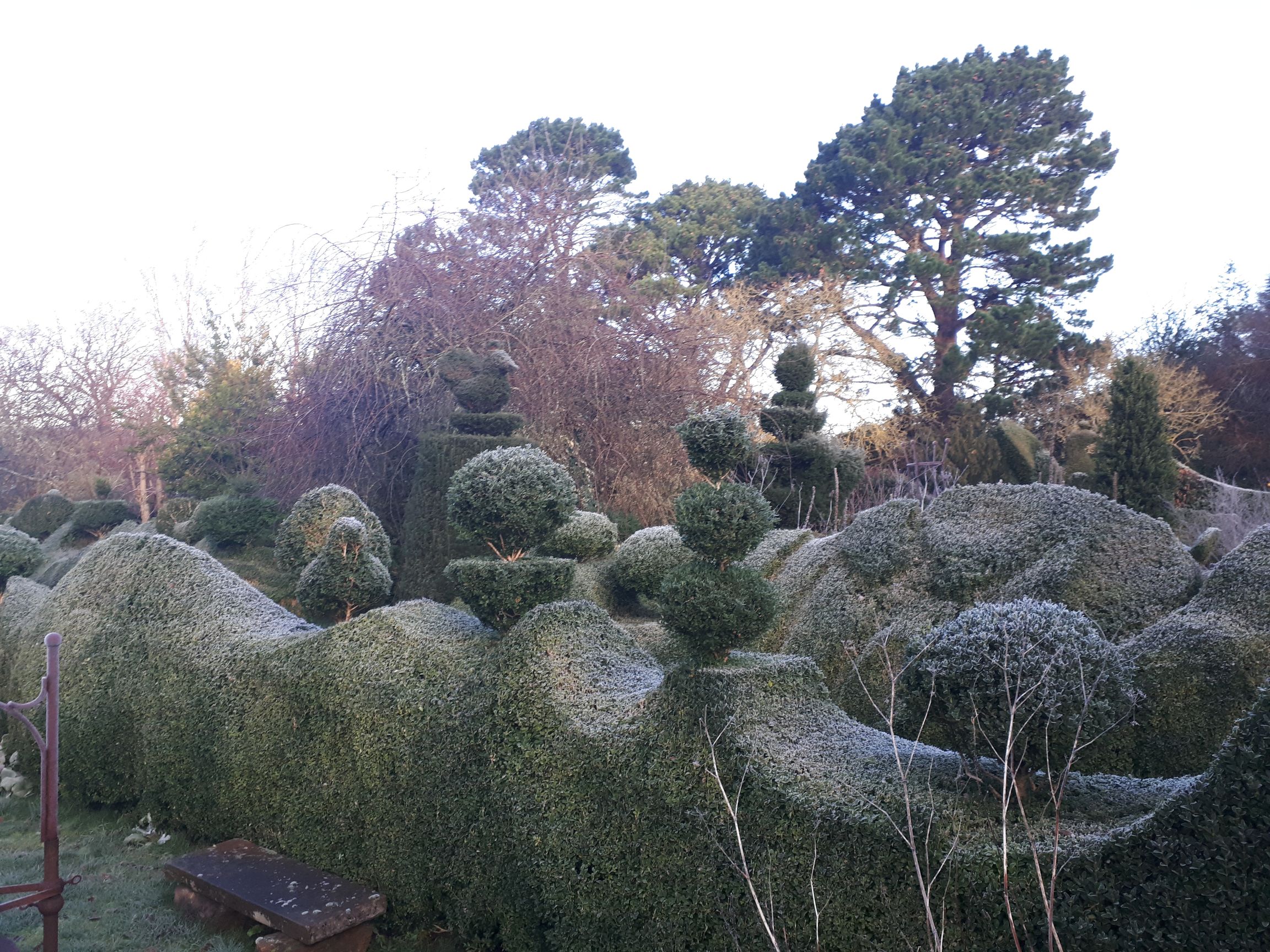 How To Use Topiary In The Garden is my new talk, which I first gave last year via Zoom for the European Boxwood And Topiary Society. Returning to Zoom again, there are two dates available to see and hear the talk: March 16th – Book your ticket here April 6th – Book your ticket here The talk is great fun, perfect for keen gardeners or people who want to know how to improve their garden with hedges and architectural plants. How To Use Topiary In The Garden looks at how to move away from the idea topiary is twee or old-fashioned, …