THE MODERN MINT BLOG
We recently read a wonderful essay by comedian Stewart Lee, who tried to answer the question 'Where have all the right wing comedians gone?' A fantastic question, and one that has inspired us to ask something similar – where have all the herbicide loving gardeners gone?
(For those of you interested in finding out where all the right wing comedians are, Stewart Lee comes to the conclusion you cannot be a clown, a fool, without being at the bottom of the societal rung. How can you show the foibles of the worker if you are the Boss? You can't, because when those in authority begin making fun of those lower than themselves, it becomes an act of arrogance and a misuse of power. As a comic, you can only ever be 'punching upwards.' He concludes that you can be a right wing newspaper columnist with a few aggrandised comedic turns of phrase – think Jeremy Clarkson and Richard Littlejohn – but by putting their thoughts into print media they distance themselves from any sense of shame. You cannot be stood in front of people, in the heart of the fire, telling them how victorious you are. Because comedy doesn't work without the tragedy.)
Read 'Where Are All The Right Wing Stand-ups?'
Herbicide Haters
Monty Don is a fully paid up organic gardener. I have never heard Lia Leendertz speak about using poisons on her allotment. John Walker, Val Bourne and Bob Flowerdew are beacons of light for organic gardening.
Herbicide Lovers
The most important figure in the garden media without a blanket ban on toxins in the garden is the RHS. Here is their policy:
The RHS believes that avoiding pests and diseases by good practice in cultivation methods, cultivar selection, garden hygiene and encouraging or introducing natural enemies, should be the first line of control. However, garden chemicals can be effective tools if used correctly and in a discriminating way when other methods fail.
It would be interesting to see them put a ban on all herbicides and garden chemicals. Having to use imagination and skill to tackle problems in the garden without recourse to poisons might be just the limit needed to get gardeners thinking and innovating. Or at the very least, we might start judging plants and insects and whether they are in the right or wrong place with a little more empathy. The other herbicide loving gardener is the retail outlets who sell the products. The garden centres, the hardware shops, even the supermarkets…
Very happy that all plants sold @waitrose are free of #neonicotinoids 🙂 Very sad #neonics still sold separately 🙁 pic.twitter.com/iBOMbK1Sur

— Judith Conroy (@JCGardener) May 15, 2015
You won't see any  herbicide on the shelves at Modern Mint. Having now discovered most retail outlets and the RHS don't have a ban on using herbicides, where else in the garden media is there to look for a fight? The monster, it tuns out, is much more difficult to beat.
Gardeners Who Use Herbicides
"I had to use glyphosphate when I first started clearing my plot- I had no choice."
"I do not like to use glyphosate either but I could not garden if I did not take drastic action."
"Glyphosate is regarded as "safe" and I think it prob is when used with care." (See this article – Glyphosate is probably carcinogenic.)
"I don't like using glyphosate either so save it for situations where nothing else will (be the) answer."
"Many people on my allotment site are very anti any weed killer, and generally I am too…. When not overrun by bindweed."
You can find these statements on gardening forums on the internet. We think it is shocking that people have an understanding of the anti-herbicide cultural zeitgeist, yet still they convince themselves it is fine to use them when they think no other options are available.
That is when you get the statement "I know this is wrong, but…"
We think more than a gardening education is needed. A course on dealing with bindweed, nettles, couch grass et al will give people the necessary tools to get rid of them from the garden. But what good is this technical skill if the spiritual and emotional viewpoint is undernourished – the understanding that time and patience in the garden is a virtue, and that all the animal and vegetable matter within it needs to be treated with respect and care?
It is this type of garden education, to run alongside the learning of plant names and techniques for dealing with weeds, that is needed.
Only then, when we have a nation of gardeners who say, "I know this is wrong, so I won't do it…" that we will have to work really hard to discover where all the herbicide loving gardeners have gone.
November 3 rd 2015
Sep29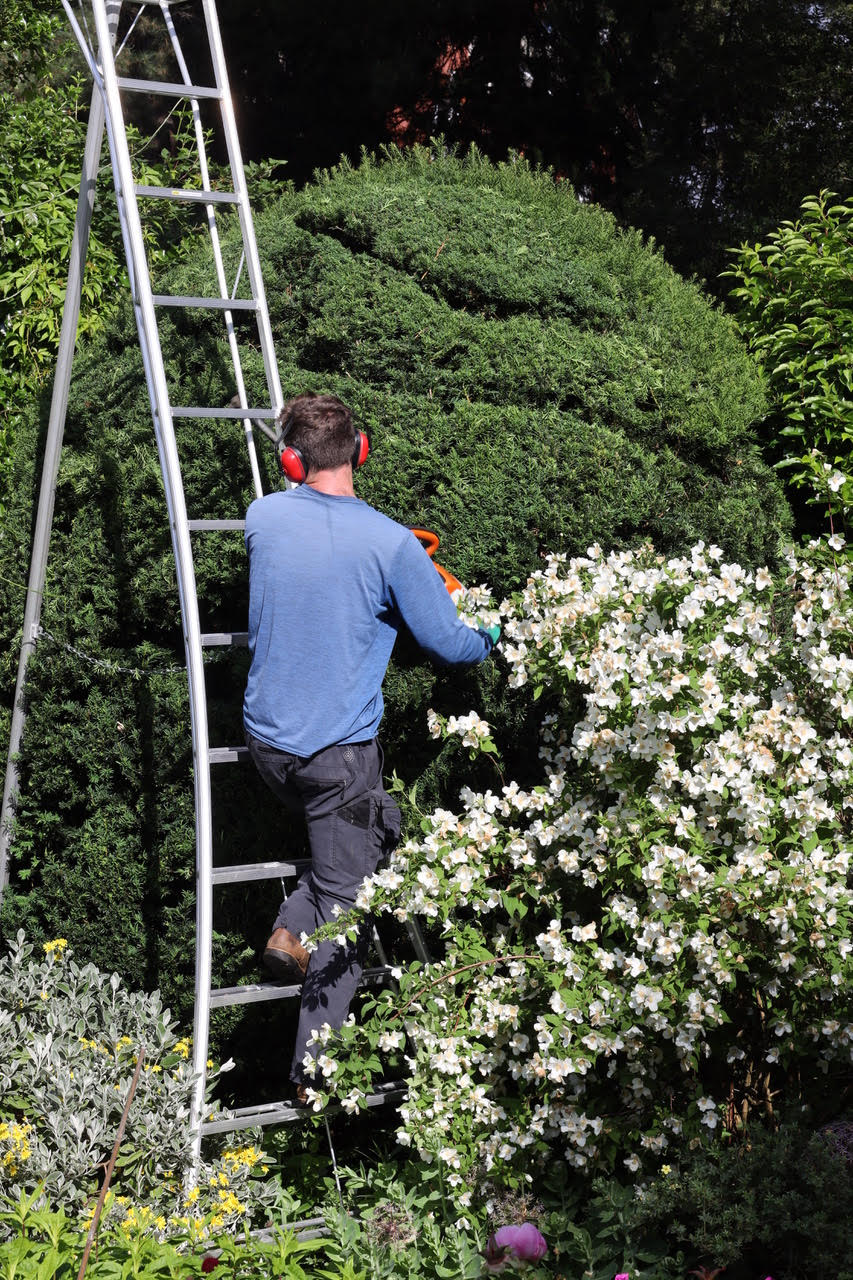 Making a new topiary out of the large, dull facade of a Taxus blob… My work was to change it up from a 'jelly drop' shape and give it texture, open it out and let the light through, and make it a sculptural feature in the background of the garden in summer… yet a major part of the garden in winter. A few more years before it becomes something special, but there was far more leaf and growth inside the plant than I thought and so it will not take too long for it to gain in character and become …
Sep27
Two weeks ago I was invited to teach topiary at the garden of Griselda Kerr, the author of The Apprehensive Gardener. I love teaching and sharing skills, but I was placed on the spot in the afternoon and asked to show how I would make a new topiary from an existing shrub. So below is a speeded-up video of me creating a cloud-pruned topiary from an old boxwood tree. I particularly love the ending when the class get involved….! See the video here. One hour was all it took, and though it needed a little tidying-up, it was made by …
Sep27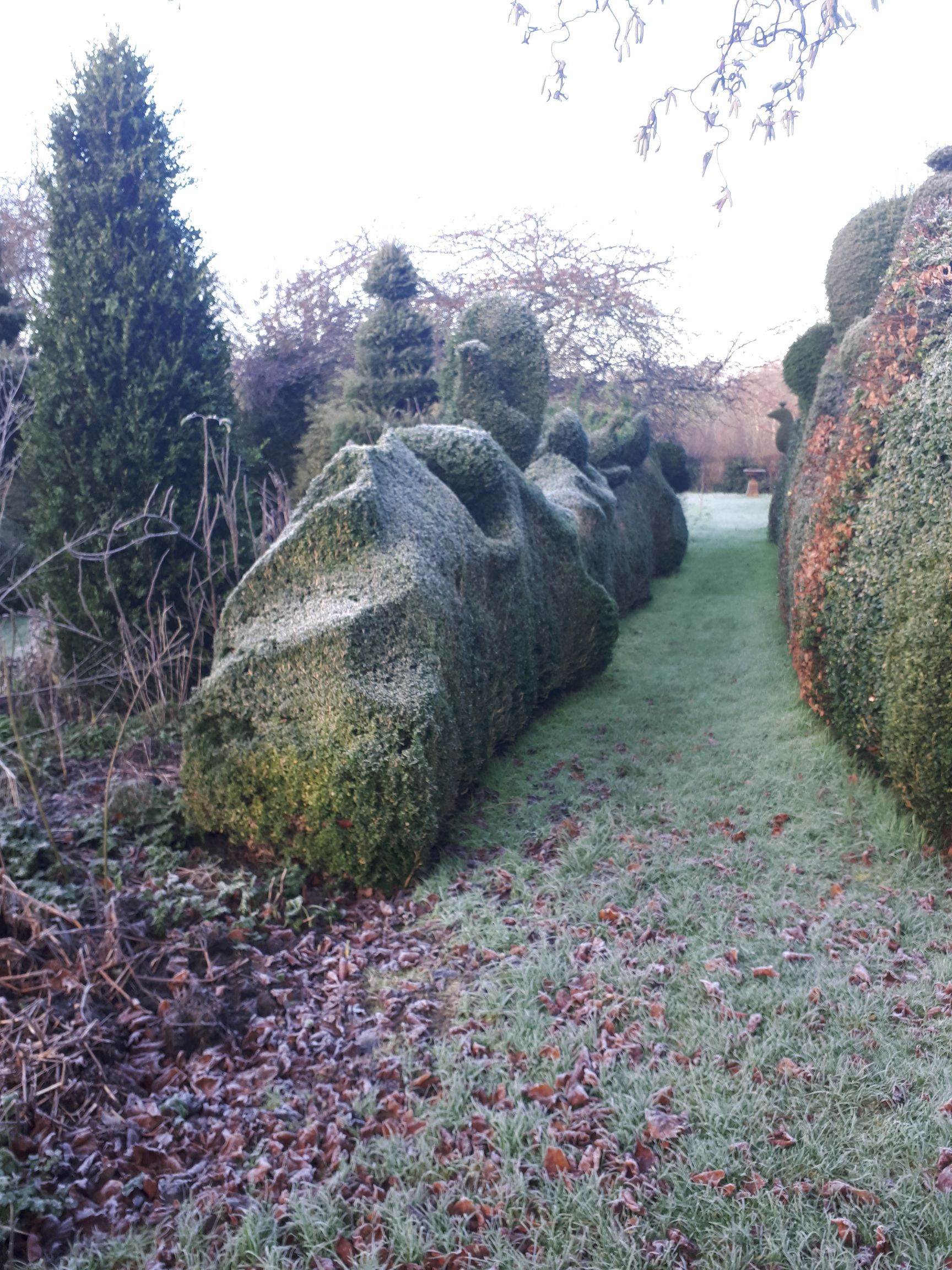 Charlotte Molesworth, my topiary mentor, and I are running our popular topiary workshop again in 2022. You can email me for details – or go here for information, your ticket and to find out about dates. Book A Spot On A Topiary Workshop, September 2022