THE MODERN MINT BLOG
Now we get to the heart of Dan Pearson's plant recommendations… and he offers far more perennials than another designer we have written of…
(Do also check out this review of his excellent book 'Spirit'.)
Perennials
Acanthus mollis latifolius group 'Rue Ledan'
Actaea cordifolia
Anemone x Hybrida 'Honorine Jobert'
Angelica edulis
Aralia cordata
Baptisia Alba var. Macrophylla
Brunnera macrophylla 'Betty Bowring'
Bupleurum longifolium 'Bronze Beauty'
Cephalaria dipsacoides
Ceratostigma plumbaginoides
Dierama pulcherrimum 'Blackbird'
Digitalis ferruginea
Disporum longistylum 'Night Heron'
Epimedium wushanense 'caramel'
Erigeron karvinskianus
Eryngium agavifolium
Eryngium ebracteatum
Ferula tingitana 'Cedric Morris'
Foeniculum vulgare 'Purpureum'
Gaura lindheimeri
Geranium 'Tiny Monster'
Gillenia trifoliata
Glycyrrhiza yunnanensis
Helleborus x Hybridus Ashwood Hybrids
Hemerocallis 'Stafford'
Inula magnifica 'Sonnenstrahl'
Iris lazica
Lathyrus vernus 'Gracilis'
Molopospermum peloponnesiacum
Paeonia lactiflora 'White Wings'
Persicaria amplexicaulis 'Alba'
Persicaria virginiana var. filiformis
Rudbeckia laciniata 'Herbstsonne'
Salvia nemerosa 'Caradonna'
Salvia uliginosa 'Ballon Azul'
Sanguisorba 'Cangshan Cranberry'
Sedum 'Jose Aubergine'
Selinum wallichianum
Thalictrum 'Elin'
Verbena macdougalii 'Lavender Spires' (this plant is difficult to find, at least at the time of writing. But very popular, so we are trying to source it for our shop. We also wrote here about Verbena bonariensis…)
Recommended Reading:
Spirit: Garden Inspiration
Home Ground: Sanctuary in the City
The Well-tended Perennial Garden: Planting and Pruning Techniques
Perennial Garden Plants or the Modern Florilegium
May 26 th 2014
Sep21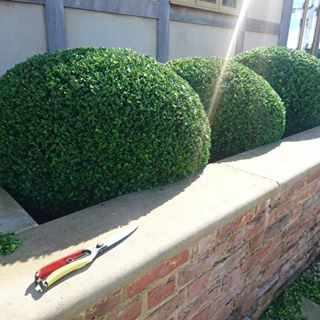 I was asked by the European Boxwood & Topiary Society to help out with answering a common question – How to sharpen your shears? So we spent a fun day making a video, that hopefully will help you make sure you have sharp, shiny blades to do your topiary pruning with. And you can find here more examples of the topiary I make with my sharp blades.
Aug16
You can get a ticket for this new talk I'm giving at the European Boxwood And Topiary Society here – TALK TICKETS It is on the 25th August at 6pm. It should be great fun and I'm very excited to be sharing some recent thoughts about topiary with people – and how it might work in a modern garden.
Jun14
If you have a subscription, you can check out an article about bespoke ideas for your garden in the Telegraph. There are some great crafts people there, so check it out. Click Here To See The Article About my Topiary Work In The Telegraph