THE MODERN MINT BLOG
The problem with whispering is not that you won't be heard. The problem is what the listener might hear.
If you have heard about Modern Mint – that we are a design and landscape company working in Essex and London – then you have heard right.
If you have heard we learnt our trade working on large estates in Hampshire and Berkshire, before closing down and moving to live in East Anglia, bringing our brand of vibrant, modern gardens with us… then you have heard right again.
But if you heard we make gardens that are lacklustre, boring and hard to maintain…you've been misled. The listener misheard the whisper.
This is our whispered launch then… Modern Mint has arrived in East Anglia, and we want to make great gardens.
Did you hear that right?
January 7 th 2014
Sep21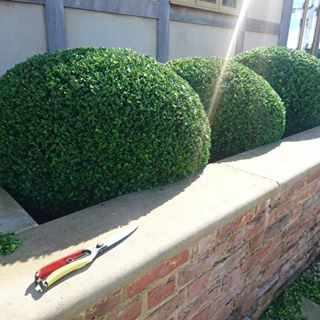 I was asked by the European Boxwood & Topiary Society to help out with answering a common question – How to sharpen your shears? So we spent a fun day making a video, that hopefully will help you make sure you have sharp, shiny blades to do your topiary pruning with. And you can find here more examples of the topiary I make with my sharp blades.
Aug16
You can get a ticket for this new talk I'm giving at the European Boxwood And Topiary Society here – TALK TICKETS It is on the 25th August at 6pm. It should be great fun and I'm very excited to be sharing some recent thoughts about topiary with people – and how it might work in a modern garden.
Jun14
If you have a subscription, you can check out an article about bespoke ideas for your garden in the Telegraph. There are some great crafts people there, so check it out. Click Here To See The Article About my Topiary Work In The Telegraph