THE MODERN MINT BLOG
This video is of Monty Don talking to the late garden designer James Van Sweden.
He was known, in partnership with Wolfgang Oehme, to have created the 'New American Garden' style – think tall grasses, great swathes of perennials and a wilder, more natural look.
Pretty much the opposite of how we think of American gardens, with their tightly mowed lawns that are weedkilled, fed and watered all summer long.
"Don't put in three, put in 300… you have to think big. Think huge leaves, enormous grasses and flowers big as dinner plates. The worst thing you can do is be ditsy."
We agree wholeheartedly with James Van Sweden's philosophy here. Make a choice, be bold, go for it – that is the best action we can take in the garden. But what effect does that have on the landscape? We quote from a book by Christopher Bradley-Hole…
"They have established a unique and memorable formula which involves a strong underlying plan, overplanted in the most striking style.
The results resemble huge 20th century paintings set within a gigantic gallery. Within the compositions there are complexities and subtleties, but it is assured and generous drifts of plants that set this scheme apart… a look which is more akin to an intimate, self-seeded, meadow-inspired composition…
… hard landscape materials are kept simple; stone or wood are laid without complication but with repetition and in rhythms that borrow from the adjoining fields."
As you can see in the video above, it is beautiful. Also incredibly easy to care for – cut or strim everything in early spring (say, late February?) and then allow plants to fulfill their roles throughout the rest of the year. Seedheads can be left on the plant. Grasses can sway in the breeze. The flowers can come and go as they please, without the gardener demanding they do more than they naturally want to.
This is a beautiful way of gardening (and far easier on the back…!)
Of his work on Oprah Winfrey's garden, James Van Sweden said, "… we worked together to create an architectural context around the house, including newly installed terraces and walls. The materials we selected, brick framed with limestone, echoed the house, yet this architecture also conformed to the surrounding countryside, adopting its long, horizontal lines. In this way, we quite literally pulled the house out into the site."
The architectural set against the natural, the soft, tells a story of what gardens could be like. A relationship of strength between the man-made and the unrestrained. It is a style of gardening we are veering more towards – we have spoken before about our dream garden, but everyday that dream garden morphs, defines itself in a different way.
Everytime we see the work of great designers we allow our dreams to become more and more asinine, yet more and more alluring.
To designers like James Van Sweden, who inspire us and the gardens we create!
Read part 2 about James Van Sweden.
(Check out some of his books here…)
July 1 st 2014
Feb22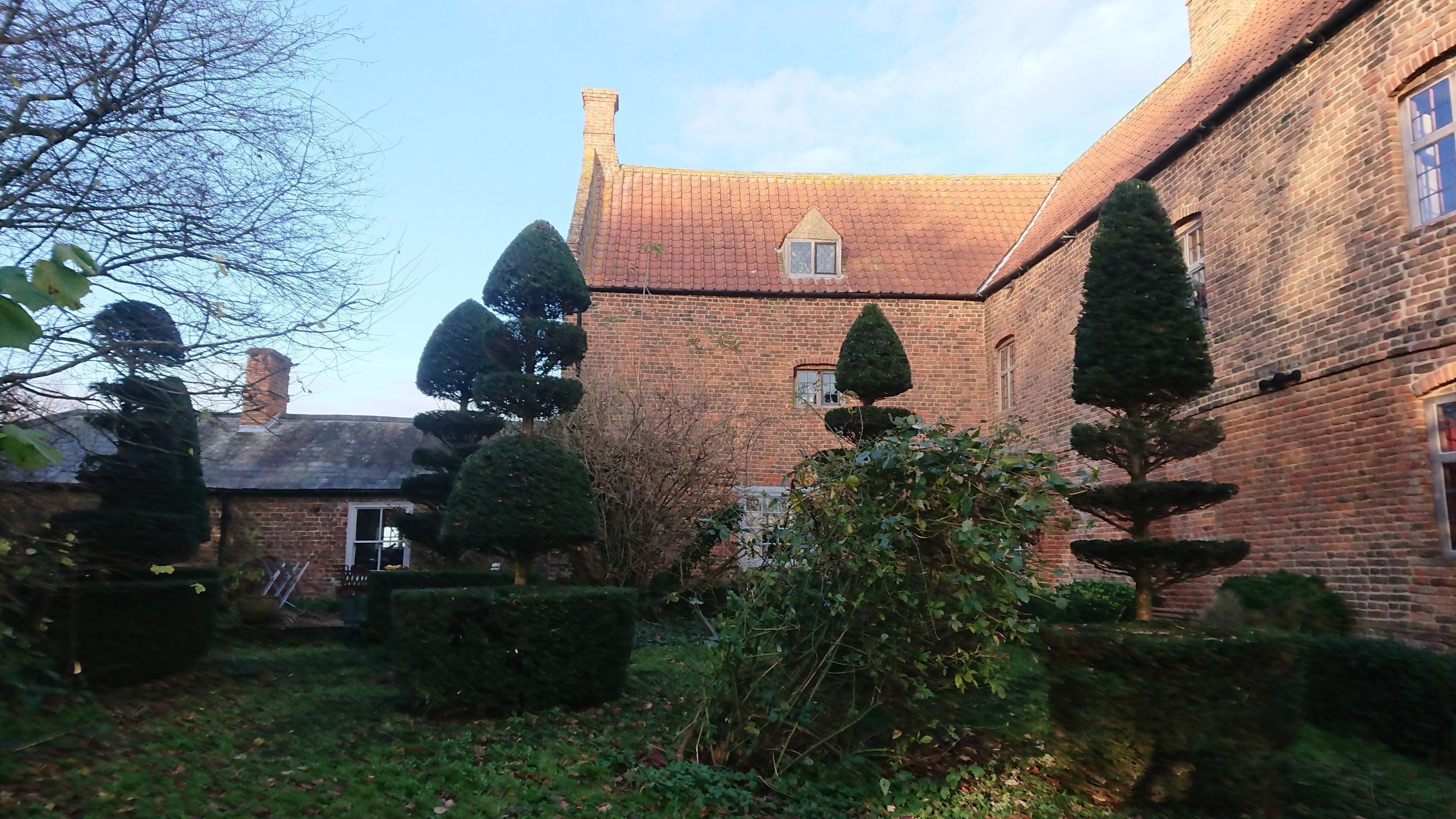 Guanock House needs a trainee topiary artist! Some of you may know it as the first home and garden of designer Arne Maynard, but is now owned and maintained by Michael Coleman and his wife Michelle. They offer meditation workshops and retreats there and it is as beautiful a house and garden as you could wish to visit. They called me in last Autumn to help shape up some of the topiary as it was all getting out of hand, but what it really needs is someone with a steady hand and lots of patience to take over the clipping …
Feb09
Here are some photos of work I have been doing at the garden of Charlotte Molesworth in Kent. Snow and ice brings out the depth of the different planes and angles carved into the boxwood. A garden has to look beautiful in winter – and topiary (green architecture)  helps do that! For more topiary pictures, click here.
Feb05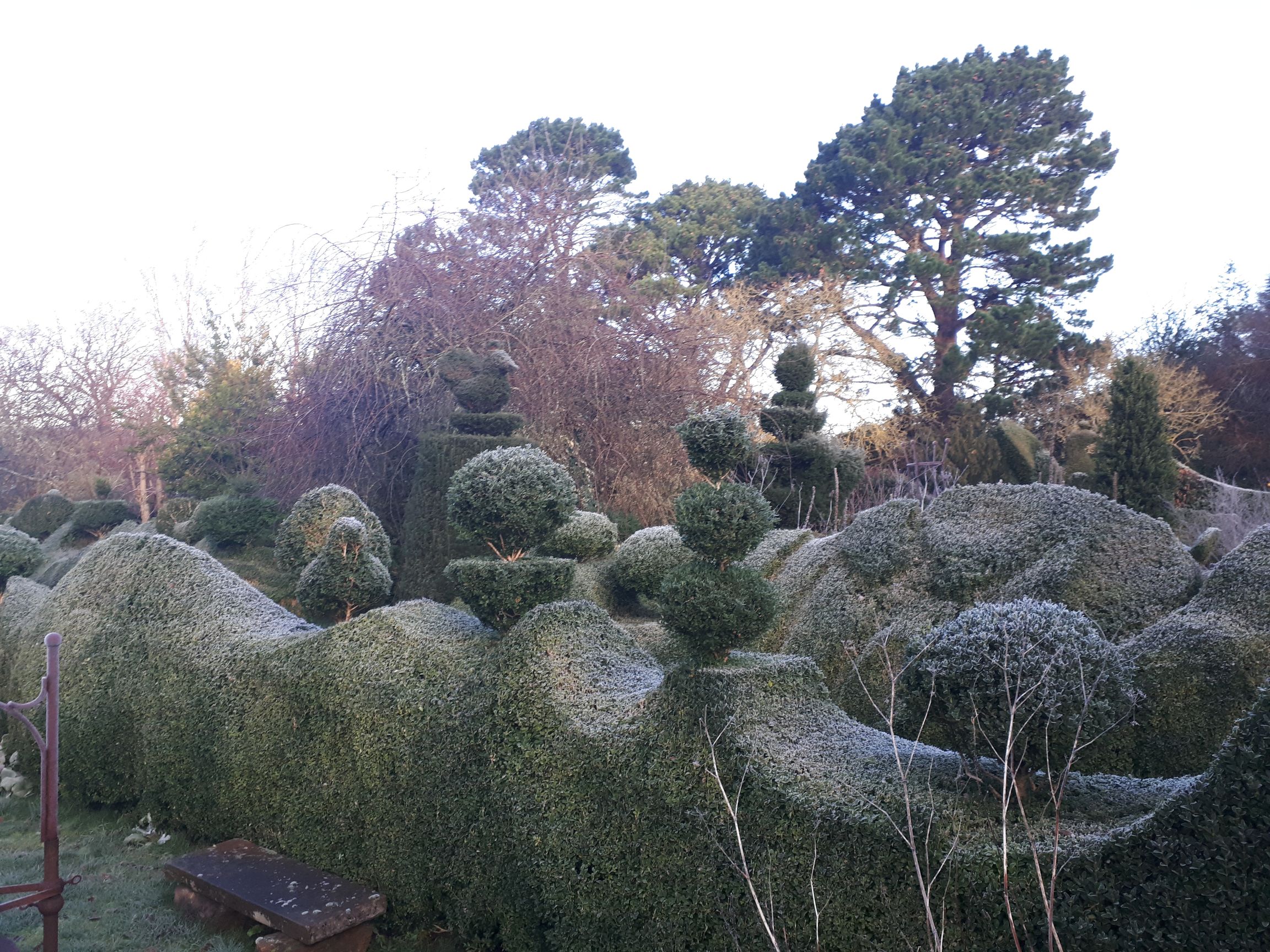 How To Use Topiary In The Garden is my new talk, which I first gave last year via Zoom for the European Boxwood And Topiary Society. Returning to Zoom again, there are two dates available to see and hear the talk: March 16th – Book your ticket here April 6th – Book your ticket here The talk is great fun, perfect for keen gardeners or people who want to know how to improve their garden with hedges and architectural plants. How To Use Topiary In The Garden looks at how to move away from the idea topiary is twee or old-fashioned, …