THE MODERN MINT BLOG
'Around the World in 80 Gardens' is a television series and book by Monty Don. He does exactly what the title says – travels all over the globe visiting remarkable gardens. Some he walks away from bouncing with excitement, others he is disappointed with, but never once do you feel he hasn't appreciated the chance to see a new garden or left having not learnt something.
It is a book we have come back to again and again, each short chapter giving enough information about a garden philosophy and its maker to inspire our spirit of imagination – like this quote from Strilli Oppenheimer, "where's the colour? That is the antithesis of the way that I feel comfortable in nature. I could quite easily – and find it exciting – do nothing at all with a garden and just watch it become totally wild again and meet its climax, then find another rhythm…  There is a wholelife force that happens when you start relating with nature."
How wonderful is that?! It brings up all sorts of questions about the way we garden, what we find beautiful, what our starting point is and what levers we pull to set off in the direction we want to go… the book has many of these nuggets, just a few sentences hidden away in every other chapter… here is what James Van Sweden said…
"I wanted the house to be floating in a meadow… so all the grasses used in the garden are native and the garden is based around grasses."
Monty Don then goes on to explain what he sees…
"There are no edges. It all merges out into the landscape… it has great confidence in that it appears natural and effortless…
… despite the apparent nauralness, I realised that he has used a wide and extensive range of plants to create the artless effect.
It was as though he had taken the idea of a flower border, shaken it up and set it down with all the pretension and preciousness taken from it."
The mind boggles at what that looks like, the joy you would feel trying to create something like that.
We were drawn most of all to his meetings with designers in their own home – Fernando Caruncho, Juan Grimm, Jacques Wirtz – although his trips to Brazil and Cuba were fascinating too. Brazil for the way the term 'garden' had no meaning whatsoever in the Amazon (it is just the rainforest, here, right by where we live) and Cuba for the systems it uses (all organic) to grow food.
Then, of course, Monty had the experience of being on his own to enjoy the garden at Ryoan-ji…
We highly recommend that experience to anyone!
What comes out again and again in the book is that context is everything. That bunch of rocks over there? It is a garden, if you are in Kyoto and stood in the rain. That Plumbago, isn't that a houseplant…? No! Of course not! These are lovely moments, when your own… it's not ignorance… it is… it's a conditioning towards your own surroundings, that blinds you to the obvious… and so when you are removed from your 'habitat' you end up feeling surprised. Surprised that the rest of the world gets right along without you putting any thought into it.
Much like what happens in the garden when you don't have time to 'work' on it…
Speaking about the gardens he enjoyed most, Monty Don said, "Most of my favourites are modern, break the mould and are strongly architectural. I found myself, not bored, but less inspired by plantsmen's gardens…"
Then he got onto the subject of native plants…
"Elsewhere in the world indigenous plants play a key part in establishing national identity. In Chile, Brazil, South Africa, China and India I saw gardens designed to celebrate the local cultural heritage. The British don't do that because plant-collecting was a way in which we demonstrated our domination of other countries and displayed our new-found wealth… we have an incredibly rich and fascinating plant heritage which we downplay, so I am planting oak, ash, hawthorn, yew, aspen and alder, as well as primroses, violets, roses. What I want is a garden that is less of a display and more integrated into the landscape…"
(If you want to grow some of our own native plants, try starting with these native trees…)
It is thoughts like that, ideas like that, which make us keep coming back to this book. For the small gems of ideas that can be found when traced across the globe…
Click on the image to buy the book now!
Or find the DVD of the whole series here…
June 19 th 2014
Jun10
Brought By Bike is an excellent website I found last month, where businesses offer their services by (of course) bicycle. Modern Mint and my topiary work is now live on the site offering my topiary services, via bike, to the following two postcodes – CM1 CM2 Now I can imagine I will need to borrow a ladder should anyone have a larger shrub, but most town gardens in the Chelmsford area have a need not just for privacy but to let light into the house… so a balance must be struck when shaping hedges and shrubs to cover both needs. …
May10
Transforming Topiary – a video made for the European Boxwood And Topiary Society by Charlotte Molesworth and I, in her garden. We take a dog topiary and work out how to update it, turning it into a bird. Worth a watch I think, and hopefully useful to you! You can see more of my clipping on the topiary page. Or read my Spring 2021 Topiary Provocation here.
Apr28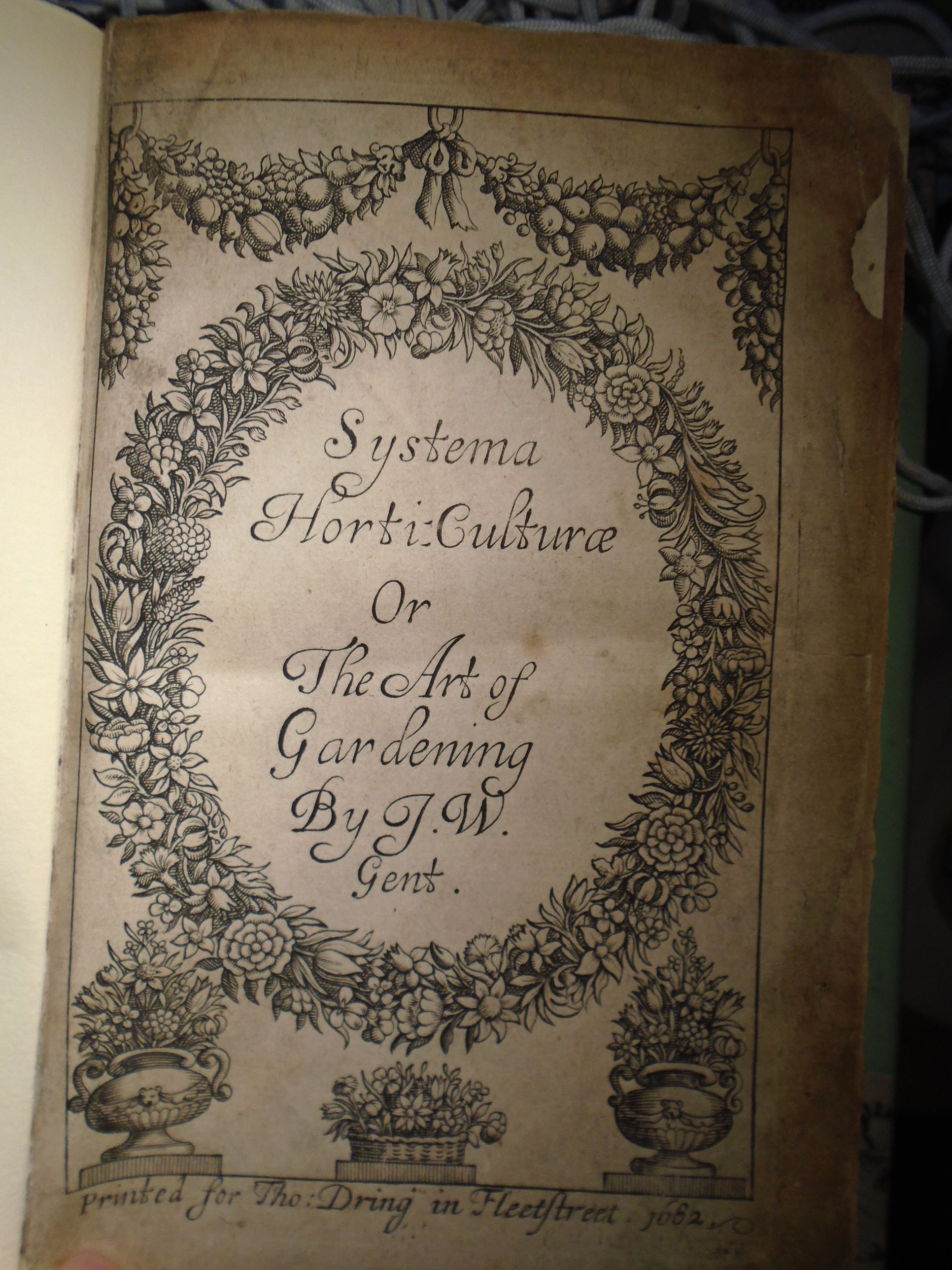 Phillyrea is one of my favourite plants for topiary. I have been using it for quite a few years as a specimen shrub, mostly due to the fact it clips well and has a tough habit – all good characteristics for a topiary plant. It also has a  reputation for being an excellent nectar source for bees… Read more about Phillyrea here. Mentioning this to Malcolm Thicke, a market garden historian and writer, he sent me a some photos of topiary and phillyrea mentioned by John Worlidge in Systema Horticulturae from 1682…. incredible! He also mentioned to me that in …