THE MODERN MINT BLOG
My Garden is the title of the final chapter in Russell Page's 'The Education of a Gardener'…
In it he lays out the garden he dreams of one day having…
"The mood I seek above all is one of relaxation given by a garden, easy and untortured, in which plants, however rare and strange, will grow and take their place naturally and discreetly."
We have moved to Chelmsford recently from Hampshire, to design gardens in the drier Essex landscape, and have reduced our garden down to an allotment and a balcony. The problem with being a gardener (and Russell Page notes this in his garden daydream, as he didn't have his own garden either) is that your time is spent making sure everyone else is getting the best garden they can possibly get.
So to stop your own from suffering, you search for ways to keep the work down. Giving ourselves less space to landscape seemed the best start.
But we thought it would be an interesting exercise to daydream about our garden, the way, if time wasn't an issue, we would tend it. Like Russell Page, we would ask that, "it must be a small garden and a simple one; one man's work… and in any case not so large to need an armoury of mechanical devices or a full-time mechanic to keep these in running order."
The house we see would be two bedrooms, perhaps a barn, with farmland around it rather than woodland. The boundaries to the property would run to just over an acre, surrounding the house, giving a sense of space and the conditions to create planting for different aspects.
A small, possibly square terrace would sit against the house on the south side, with a pond alongside it to cool us on warm days. Climbers would grow up the walls and several large pots would be placed there too, possibly filled with something exotic in the summer, or given over to experiments of colourful or scented plants from seeds that have been bought in the depths of winter (as we are all prone to do…)
Another small terrace would be placed in a sheltered spot facing south-east, to catch the morning sun. The terrace would be just big enough to hold two chairs and a low table. A morning coffee can always be improved when taken this way…
Herbs would be grown near the house, as would vegetables – the first to go in would be perennials like asparagus. Currant bushes would be used as hedging, perhap along the driveway, which would have space for two cars and no more. No need to take up valuable space for growing plants in with a vehicle. Poppies, and perhaps striking biennials, would be allowed to seed in the gravel.
A shrubbery could also run along the driveway, or better yet shrubs could be placed at the edge of a small wood – no more than a glade even – positioned at the far end of the garden and given as a gift to butterflies and other lovers of woodland edge habitat.
A small orchard (or nuttery?) surrounded by hawthorn hedges would create another little world of blossom and fruit, while being planted with bulbs to satisfy a spiritual need for verdant growth in the spring.
Anywhere it is damp would go bog plants, or perhaps a hollow could be made into a pond. The site itself will tell us what to do, and we would follow it and accentuate its quality.
If we needed hedges, we would plant them. If we needed trees – for shelter, or to encourage birds to nest, or for making leaf mould or just to enjoy them – we would plant those too. If money wasn't available or gaps appeared in our hedge we would lay it in winter.
A place to propagate a few of our own plants, to help satisfy our lust to grow everything from seed… and the room for cold frames to pot on the excess plants so they can be given to friends… a greenhouse would be a luxury, not an essential like a compost heap or a place to enjoy a fire. As for shelter, to stay out of the rain if it became too heavy, it would have to be a ramshackle building made simply of wood and wire, covered in climbers and open, at least on one side, to the elements. Perhaps the roof could be used for planting, as it would certainly be used to harvest rainwater.
A rose garden may go in (as we are fantasising!) and we could use it to try all sorts of combinations to go with roses – perhap it would be us who stumble on some new combination that was never previously thought to work? (Or more likely our investigations would clash, neither bringing out the best in the rose nor the best in its partner… like eating lamb with langoustine…)
If the garden needed it, we would create a verdant heart, flowerless and calm, with windows in the evergreen hedges to allow in late evening light the way a church window bathes its spacious interior with that saintly orange glow. There would be one seat upon which to rest, in contemplation.
Old trees would be pruned to emphasise their qualities.
For flowers, we would have a long border and consider it our take on the traditional herbaceous border. Perennials would have to prove their worth, need no staking and provide food for bees. It would change gradually as time passed, the more robust plants swallowing the delicate ones under their foliage.
A meadow would be sown, on two sides of the house, leading right up to the walls and doors… as if nature itself wanted to come in, and as a reminder we are not here to control it, but let it advise us on what it wants to do.
We would try and garden with the lightest touch we could – not just organically, but with minimal input as well – so no mower or hedgetrimmer would be heard. In fact, upon one wall of the house would be hung all the tools we needed, sheltered by a small roof covered in a worthy climber for that situation. These tools would consist of a spade, a fork, a rake, a scythe, a mattock, a hand trowel, shears and a stone upon which to sharpen their blades, secateurs, a hoe, a hand saw, a bucket and some string. There would be no need for anything else.
This is our garden, what we dream of… and like Russell Page, it would be, "an expression of faith, the embodiment of a hope and a song of praise."
Our garden to dream of, no more, no less.
Recommended Reading:
The Gardens of Russell Page
The Education of a Gardener
Dream Gardens: 100 Inspirational Gardens
May 15 th 2014
Jun10
Brought By Bike is an excellent website I found last month, where businesses offer their services by (of course) bicycle. Modern Mint and my topiary work is now live on the site offering my topiary services, via bike, to the following two postcodes – CM1 CM2 Now I can imagine I will need to borrow a ladder should anyone have a larger shrub, but most town gardens in the Chelmsford area have a need not just for privacy but to let light into the house… so a balance must be struck when shaping hedges and shrubs to cover both needs. …
May10
Transforming Topiary – a video made for the European Boxwood And Topiary Society by Charlotte Molesworth and I, in her garden. We take a dog topiary and work out how to update it, turning it into a bird. Worth a watch I think, and hopefully useful to you! You can see more of my clipping on the topiary page. Or read my Spring 2021 Topiary Provocation here.
Apr28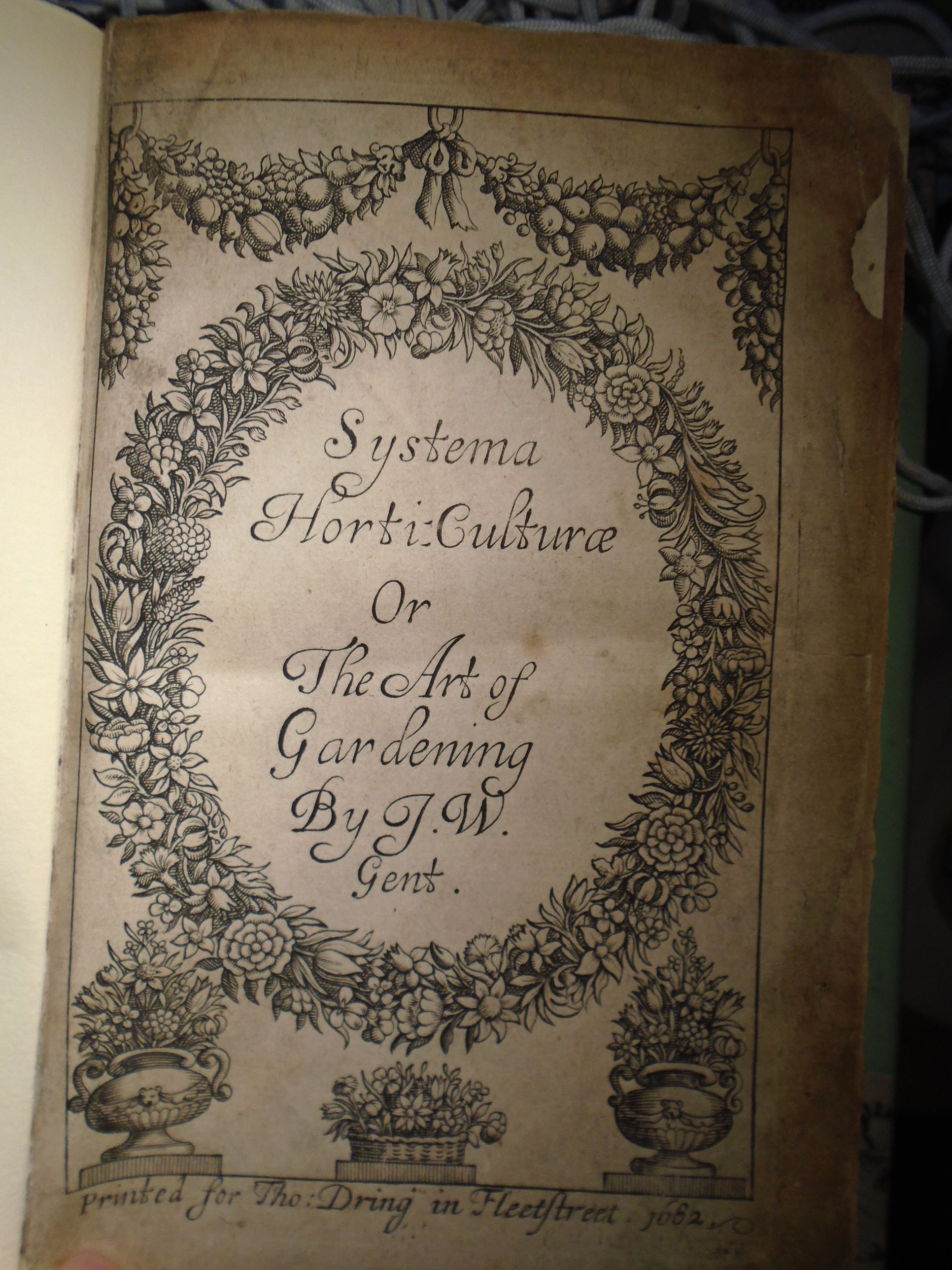 Phillyrea is one of my favourite plants for topiary. I have been using it for quite a few years as a specimen shrub, mostly due to the fact it clips well and has a tough habit – all good characteristics for a topiary plant. It also has a  reputation for being an excellent nectar source for bees… Read more about Phillyrea here. Mentioning this to Malcolm Thicke, a market garden historian and writer, he sent me a some photos of topiary and phillyrea mentioned by John Worlidge in Systema Horticulturae from 1682…. incredible! He also mentioned to me that in …