THE MODERN MINT BLOG
"One person may become a gardener and another one may be a 'pilgrim' for life. The first will be found in a simple garden with rose parterres. The other will create an arcane, geometric display. The first will use his hoe to repeat a daily performance like a fecundity rite. The second will wander from place to place, searching out different shapes. In the end, both of them will arrive at the same point; their patient pursuit of fantasy will be rewarded in the creation of a real garden. The traveller will ask his friend with the hoe what has happened in the garden during his absence. He, in his turn, will say, 'tell me, tell me, what have you seen on your travels?' Both question each other with the wonderful innocence of men who have tried to put something beautiful back into the infinite treasure of life."
Fernando Caruncho, in an interview at the start of his book Mirrors of Paradise: The Gardens of Fernando Caruncho
We have always liked that story. The pilgrim and the gardener living seemingly opposite lives, with opposing attitudes, and yet getting to exactly the same place. Easy as well to recognise ourselves as both the pilgrim and the gardener at different stages of our life.
Fernando Caruncho is a landscape designer, or a 'gardener' as he insists on calling himself. His most famous work is at Mas de la Voltes, where huge fields of wheat constitute the landscape, but you can also see some of his design work at the Royal Botanic Gardens in Madrid. We highly recommend a visit (and the city itself is great fun.)
Stephen Lacey wrote an interesting interview with him here, and in it Caruncho himself says, "I like to utilise mainly the basic plants of the region, such as olives, vines and cypress – plants that connect the garden to the landscape and the culture."
This can be testified in the limited range of plants he uses in his designs. Just count below how many appear throughout his book…
Trees and shrubs:
Bay, Cypress, Holm Oak, Lemon, Lime, Mastic, Myrtle, Olive, Orange, Palms, Pine, Arbutus, Acer, Oleander, Camellia, Hydrangea, Lonicera, Roses, Buxus, Escallonia, Pittosporum…
Climbers:
Grapevines, Bougainvillea, Ivy, Trachelospermum, Wisteria…
Other:
Waterlilly, Wheat, Bamboo, Lawns…
In variety of course, but still a very small palette. But this gives his work a restful nature, and a definitive stamp. You will quickly learn to recognise his work and the formality that pervades it.
Fernando Caruncho has been a big influence on our topiary design work at Modern Mint, although you may not think it with the range of plants we use – but the excitement that envelops us (or any designer!) when we begin work on a new garden means halfway through the draft work we will have 1000 ideas and want to use them all… and it is this moment when Caruncho's adage for simplifying exerts its profoundest impact.
An important impact, as the garden must be unified and tell a story that works. Caruncho is a master of this.
Do check out his gardens, his books… and a few other blogs we have written about his work!
Other blogs – Caruncho's Temporal Cosmic Garden & Estudio Caruncho.
Then he also features in the following:
Contemporary Designers' Own Gardens
Mirrors of Paradise: The Gardens of Fernando Caruncho
(Finally, don't miss an intriguing interview in Monty Don's 'Around the World in 80 Gardens'…)
May 12 th 2014
Sep29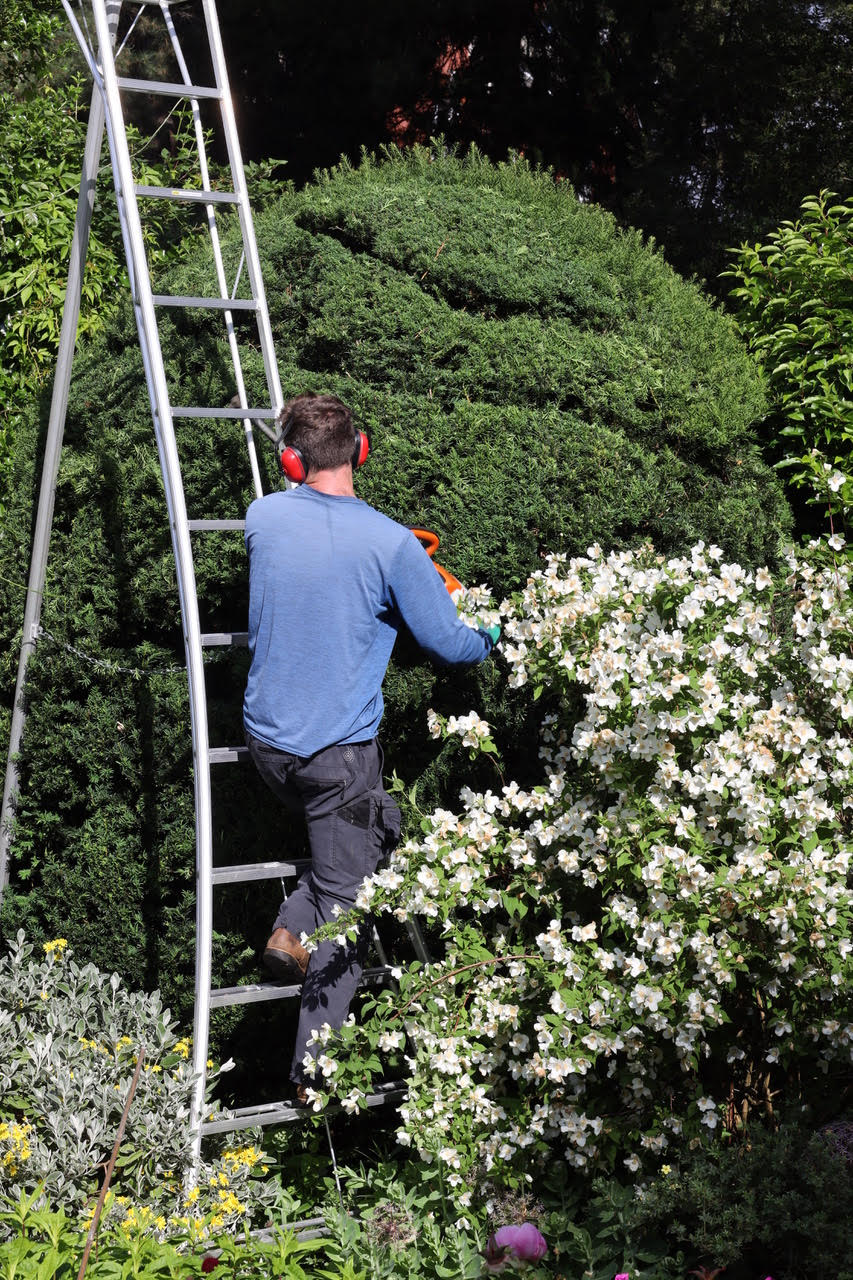 Making a new topiary out of the large, dull facade of a Taxus blob… My work was to change it up from a 'jelly drop' shape and give it texture, open it out and let the light through, and make it a sculptural feature in the background of the garden in summer… yet a major part of the garden in winter. A few more years before it becomes something special, but there was far more leaf and growth inside the plant than I thought and so it will not take too long for it to gain in character and become …
Sep27
Two weeks ago I was invited to teach topiary at the garden of Griselda Kerr, the author of The Apprehensive Gardener. I love teaching and sharing skills, but I was placed on the spot in the afternoon and asked to show how I would make a new topiary from an existing shrub. So below is a speeded-up video of me creating a cloud-pruned topiary from an old boxwood tree. I particularly love the ending when the class get involved….! See the video here. One hour was all it took, and though it needed a little tidying-up, it was made by …
Sep27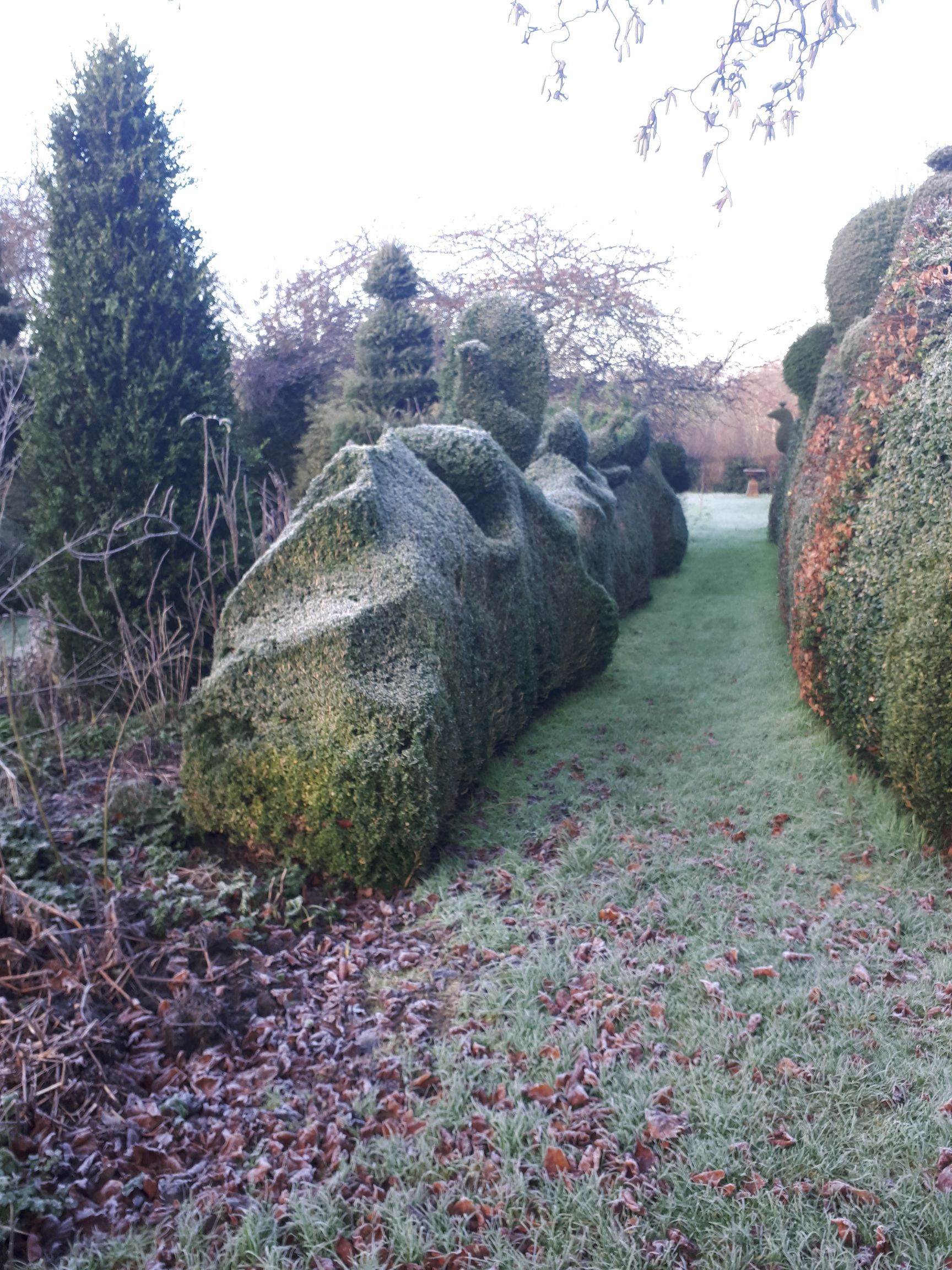 Charlotte Molesworth, my topiary mentor, and I are running our popular topiary workshop again in 2022. You can email me for details – or go here for information, your ticket and to find out about dates. Book A Spot On A Topiary Workshop, September 2022