THE MODERN MINT BLOG
Happy New Year from Darren and Chloe at Modern Mint!
Modern Mint will be turning 1 next month and what a busy year it has been…
… we have designed gardens, sown meadows, written nearly 200 blog posts, took part in the Chelsea Fringe, performed a new garden show called 'What Do You Do With This Space?' and started an online shop to showcase the best in artisan talent – furniture makers, tool makers, soap makers – we are seeking them out and sharing them with you!
Excited?
Absolutely.
Garden Design
With 5 designs on the go at the moment, and 2 meadows taking shape, we have a busy spring this year. And already the phone has been going for more work! So do get in quick if you need help and ideas with your garden this year.
Here are our major projects currently on the go:
A large garden in Upminster, Essex.
A small, private garden in North London.
A large garden in Burnham-on-Crouch, Essex.
Phase two of a large, private garden in Gidea Park, Essex.
Phase two of a meadow in Gidea Park, Essex.
Phase two of a meadow in Grove Park, London.
Organic Topiary
We also have our new shears coming this weekend, to help us with our Organic Topiary work in 2015 – we have been asked to sculpt a number of hedges and trees to give them a more dynamic look.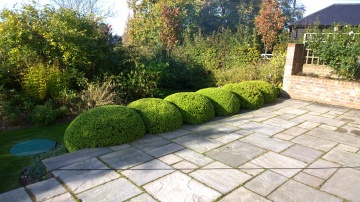 If you want to know more about this new form of topiary, check out these blog posts:
Or better yet, send us a message. We'd love to tell you why Organic Topiary has such cutting edge style (hehehe…)
Shop
Our shop is a platform for us to share with you the products we love – products that are sustainably sourced, hand-made, beautifully crafted, and support the idiosyncratic voices of the artisans who make them.
They are products for the home and the garden, and our list of suppliers is growing all the time.
If you know someone who is, shall we say, a little different…? Please tell them about us! We want to hear from them. And you, of course – if you want a particualr product, of a high quality, and you just can't find it on the High Street – let us know and we will seek it out for you.
See our shop to discover what we have already found in our first 3 months since opening…
Blog
Top 5 posts from 2014:
2) Interview with Rosy Bee – Plants for Bees
3) 9 Ideas for a Cut Flower Business
5) Dan Pearson's Must-Have Plants
Chelsea Fringe
We are curating a book of manifestos answering the question – why do you cultivate your garden? Each manifesto is no more than 100 words. This is a call for authors and garden enthusiasts to share their ideas with us – come on, 100 words – you have that in you, right?
Find out more here Chelsea Fringe 2015 Modern Mint.
Do follow us on Twitter to find out more – and have a great 2015 everyone – from Darren and Chloe at Modern Mint!
January 15 th 2015
Feb10
There seems to be some underhand shenanigans going on here. Bob Flowerdew is threatening to resign. We face losing the UK's cornerstone organic garden. So please take a look at what is going on via the Facebook group…. go on! Go Now! Save Ryton Organic Gardens!
Feb06
Today we will be looking at Garden Design Trends in 2018. Just so you are in the know about what is cool and what is not cool in the 12 months ahead…. For the past like, million years I have shared my thoughts on what the gardening industry tell us the latest trends are going to be. If you are interested, you can see here the garden design trends for 2017. Or take a peek at my favourite of all the posts I have written – Alternative Garden Design Trends. This is my individual take on what the latest garden design …
Feb06
Well now, this is interesting…. UK Plans 50 Million New Trees in Northern Forest Likely? See the pitfalls? We love the idea and wholeheartedly support as much tree planting as possible. But are seriously doubtful that this is more than a sticking plaster solution to England being so vastly 'under-treed'…. or should that be 'overfelled?' Yet whether this idea happens or not, all we ask is that you please make sure you plant as many trees as you can in your garden!