THE MODERN MINT BLOG
Happy New Year from Darren and Chloe at Modern Mint!
Modern Mint will be turning 1 next month and what a busy year it has been…
… we have designed gardens, sown meadows, written nearly 200 blog posts, took part in the Chelsea Fringe, performed a new garden show called 'What Do You Do With This Space?' and started an online shop to showcase the best in artisan talent – furniture makers, tool makers, soap makers – we are seeking them out and sharing them with you!
Excited?
Absolutely.
Garden Design
With 5 designs on the go at the moment, and 2 meadows taking shape, we have a busy spring this year. And already the phone has been going for more work! So do get in quick if you need help and ideas with your garden this year.
Here are our major projects currently on the go:
A large garden in Upminster, Essex.
A small, private garden in North London.
A large garden in Burnham-on-Crouch, Essex.
Phase two of a large, private garden in Gidea Park, Essex.
Phase two of a meadow in Gidea Park, Essex.
Phase two of a meadow in Grove Park, London.
Organic Topiary
We also have our new shears coming this weekend, to help us with our Organic Topiary work in 2015 – we have been asked to sculpt a number of hedges and trees to give them a more dynamic look.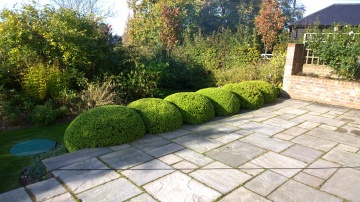 If you want to know more about this new form of topiary, check out these blog posts:
Or better yet, send us a message. We'd love to tell you why Organic Topiary has such cutting edge style (hehehe…)
Shop
Our shop is a platform for us to share with you the products we love – products that are sustainably sourced, hand-made, beautifully crafted, and support the idiosyncratic voices of the artisans who make them.
They are products for the home and the garden, and our list of suppliers is growing all the time.
If you know someone who is, shall we say, a little different…? Please tell them about us! We want to hear from them. And you, of course – if you want a particualr product, of a high quality, and you just can't find it on the High Street – let us know and we will seek it out for you.
See our shop to discover what we have already found in our first 3 months since opening…
Blog
Top 5 posts from 2014:
2) Interview with Rosy Bee – Plants for Bees
3) 9 Ideas for a Cut Flower Business
5) Dan Pearson's Must-Have Plants
Chelsea Fringe
We are curating a book of manifestos answering the question – why do you cultivate your garden? Each manifesto is no more than 100 words. This is a call for authors and garden enthusiasts to share their ideas with us – come on, 100 words – you have that in you, right?
Find out more here Chelsea Fringe 2015 Modern Mint.
Do follow us on Twitter to find out more – and have a great 2015 everyone – from Darren and Chloe at Modern Mint!
January 15 th 2015
Jan12
Below are a few pointers on when you need to think about your topiary and hedges this year, so you can make sure you clip at the best time and not waste any effort doing work you don't need to do… January & February Roses, fruit trees and wisteria is where the focus lies. Yes, it is cold and the work can be unpleasant because you are often stood on a ladder with your secateurs, barely moving enough to warm the body, but get these jobs done well, with care, and you can enjoy the fruits and flowers of your …
Jan11
Last September when I and topiary artist (and mentor) Charlotte Molesworth ran a weekend of topiary masterclasses we had a visit from the garden writer Non Morris. You can read more about Non and her garden design work and writings here. She has written a lovely article for the February 2022 edition of The English Garden Magazine about her afternoon working with us and learning about topiary – I'm really thrilled by the piece, because she mentions not just a little of the wonderful history of Balmoral Cottage and how the garden grew, but also shares a little of how …
Nov17
This Autumn I have presented another 'Topiary Provocation' to keen gardeners and designers. If you want to know more about topiary, the report on what we discussed and where modern topiary is going can be read by clicking the link below: Topiary Provocation Report Autumn 2021 This report is free to post on your own website or blog, just credit Modern Mint, and don't change anything within it. Alternatively you can just share it with keen friends… or enemies?