THE MODERN MINT BLOG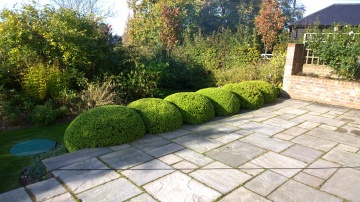 We want to talk about pruning today, as we have spent some time this year with Jake Hobson – a professional pruner, who wrote the fabulous book The Art of Creative Pruning: Inventive Ideas for Training and Shaping Trees and Shrubs
.
We originally got into gardening by working for a number of tree surgeons, and would spend hours walking around places like Virginia Water with them chatting about how we would dismantle different trees. We appreciated trees, but looking back were oblivious to the role they play in our environment – our job was to take them down or cut them back in a way that would benefit people, and so that is how we viewed a tree. As something to be shaped.
As we got older we wanted to work outside but in a less violent environment, and so we began studying the plants underneath the trees and how they grew. This is how we came to gardening, but…
… there is still something about the act of pruning that we love. Just look at that smile…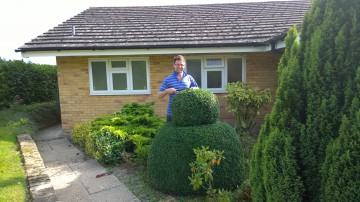 The physical nature of the work is definitely one reason.
Working with brilliant garden plants is another reason – we marvel at the shine on the leaf of a Phillyrea (if you haven't got one in your garden, why not?) love the smell of Buxus, the big mounds within the border made by a Pittosporum.
The sound the shears make as they clip is a beautiful music.
Perhaps it is also something meditative. Pruning forces you to concentrate, to stop thinking about what you have to do next and just clip clip clip… Jake Hobson, in this interview, spoke about the speed of the work:
"You need to pace yourself… work slowly and think about the plant and its shape. Garden topiary offers volume in plant form."
This may be the last reason we love pruning – the weight a clipped plant or group of clipped plants carry in the garden – they say 'we garden here, this space has been thought about.' And that is important, because without it a wild garden (for example can look so wild people don't enjoy it. They recognise its beauty – ah yes, nature owns this – but find the force of nature too overwhelming. A plant pruned well can reduce that feeling and make people feel comfortable.
We are drawn to organic topiary. It is a term Jake Hobson uses to describe his work, and is where the plant and pruner work together to discover the shape the plant is offering. It has a lighter touch to it, as you aren't forcing plants to grow in ways they can yet probably wouldn't. It is about suggesting, rather than demanding. We like this. Here is some work Jake has done at his mum's place…
Notice the blob to the right of the picture? That is organic topiary – the pay off from the dance between plant and pruner, over years.
What good, solid tips did we learn from Jake, as we aim to get better at pruning?
1) Think like a machine – cut on the same plane, and don't go all over the place chasing bits that are sticking out.
2) Get close to the plant. You may even need to get into it.
3) Make sure your shears are sharp. It will make the job easier!
4) Hold one hand steady to guide you while you prune, and move the other hand to make the cut. This stops you chomping up and down on the plant.
5) Prune the plant well and the shape is not so important – the look, the care with which it has been pruned, is what people will notice and keep their gaze on.
6) Be aware of the plant. What does it ask you to do? Some leaves are better whole, rather than chopped in half. Other plants are lax and floppy and difficult to assert any kind of form to – at a course with Jake at RHS Wisley he pruned an Itea (right by the entrance, on the right as you walk in.) It looked far better when he was done, but its habit is not an elegant one, even when thinned out and with all the dead wood removed.
THIS is an elegant plant to prune:
It is not an easy job pruning – in a sense, you are having to impress upon a client that although it may well look dead for a while (or no better than just a few sticks stuck up in the air…) they have to trust you. As long as you use the right plants, it will grow back/fill in/leaf up and be a major asset to your garden.
Jake also mentioned that the Japanese use ordinary, everyday trees and then prune them into extraordinary shapes. What if we were to use our native trees instead of importing ilex crenata? We do prune our native trees, pretty much, when we flail hedges.
But can you imagine a cloud-pruned hawthorn, adding its prescence to the back of your herbaceous border?
Why not?
For more on Organic Topiary you can read this blog post, or if you live in Essex or London get in touch and we can have a chat about how your garden can benefit from some wonderful topiary. Or if you fancy giving it a go yourself these are our pruning essentials …
Last of all, Jake Hobson has written these books which are great to read…
November 28 th 2014
$last_class = " list-blog"?>
May03
Over the last two years I have been involved with a couple of projects that have ended up being recorded, then placed on Youtube or Instagram. I'm hoping they will be useful to you, so I have decided this morning to pop them together in one handy blog post so that you can bookmark the page and revisit when you need some inspiration for your topiary. See below then, a few videos about topiary I have recently been involved with… Garden Masterclass – Provocations of a Modern Topiarist Transforming Topiary Topiary Teacher Put On The Spot https://www.instagram.com/p/CTj-EfOKRL6/ In the above …
$last_class = " list-blog"?>
May03
Mark Zlotsky is an artist based in New York, and today I just wanted to share his project 'Topiary Tango'. In his introduction to the project he talks of topiary being a forgiving art, which I love and is soooooo true…..! For proof, just take a look at some projects I have made with a sharp pair of shears, a hedgetrimmer and a pruning saw. Do check out Mark Zlotsky's project, because although his interest began by looking at topiary through the prism of architecture and the relationship of one building to another, he touches directly onto a way of …
$last_class = " list-blog"?>
Apr27
Gardenista, the online magazine about gardens and design, have interviewed me about topiary. The article is called 'Rethinking Topiary: A Garden Tradition Loosened Up' and was published this morning. Written by the excellent garden writer Clare Coulson, I share some thoughts on using deciduous plants, how to clip (name-dropping Anne Lamott and her book on writing at one stage… oh, how I wander off subject sometimes!) and how to improve topiary by what you plant around it. Do take a look at the article in Gardenista. Or for more about my topiary work, check out the topiary page.