THE MODERN MINT BLOG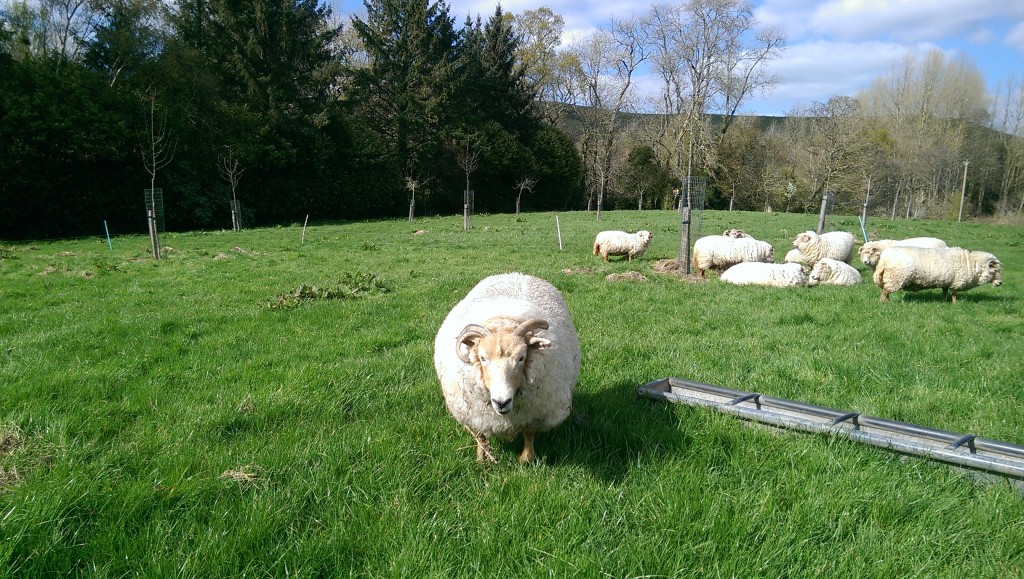 …would look nothing like in this picture.
So what would it look like? What do people want?
According to a survey conducted by the Horticultural Trades Association, there are several key ideas that go into making a contemporary garden:
It must be tidy and easy to maintain.
It must be centred around a social area – a patio evokes strong memories of happy times and associating with friends.
It must prompt a feeling of 'holiday' (rather than 'I have to go out and work on it.')
Sunshine, grass to walk on with bare feet, space for children to play and the sound of birds are desirable.
The survey also found people have a taste for the unusual – an unconventional pot or sculpture can make you prouder of your garden.
As gardenmakers, we at Modern Mint can vouch for the truth of this survey. Again and again we come across clients who ask us for low maintenance gardens, built with materials that are unusual or different.
The reason is simple – people do not have the time to work in the garden, and gardening can be hard work. There is also a generation (we are this generation, in fact! Though we are glad to have discovered the joys and rhythm of gardening sooner rather than later…) wh0 have grown-up without a need to garden. Food, as well as unusual materials, are readily available. So why bother putting in the effort when you can pop to Waitrose and buy what you want, or order online a bowl that is handcrafted in a cave under a full moon by a river next to a fire burning on logs from the mastic tree by the seventh son of a seventh son trained in the dark arts who only has one eye and works nude and which just so happens to also be dishwasher safe and only £6 for delivery next day all the way from Morocco?
Because there has been no need to garden the pleasure of the work has never been discovered. This lack of knowledge is why we are asked to create gardens that are easy to keep on top of – so without flowers please. (The silly thing is flowers are easier to look after than lawns, yet most people would answer they need a lawn. The green green grass of home has a major hold over the British psyche.)
One of the best things about this job is when we can inspire and inform a client about other choices they could make with their garden. When we can provide them with the low maintenance garden they want, without using artificial lawn. Throwing in a few herbs and flowers and making them feel confident they can deal with it. Small steps like this, helping to ignite a care for the way your garden looks and what it does for you, make our job one of the best you could possibly have.
Go back to the picture above, and look closely…
… this may surprise you, but it actually does what most people want from a contemporary garden.
It is easy to maintain – you don't even need to cut the grass yourself!
It is tidy – sure, the grass is a tad long, but there is no rubbish strewn everywhere or broken plant pots and compost bins to hide away.
It is centred around a social area – the trough is the place to meet at (if you turn your head to one side and squint a bit.)
It prompts a feeling of holiday – a lush, green field. We're out in nature guys! Wahey!
Sunshine, grass to walk on with bare feet, space for children to play… and there are bound to be birds nesting in the trees behind.
It also contains something unusual – have you got a great big Portland sheep staring at you from the far side of your patio? How much more bloody unusual do you want?!?!
What is contemporary garden design then? An interesting question to try and answer, and could be far more complex than just building everybody a patio to enjoy the sun from.
For more new ideas, take a closer look at these books:
April 19 th 2014
$last_class = " list-blog"?>
May03
Over the last two years I have been involved with a couple of projects that have ended up being recorded, then placed on Youtube or Instagram. I'm hoping they will be useful to you, so I have decided this morning to pop them together in one handy blog post so that you can bookmark the page and revisit when you need some inspiration for your topiary. See below then, a few videos about topiary I have recently been involved with… Garden Masterclass – Provocations of a Modern Topiarist Transforming Topiary Topiary Teacher Put On The Spot https://www.instagram.com/p/CTj-EfOKRL6/ In the above …
$last_class = " list-blog"?>
May03
Mark Zlotsky is an artist based in New York, and today I just wanted to share his project 'Topiary Tango'. In his introduction to the project he talks of topiary being a forgiving art, which I love and is soooooo true…..! For proof, just take a look at some projects I have made with a sharp pair of shears, a hedgetrimmer and a pruning saw. Do check out Mark Zlotsky's project, because although his interest began by looking at topiary through the prism of architecture and the relationship of one building to another, he touches directly onto a way of …
$last_class = " list-blog"?>
Apr27
Gardenista, the online magazine about gardens and design, have interviewed me about topiary. The article is called 'Rethinking Topiary: A Garden Tradition Loosened Up' and was published this morning. Written by the excellent garden writer Clare Coulson, I share some thoughts on using deciduous plants, how to clip (name-dropping Anne Lamott and her book on writing at one stage… oh, how I wander off subject sometimes!) and how to improve topiary by what you plant around it. Do take a look at the article in Gardenista. Or for more about my topiary work, check out the topiary page.