THE MODERN MINT BLOG
We went to see Dan Pearson and Fergus Garrett speak at the Gardens Illustrated talk last week.
Dan spoke about his gardening mentors, the Garden Bridge project for London and his current addiction for Epimediums… his work has evolved over the years – though always remained rooted in the nature of the place itself – he spoke of how his planting palette was changing and the gardens he makes looser and closer in feel to a natural space.
Doesn't that sound fantastic?
The list he gives below is a useful starting point for anyone needing some gardening inspiration, originally shared in a Gardens Illustrated article…
My own love in the garden is for topiary, but topiary only works in all its glory when you add other plants around it. Some of these annuals, adding colourful contrast to the strength and rooted feel of a group of yew or boxwood topiaries would be a brilliant way to make a garden.
As well as reading on below, do also check out this review of Dan Pearson's excellent book 'Spirit'.
Annuals
Ammi majus – the flower growers best friend… I have seen it replaced in a bouquet with the slightly more robust, less elegant flower of ground elder…. yes, seriously!
Eschscholzia californica
Linum grandiflorum 'Rubrum'
Nicotiana suaveolens
Nigella papillosa 'African Bride'
Papaver Somniferum 'Single Black'
Silene armeria 'Electra'
Bulbs
Crocus tommasinianus – if squirrels are stealing your crocus bulbs, dip them in a paste of cayenne pepper and tabasco sauce first, before planting. That should put them off!
Cyclamen hederifolium f. albiflorum 'Album'
Erythronium dens-canis
Galanthus 'Magnet'
Gladiolus 'Ruby'
Leucojum aestivum 'Gravetye Giant'
Lilium 'Claude Shride'
Narcissus 'Pipit'
Nerine bowdenii
Tulipa sprengeri
Climbers
Akebia longeracemosa
Hedera pastuchovii 'Ann Ala'
Jasminum officinale 'Devon Cream'
Parthenocissus henryana
Rosa 'Cooperi'
Schizophragma integrifolium
Read Part 2, Part 3 or Part 4.
Recommended Reading:
Spirit: Garden Inspiration
May 24 th 2014
Sep29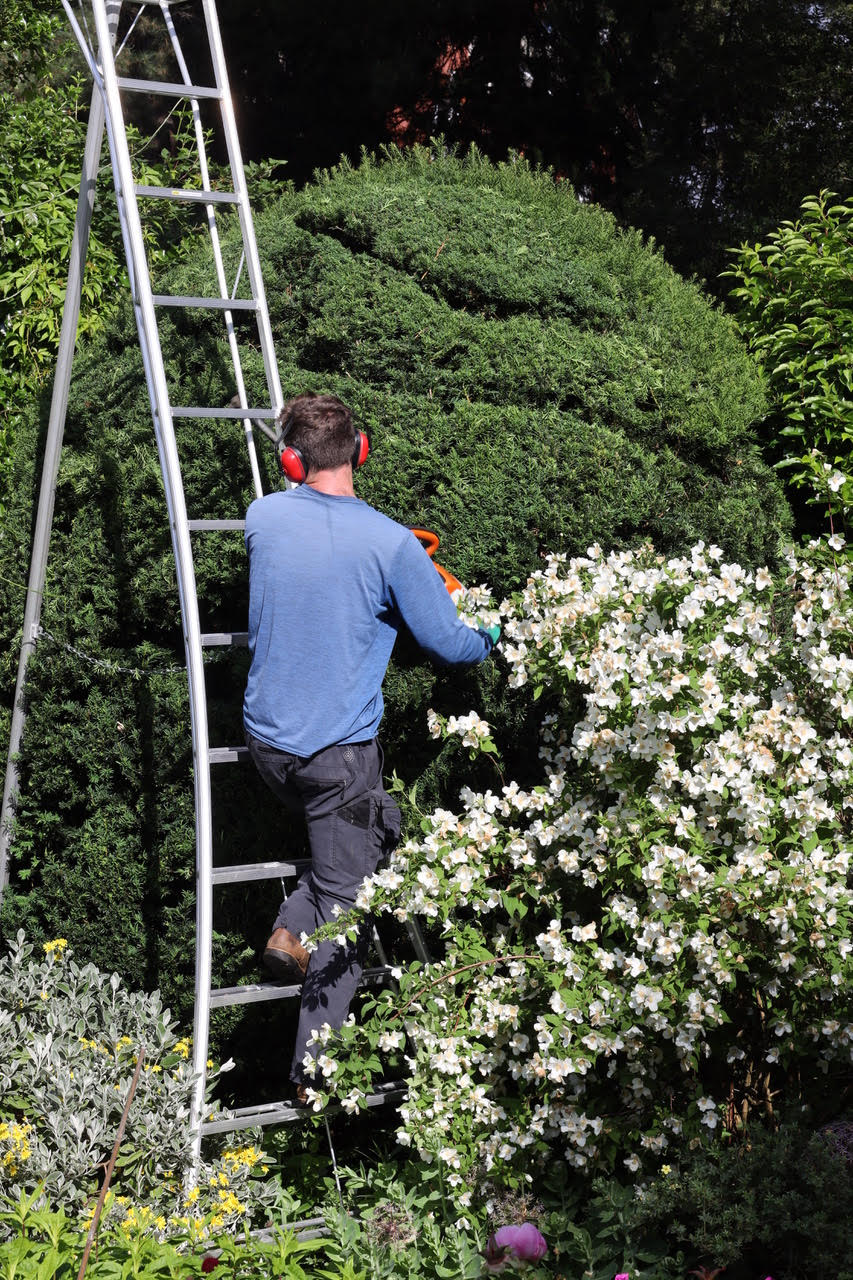 Making a new topiary out of the large, dull facade of a Taxus blob… My work was to change it up from a 'jelly drop' shape and give it texture, open it out and let the light through, and make it a sculptural feature in the background of the garden in summer… yet a major part of the garden in winter. A few more years before it becomes something special, but there was far more leaf and growth inside the plant than I thought and so it will not take too long for it to gain in character and become …
Sep27
Two weeks ago I was invited to teach topiary at the garden of Griselda Kerr, the author of The Apprehensive Gardener. I love teaching and sharing skills, but I was placed on the spot in the afternoon and asked to show how I would make a new topiary from an existing shrub. So below is a speeded-up video of me creating a cloud-pruned topiary from an old boxwood tree. I particularly love the ending when the class get involved….! See the video here. One hour was all it took, and though it needed a little tidying-up, it was made by …
Sep27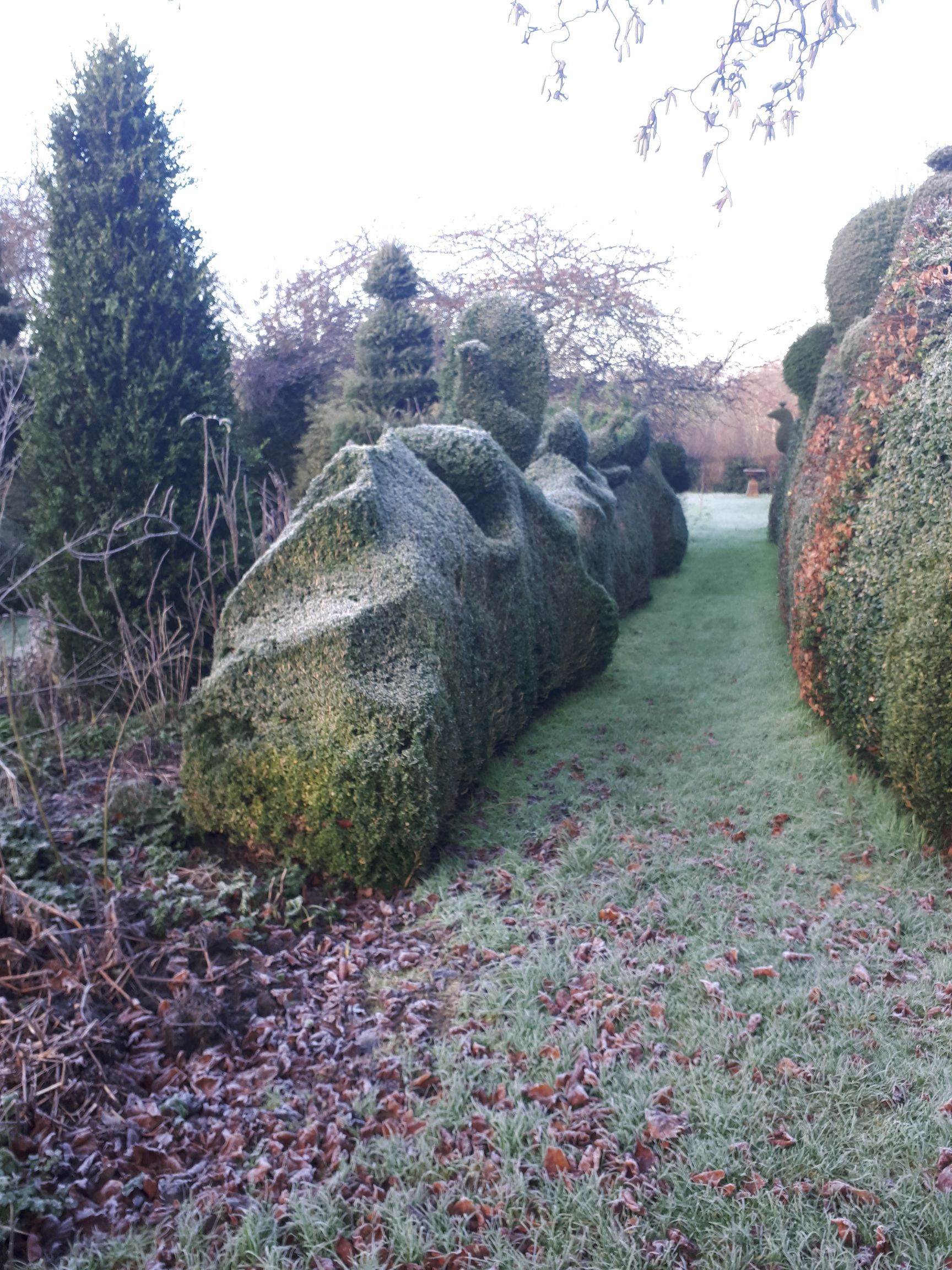 Charlotte Molesworth, my topiary mentor, and I are running our popular topiary workshop again in 2022. You can email me for details – or go here for information, your ticket and to find out about dates. Book A Spot On A Topiary Workshop, September 2022