THE MODERN MINT BLOG
Garden design trends 2019! Welcome to the New Year Modern Minters!
We started writing about garden design trends 5 years ago now, because it felt like a good thing to look at and try to understand how the gardening world was changing or might change. Then I carried on doing it, each January, partly because I work less in winter and so had the time to look, and partly because it became a bad joke.
Each year brought more and more trends that just seemed ridiculous.
If you are desperate to see what the trends have been over the last few years, start here. But to give you an idea, we had trends like….
Mossariums. Mossariums for goodness sake! Instead of growing vegetables?
Painting fences black…. what? That is going to be a trend? For what? Funereal gardens?!
Watering cans as art objects…. why? Why?!?! That's just sticking an old bit of plastic on a fence! Chuck a pansy in it and call it art? It's not Giacometti is it? And it is not improving what you already have in your garden to make it look good. Why have a watering can with a begonia in when you can prune a hedge to make it look good….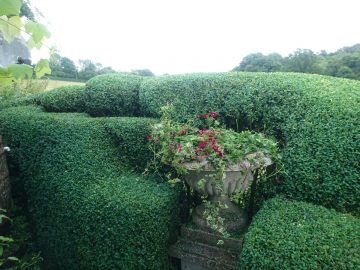 Really? Are They Really Design Trends?
Suggestions for trends were either too funky to look good, too inappropriate to actually last for long, or just too flash in the pan to bother adding to your garden.
I even got so weirded out one year that I wrote a guide to Alternative Garden Design Trends. It was tongue in cheek stuff, definitely not the sort of thing someone who pays attention to design trends would actually like….
(If you want to know the kind of gardening person who cares about trends, then think a 'weekend' Dad, with black glasses, a too young haircut, wearing turned up jeans and owning a £3,000 road bike for commuting to his senior role in marketing.
They would never read it and think – yes! This sounds good! We do need lynx here in the UK!)
Here Kitty Kitty!
Needless to say, looking at garden design trends every year has made me frustrated, as they seem so divorced from actual gardening. Yet I'm drawn back to it every new year, just to see the horror of it all again, like a dog who can't stop licking at a leg wound.
And yes, moss is still being touted as a trend for 2019. Thank you Mr Wong!
My Thoughts On Garden Design Trends For 2019
I thought I would start by saying what I see in British gardens, the gardens I work in everyday and have done for as long as I remember. Are there patterns that occur again and again?
I think there is.
Which means they are an actual trend (or perhaps they have now become a classic?) because most people have it in their gardens and do it naturally, without the help of a magazine to tell them about it. It is a trend built on learned behaviour from parents and the way they gardened, as well as life and how that pans out – they are gardens built around the time available to work on them.
So here goes, the garden design trends I see in British gardens:
Lawns. Big green lawns with stripes in
Fences with nothing on them
Big patios for big garden furniture
Conifers for privacy, or as the only trees in the garden
Stacks of fertilisers in the garage
A plastic dalek shaped compost heap with grass in it and little else, smelling and not breaking down
Hosepipes badly coiled up next to the taps in the garden
Plants in the borders from all over the world
A paved over front garden for cars
Blue slug pellets scattered onto flower beds
Sheds full of stuff. And behind them, lots of black plastic plant pots
Small pots by the house, with a few scraggly herbs in
Water butts not attached to the gutter pipe
Annuals with no forage for bees
Raised beds with wood starting to rot away, soil diminished and nothing in them
Dry ponds, or ponds that have been filled in
Wow. Reading that list does not feel positive does it?
But it is what I have seen through the UK, when called in to help someone with their garden.
What Can We Do About These Gardens?
This is where garden design trends do matter and can make a difference. I realise not every single person reading this has a garden as bereft of life as I have suggested above (thankfully!) But for a nation of gardeners, many do have an outdoor space like that, whilst others will certainly have areas they can improve.
So if we go through the list again, we can perhaps make sure we are doing the following:
Lawns. Making them smaller and full of clover, for the bees to feast on
Fences with lots of roses, clematis and other great climbers covering them
Big patios getting made smaller, with pockets built in full of soil for plants
Conifers getting chopped down and replaced with crab apples, or rowans, or other fine trees
Stacks of fertilisers in the garage being unused, the addition of fertiliser in the garden replaced by adding compost to the soil instead
Bigger, open compost heaps of wood or brick with a brilliant mixture of grass, cardboard, stems and other plant material
Hosepipes unused because the soil is so good it holds water already
Plants in the borders from all over the world that have lots of nectar and pollen
Front gardens returned to plant havens (were they ever? Well, start now!)
Blue slug pellets being banned from use. Disgusting stuff. My father still uses them. I have no idea why
Sheds full of stuff, as they always will be. Black plastic plant pots reused somewhere, rather than sent to landfill
A few big pots by the house, fragrant and thriving with herbs and flowers
Water butts capturing any rain we get, holding it until it is needed
Annuals bursting with nectar for the bees
Raised beds filled with organic vegetables that, if you don't get round to eating them, can be cleared onto the compost heap and all the goodness stored in them can be recycled back into the garden
Ponds in the garden for wildlife and as a place to store excess water from the water butts
Getting these basic elements of your garden in place, we can change a whole landscape.
Start a garden design trend that relies on your garden being a place of life, of nurture, of beauty. Not an overwhelming zone of weeds, poor soil and bare fences.
Do it by following the examples above, then, when the garden is thriving and you have enough time to enjoy it, you can add your Mossarium and make your watering can art.
You trendy nutcase.
---
These ideas are presented as the start of my work on a new garden talk for 2019, called 'A Very British Garden.'
If you would like to find out more about my talks and speaking work, take a look at this page – Garden Club Speaker.
January 4 th 2019
May03
Over the last two years I have been involved with a couple of projects that have ended up being recorded, then placed on Youtube or Instagram. I'm hoping they will be useful to you, so I have decided this morning to pop them together in one handy blog post so that you can bookmark the page and revisit when you need some inspiration for your topiary. See below then, a few videos about topiary I have recently been involved with… Garden Masterclass – Provocations of a Modern Topiarist Transforming Topiary Topiary Teacher Put On The Spot https://www.instagram.com/p/CTj-EfOKRL6/ In the above …
May03
Mark Zlotsky is an artist based in New York, and today I just wanted to share his project 'Topiary Tango'. In his introduction to the project he talks of topiary being a forgiving art, which I love and is soooooo true…..! For proof, just take a look at some projects I have made with a sharp pair of shears, a hedgetrimmer and a pruning saw. Do check out Mark Zlotsky's project, because although his interest began by looking at topiary through the prism of architecture and the relationship of one building to another, he touches directly onto a way of …
Apr27
Gardenista, the online magazine about gardens and design, have interviewed me about topiary. The article is called 'Rethinking Topiary: A Garden Tradition Loosened Up' and was published this morning. Written by the excellent garden writer Clare Coulson, I share some thoughts on using deciduous plants, how to clip (name-dropping Anne Lamott and her book on writing at one stage… oh, how I wander off subject sometimes!) and how to improve topiary by what you plant around it. Do take a look at the article in Gardenista. Or for more about my topiary work, check out the topiary page.