THE MODERN MINT BLOG
My name is Darren Lerigo. I am a gardener and topiary artist and I provide garden talks  for clubs all over the UK.
If you are a speaker finder in need of a talk, then please do get in touch. But please note this is a short introduction to my talks. For full information, go to Garden Club Speaker For Your Group.
With my talks, I hope to:
Provide your group with something interesting, informative and fun.
Make your life as easy as possible. I will do this by turning up on time, bringing equipment that works, making sure the fee and travel expenses are good value for your group and giving a talk that makes your group happy they have come to see it.
Speak as lightly and clearly as possible, without making it a dry lecture.
Do my best to cover at the last minute, if your speaker is unable to make the talk.
Here is a small selection of what people say about my talks:
"Many thanks for a great talk (as usual!) I have had 26 emails today saying how much they enjoyed your talk." Langham Beekeepers

"Thank you so much, it was an excellent presentation which everyone enjoyed very much.

I think you passion for gardening shone through and you delivered your talk with great fluency, humour and knowledge. Everyone I spoke to afterwards was very impressed.

Perhaps you could send me details of your other talks and which date you would prefer?" Holywell and Needingworth Garden Club

"Everyone enjoyed your talk. There was quite a buzz!" Oddfellows Group, Suffolk
I have extensive experience, giving over 50 talks per year, as well as speaking at Blenheim Palace and The National Flower Show, running topiary workshops, leading garden tours and for EBKA giving the Ted Hooper Memorial Lecture.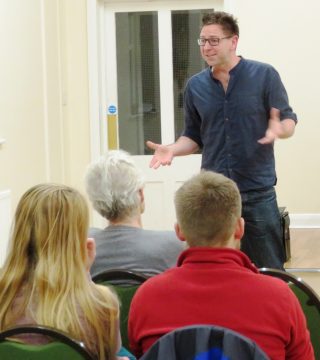 Available Talks
What Do I Do With This Space? (Ideas on garden design and maintenance)
Diluted (How to cope with excessive heat and a lack of rain on our gardens)
Cool Tools (Presenting the best tools to use in the garden)
Helping The Honeybee (Sharing the very best garden plants for bees)
A Very British Garden (Ideas for plants the suit a British garden)
Talks are 50-60 minutes plus q&a. I can provide my own projector.
Cost of My Talks
My speaker fee is £95 for groups and clubs.
Concessions are available for smaller clubs of 25 people or less.
Travel expenses can be discussed, but I travel all over the UK to speak and will do my best to make this cost manageable for both your group and myself.
Who I Talk To
Gardening Clubs
Horticultural Societies
WI's
Oddfellows
Beekeeper Groups
Allotment Societies
U3A's
Fellowships
Church Groups
Anyone else who needs an entertaining, informative speaker!
"Thank you so much Darren. Your talk was much appreciated and enjoyed by our members." Benfleet Horticultural Society
To book a talk or to find out more, please do contact me now.
December 7 th 2018
Apr11
I have visited two new clubs this week to present a garden talk. They were in different parts of the country and so a lot of driving, but worth every hour sat on the motorway in traffic! The talks went well and I have had some lovely feedback… "Thank you so much for providing a presentation which was an almost impossible mix of enthusiasm, joy, entertainment, education and inspiration. They say that laughter is the best medicine and there was certainly plenty of that, and everyone left with a smile on their face, but just as important is that it …
Mar28
Secateurs & Marie Kondo I was interviewed recently for an article in the Telegraph about the best secateurs for the garden. I let my mouth run away with me (as normal) and said that the Okatsune pruners with the red and white handles, that I use everyday in the garden, are the kind you don't throw away when you Marie Kondo your possessions. I mean that, because I do believe in buy once buy well. But when it gets reported in the paper, I don't half sound like a wally…! "Lerigo devoutly describes his chosen make of Japanese secateurs, Okatsune, …
Mar27
Modern Mint and myself have been helping the Daily Telegraph discover the best secateurs on the market. And lo and behold, our Okatsune secateurs came out top! At last, recognition for a great value pair of secateurs that I use everyday! You can see what they thought of the other items on the post here – Daily Telegraph Best Secateurs. Or buy yourself a pair from Modern Mint.