THE MODERN MINT BLOG
My name is Darren Lerigo. I am a gardener and topiary artist and I provide garden talks  for clubs all over the UK – and now via Zoom as well!
If you are a speaker finder in need of a talk, then please do get in touch. But please note this is a short introduction to my talks. For full information, go to Garden Club Speaker For Your Group.
With my talks, I hope to:
Provide your group with something interesting, informative and fun.
Make your life as easy as possible. I will do this by turning up on time, bringing equipment that works, making sure the fee and travel expenses are good value for your group and giving a talk that makes your group happy they have come to see it.
Speak as lightly and clearly as possible, without making it a dry lecture.
Do my best to cover at the last minute, if your speaker is unable to make the talk.
Here is a small selection of what people say about my talks:
"Many thanks for a great talk (as usual!) I have had 26 emails today saying how much they enjoyed your talk." Langham Beekeepers

"Thank you so much, it was an excellent presentation which everyone enjoyed very much.

I think you passion for gardening shone through and you delivered your talk with great fluency, humour and knowledge. Everyone I spoke to afterwards was very impressed.

Perhaps you could send me details of your other talks and which date you would prefer?" Holywell and Needingworth Garden Club

"Everyone enjoyed your talk. There was quite a buzz!" Oddfellows Group, Suffolk
I have extensive experience, giving over 50 talks per year, as well as speaking at Blenheim Palace and The National Flower Show, running topiary workshops, leading garden tours and for EBKA giving the Ted Hooper Memorial Lecture.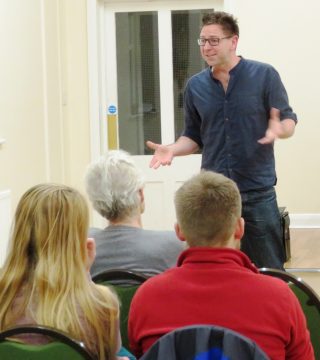 Available Talks
What Do I Do With This Space? (Ideas on garden design and maintenance)
Diluted (How to cope with excessive heat and a lack of rain on our gardens)
Clippings (Making topiary and how to use it in the garden)
Helping The Honeybee (Sharing the very best garden plants for bees)
A Very British Garden (Ideas for plants that suit a British garden)
Talks are 50-60 minutes plus q&a. I can provide my own projector.
Cost of My Talks
My speaker fee is £120 for groups and clubs.
Concessions are available for smaller clubs of 25 people or less.
For Zoom talks, the cost is £75.
Travel expenses can be discussed, but I travel all over the UK to speak and will do my best to make this cost manageable for both your group and myself.
Who I Talk To
Gardening Clubs
Horticultural Societies
WI's
Oddfellows
Beekeeper Groups
Allotment Societies
U3A's
Fellowships
Church Groups
Anyone else who needs an entertaining, informative speaker!
"Thank you so much Darren. Your talk was much appreciated and enjoyed by our members." Benfleet Horticultural Society
To book a talk or to find out more, please do contact me now.
December 7 th 2018
Jan12
Below are a few pointers on when you need to think about your topiary and hedges this year, so you can make sure you clip at the best time and not waste any effort doing work you don't need to do… January & February Roses, fruit trees and wisteria is where the focus lies. Yes, it is cold and the work can be unpleasant because you are often stood on a ladder with your secateurs, barely moving enough to warm the body, but get these jobs done well, with care, and you can enjoy the fruits and flowers of your …
Jan11
Last September when I and topiary artist (and mentor) Charlotte Molesworth ran a weekend of topiary masterclasses we had a visit from the garden writer Non Morris. You can read more about Non and her garden design work and writings here. She has written a lovely article for the February 2022 edition of The English Garden Magazine about her afternoon working with us and learning about topiary – I'm really thrilled by the piece, because she mentions not just a little of the wonderful history of Balmoral Cottage and how the garden grew, but also shares a little of how …
Nov17
This Autumn I have presented another 'Topiary Provocation' to keen gardeners and designers. If you want to know more about topiary, the report on what we discussed and where modern topiary is going can be read by clicking the link below: Topiary Provocation Report Autumn 2021 This report is free to post on your own website or blog, just credit Modern Mint, and don't change anything within it. Alternatively you can just share it with keen friends… or enemies?