THE MODERN MINT BLOG
Today we will be looking at Garden Design Trends in 2018.
Just so you are in the know about what is cool and what is not cool in the 12 months ahead….
For the past like, million years I have shared my thoughts on what the gardening industry tell us the latest trends are going to be.
If you are interested, you can see here the garden design trends for 2017.
Or take a peek at my favourite of all the posts I have written – Alternative Garden Design Trends. This is my individual take on what the latest garden design trends should be. They are facetious and silly, of course, but also classic ideas that will always be useful to your garden practise.
When are these going to become mainstream!
Garden Design Trends 2018
Wabi Sabi and the Art Of Imperfection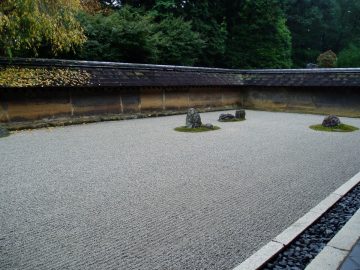 Wabi sabi is a Japanese view of the world, about accepting that things will change, degrade and fail. Yet in this degradation there is still beauty.
Imagine you have a cream carpet.
The first time the dog trails mud from the garden across it, you go mad! My carpet is ruined! Who let the dog in with muddy paws…..! AAAAAHHHHH…………. AAAAAAAAAAHHHHHHH…….. AAAHHHHH……!!!!!
You quietly say.
But as time goes on, you begin to worry less about the carpet.
The mud never came out from that time the dog ran across it with muddy paws. The red wine you spilt late on that Saturday night when slightly more tired and tiddly than you thought after a whole day spent at the kids school charity bake sale, well, that left a stain and what about that mark just to the left of the TV?
What is that and where did it come from?
You worry less because everything ages, changes and the energy required to be vigilant dissipates anyway. But what makes this change so Wabi Sabi is seeing these changes as…. as a life lived, a thing of beauty itself.
It is the perfect concept for gardening anyway, where life and death are a matter of course.
So get trendy in 2018 by making sure you love your gardening imperfections….!
Embracing The Small Garden
We can only work with what we have, and as more houses are being built on ever less land we will have to deal with tinier, odd-shaped spaces in which to garden.
Which is not that big a problem if the trend for 2018 is simply a mindset change – learning to love what you have and make the best of it!
Do you see a theme emerging here in this years garden design trends?
Alfresco Dining
Perfect. If we get the sunshine….
Lots of magazines are pushing this, with photos of a beautiful patio stone surrounded by a few plants and a large table below a pergola.
Dine outside by all means this year but if building a pergola in the UK make sure the top is as open as possible. We barely get enough sunshine as it is, don't block it out when it does come.
Closed roof pergolas are really for the strong Mediterranean sunshine….
Experimenting With What You Grow
Look no further than the work of Mark Diacono, James Wong or, the best of the lot, the amazing people at Real Seeds.
Garden Visits – Seeking Inspiration
Can we recommend:
The Garden of Charlotte Molesworth
Ruston Old Vicarage in Norfolk
Lamorran Gardens in Cornwall
Great Dixter is pretty good too!
Multi-Purpose Sheds
Well, what a pointless garden design trend this is!
A shed?
Ooh! Be still my beating heart!
Apparently this is a thing we all should have in 2018. Great. Go for it. Make it all singing, all dancing and full of wi-fi.
Or if you can't be bothered keeping up with the funky people, build a simple construction that is useful because it can be used to store your tools and also allow you to pot on sweetpeas out of the rain.
Something like this, yes?
Shrubs
We have had the new perennial movement. Which is lovely – all those grasses and flowers just mucking in together, then standing through the winter with their beautiful silhouettes…. but now designers are getting bored and realising the judicious use of shrubs is a worthwhile idea to invest in.
Here are some tips for using shrubs in your borders.
Here are some tips for the shrubs you could use.
At this moment I am particularly enjoying Sarcococca, with its fragrance.
Any shrubs you have in mind for planting this year?
Other Garden Design Trends For 2018
Mossariums – What? What! Whatever…. go look at your neighbours block paved driveway if you are desperate for a mossarium….
Micro Greens – ties in with the lack of space our newest gardens are constricted by. Go, get growing them and add them to your diet.
Copper – this is not a trend. It is a way of life!
Environmental Responsibility – don't see this as a trend either. Shouldn't it just be the norm? Capture carbon, eat organic food, plant trees…. simple things you can do to encourage life on the planet.
So there you have it, another wonderful year for garden design trends. Or something like that. The magazines who push this stuff never fail to disappoint me in their unerring satisfaction with the pointless or mundane.
The best advice really is to ignore the trends and get outside into the garden. Nothing boring or uncool there!
Hope you enjoy your gardening this year and please sign up to our newsletter if you would love to know more!
February 6 th 2018
$last_class = " list-blog"?>
May03
Over the last two years I have been involved with a couple of projects that have ended up being recorded, then placed on Youtube or Instagram. I'm hoping they will be useful to you, so I have decided this morning to pop them together in one handy blog post so that you can bookmark the page and revisit when you need some inspiration for your topiary. See below then, a few videos about topiary I have recently been involved with… Garden Masterclass – Provocations of a Modern Topiarist Transforming Topiary Topiary Teacher Put On The Spot https://www.instagram.com/p/CTj-EfOKRL6/ In the above …
$last_class = " list-blog"?>
May03
Mark Zlotsky is an artist based in New York, and today I just wanted to share his project 'Topiary Tango'. In his introduction to the project he talks of topiary being a forgiving art, which I love and is soooooo true…..! For proof, just take a look at some projects I have made with a sharp pair of shears, a hedgetrimmer and a pruning saw. Do check out Mark Zlotsky's project, because although his interest began by looking at topiary through the prism of architecture and the relationship of one building to another, he touches directly onto a way of …
$last_class = " list-blog"?>
Apr27
Gardenista, the online magazine about gardens and design, have interviewed me about topiary. The article is called 'Rethinking Topiary: A Garden Tradition Loosened Up' and was published this morning. Written by the excellent garden writer Clare Coulson, I share some thoughts on using deciduous plants, how to clip (name-dropping Anne Lamott and her book on writing at one stage… oh, how I wander off subject sometimes!) and how to improve topiary by what you plant around it. Do take a look at the article in Gardenista. Or for more about my topiary work, check out the topiary page.