THE MODERN MINT BLOG
Fine news for beekeepers today – a total ban on bee-harming pesticides has been announced!
To celebrate, here is a list of plants we recommend as being brilliant for the bees:
Helenium
Sedum
Echium vulgare
Marjoram or Oregano
Eupatorium (common name? Joe Pye-Weed. But don't let that put you off!)
Borage
Nepeta
Veronicastrum
Teucrium
Bonus plants for shady spots? Try hellebore, lamium and pulmonaria.
Looking for a shrub to plant near your apiary? Phillyrea ought to do it. Although it is difficult to get hold of…. we are working on making it more available though, so check back with Modern Mint sometime….
Somebody asked me about tulips – are these good for bees?
They certainly work hard to get the pollen. I guess the common sense approach is to make sure the tulips are as open and easy to access as possible.
The BBKA offer this top ten list of plants for bees.
My favourite nursery for bee friendly plants is Rosybee Nursery. You should all check out her plants and her brilliant research!
Her recommendations for bee friendly plants for summer baskets are:
Trailing lobelia
Lavender
Echium
Salvia
Campanula
Scabious
I would probably add Cleome and Fuchsia. But any other suggestions, please send them through!
Finally, are Dahlias good for bees? Again, I imagine single flowers are the best. But would love people to let me know what they see this summer….
Thank you and lets hope for a long, warm season for the bees!
April 27 th 2018
Sep21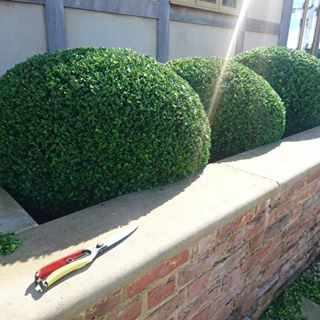 I was asked by the European Boxwood & Topiary Society to help out with answering a common question – How to sharpen your shears? So we spent a fun day making a video, that hopefully will help you make sure you have sharp, shiny blades to do your topiary pruning with. And you can find here more examples of the topiary I make with my sharp blades.
Aug16
You can get a ticket for this new talk I'm giving at the European Boxwood And Topiary Society here – TALK TICKETS It is on the 25th August at 6pm. It should be great fun and I'm very excited to be sharing some recent thoughts about topiary with people – and how it might work in a modern garden.
Jun14
If you have a subscription, you can check out an article about bespoke ideas for your garden in the Telegraph. There are some great crafts people there, so check it out. Click Here To See The Article About my Topiary Work In The Telegraph