THE MODERN MINT BLOG
Fine news for beekeepers today – a total ban on bee-harming pesticides has been announced!
To celebrate, here is a list of plants we recommend as being brilliant for the bees:
Helenium
Sedum
Echium vulgare
Marjoram or Oregano
Eupatorium (common name? Joe Pye-Weed. But don't let that put you off!)
Borage
Nepeta
Veronicastrum
Teucrium
Bonus plants for shady spots? Try hellebore, lamium and pulmonaria.
Looking for a shrub to plant near your apiary? Phillyrea ought to do it. Although it is difficult to get hold of…. we are working on making it more available though, so check back with Modern Mint sometime….
Somebody asked me about tulips – are these good for bees?
They certainly work hard to get the pollen. I guess the common sense approach is to make sure the tulips are as open and easy to access as possible.
The BBKA offer this top ten list of plants for bees.
My favourite nursery for bee friendly plants is Rosybee Nursery. You should all check out her plants and her brilliant research!
Her recommendations for bee friendly plants for summer baskets are:
Trailing lobelia
Lavender
Echium
Salvia
Campanula
Scabious
I would probably add Cleome and Fuchsia. But any other suggestions, please send them through!
Finally, are Dahlias good for bees? Again, I imagine single flowers are the best. But would love people to let me know what they see this summer….
Thank you and lets hope for a long, warm season for the bees!
April 27 th 2018
Feb22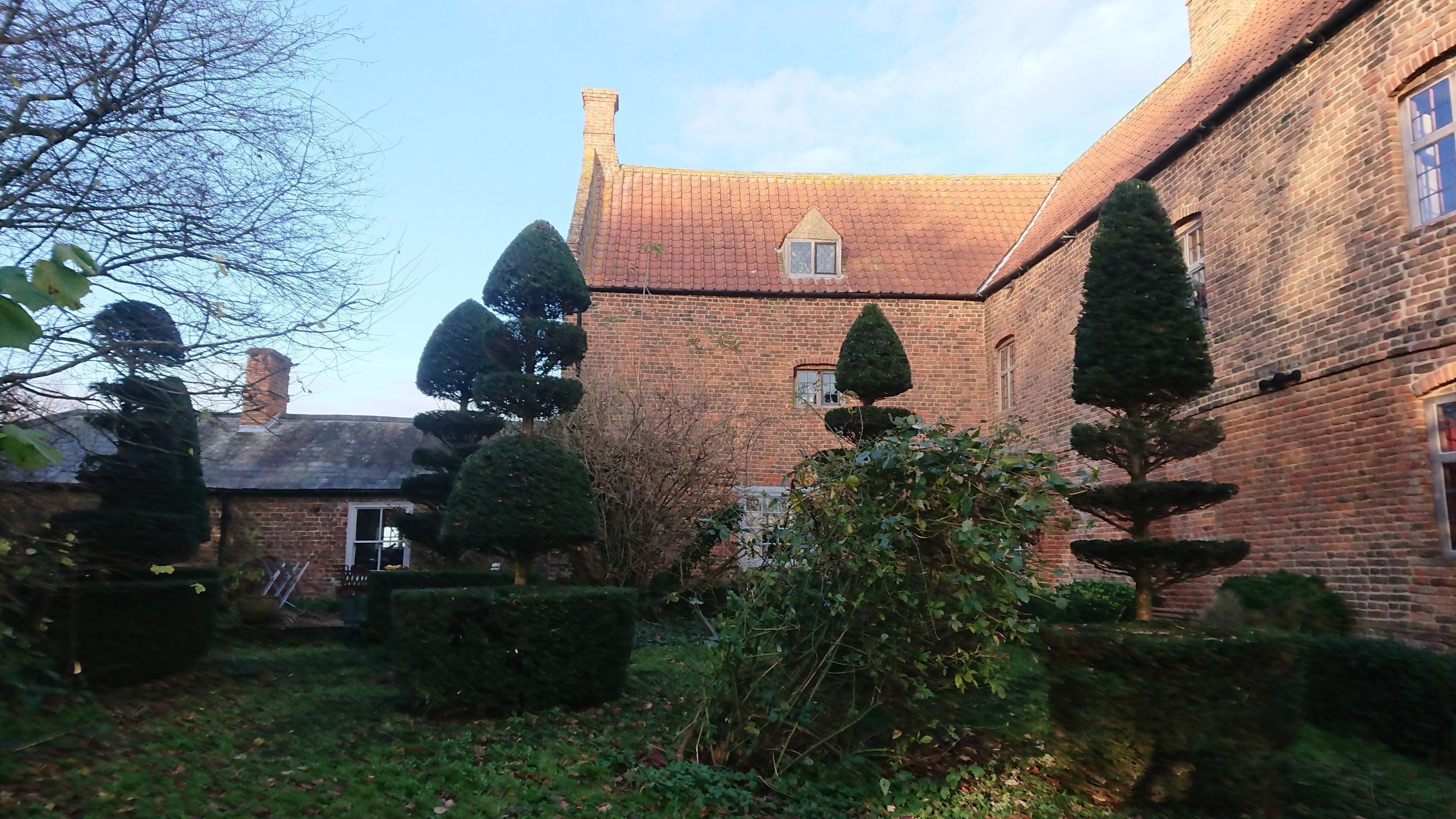 Guanock House needs a trainee topiary artist! Some of you may know it as the first home and garden of designer Arne Maynard, but is now owned and maintained by Michael Coleman and his wife Michelle. They offer meditation workshops and retreats there and it is as beautiful a house and garden as you could wish to visit. They called me in last Autumn to help shape up some of the topiary as it was all getting out of hand, but what it really needs is someone with a steady hand and lots of patience to take over the clipping …
Feb09
Here are some photos of work I have been doing at the garden of Charlotte Molesworth in Kent. Snow and ice brings out the depth of the different planes and angles carved into the boxwood. A garden has to look beautiful in winter – and topiary (green architecture)  helps do that! For more topiary pictures, click here.
Feb01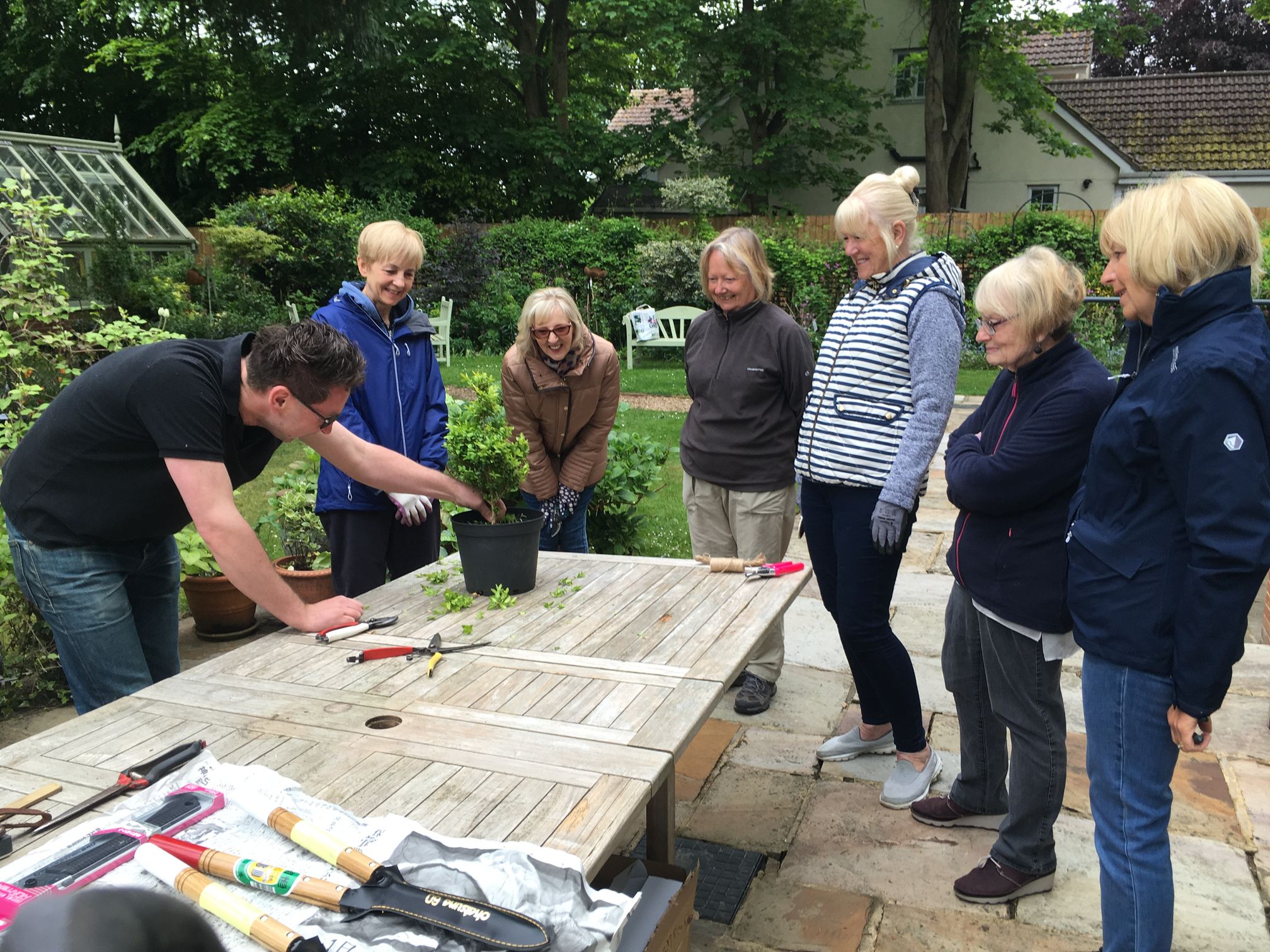 I am an experienced teacher of topiary and pruning, running workshops in the topiary garden of Charlotte Molesworth in Kent, as well as for The English Gardening School and The European Boxwood And Topiary Society. So if you are a keen gardener, a garden club, a group of friends who want to know more or even an absolute beginner who has been bitten by the gardening bug, then do contact me about what you might like to learn. What a laugh we are having in this workshop session I ran for a group of friends in Essex… Many people employ …