THE MODERN MINT BLOG
The final part of Dan Pearson's list, to inspire you to hopefully plant a tree or two… we have so far seen his views on bulbs, perennials and grasses, but now we come to what he recommends we plant in the woodier genre!
I would love to plant some of these and use them as topiary, my own favourite style of gardening – which you can see more of here in The Guardian. The Laurus nobles he recommends planting is of course a brilliant plant for topiary and pruning, mostly because it reflects the light and grows back when pruned.
As for the trees he recommends, I love Stewartia, a much too rare plant for our gardens as it can be kept small and offers fantastic leaf colour in the Autumn. And of course, Malus hupehbensis is one of the great blossom trees for anywhere – garden or the wild.
Just for your information, if you don't have space to plant a tree in your garden, don't despair – we are planting trees in the Highlands, and you can add to our grove. Go here and donate £6 for a tree!
And do also check out this review of Dan Pearson's excellent book 'Spirit'.
Now then, onto the trees and shrubs!
Shrubs
Aesculus parviflora
Camellia sasanqua 'Narumigata'
Chimonanthus praecox 'Grandiflorus'
Euonymus planipes
Hamamelis x Intermedia 'Jelena'
Hydrangea aspera Kawakamii Group
Ilex x Koehneana 'Chestnut Leaf'
Indigofera 'Claret Cascade'
Laurus nobilis f. angustifolia
Magnolia wilsonii
Perovskia atriplicifolia 'Little Spire'
Rosa 'Ausday'
Sarcococca ruscifolia var. chinensis 'Dragon Gate'
Salix purpurea 'Nancy Saunders'
Trees
Cercidiphyllum japonicum
Cercis canadensis 'Forest Pansy'
Cornus 'Norman Hadden'
Crataegus monogyna
Liquidambar acalycina
Malus hupehensis
Sorbus torminalis
Stewartia monadelpha
Further Reading:
Spirit: Garden Inspiration
(Our review of this book can be read at another blog post we wrote, handily titled 'Spirit'.)
Mediterranean Gardens: A Model for Good Living
The Well-Designed Mixed Garden: Building Beds and Borders with Trees, Shrubs, Perennials, Annuals, and Bulbs
400 Trees and Shrubs for Small Spaces: How to Choose and Grow the Best Compact Plants for Gardens
May 27 th 2014
Sep29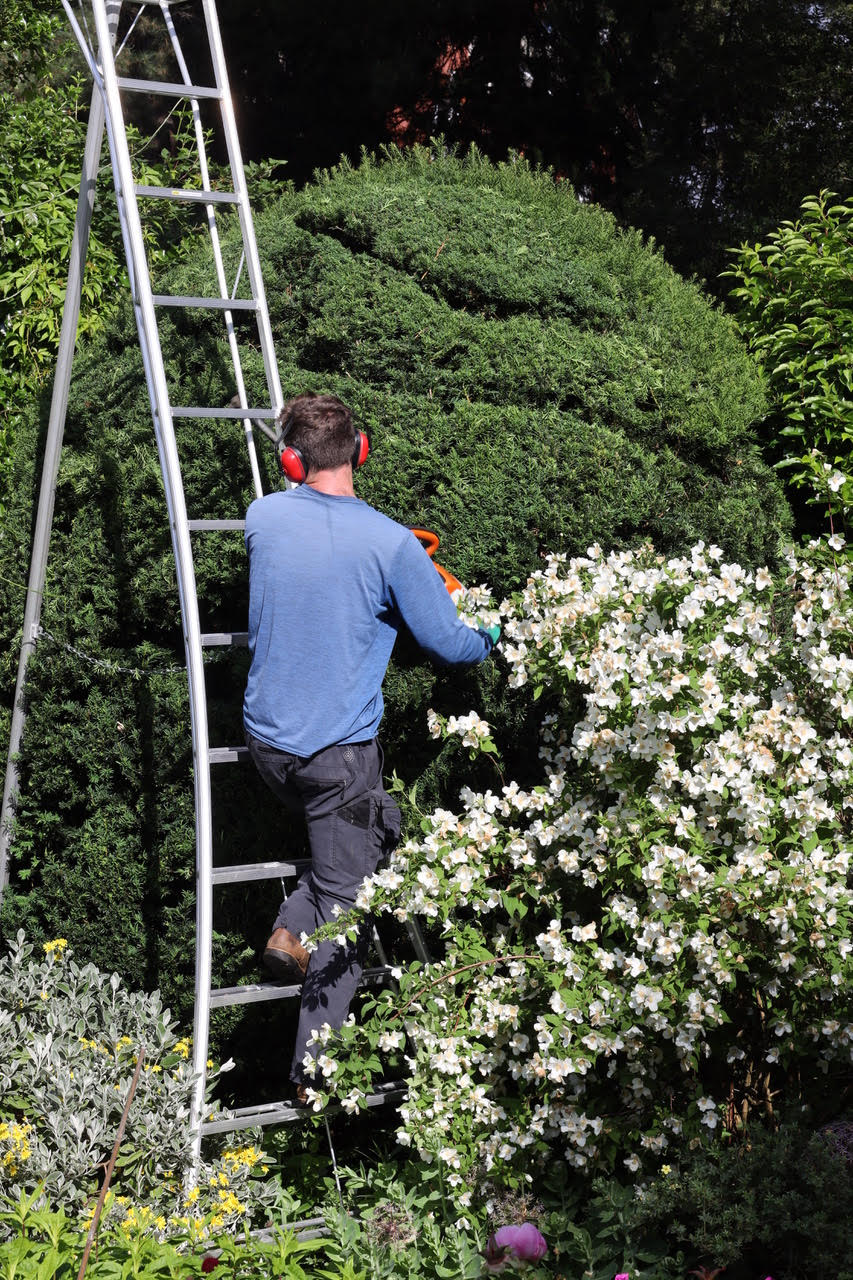 Making a new topiary out of the large, dull facade of a Taxus blob… My work was to change it up from a 'jelly drop' shape and give it texture, open it out and let the light through, and make it a sculptural feature in the background of the garden in summer… yet a major part of the garden in winter. A few more years before it becomes something special, but there was far more leaf and growth inside the plant than I thought and so it will not take too long for it to gain in character and become …
Sep27
Two weeks ago I was invited to teach topiary at the garden of Griselda Kerr, the author of The Apprehensive Gardener. I love teaching and sharing skills, but I was placed on the spot in the afternoon and asked to show how I would make a new topiary from an existing shrub. So below is a speeded-up video of me creating a cloud-pruned topiary from an old boxwood tree. I particularly love the ending when the class get involved….! See the video here. One hour was all it took, and though it needed a little tidying-up, it was made by …
Sep27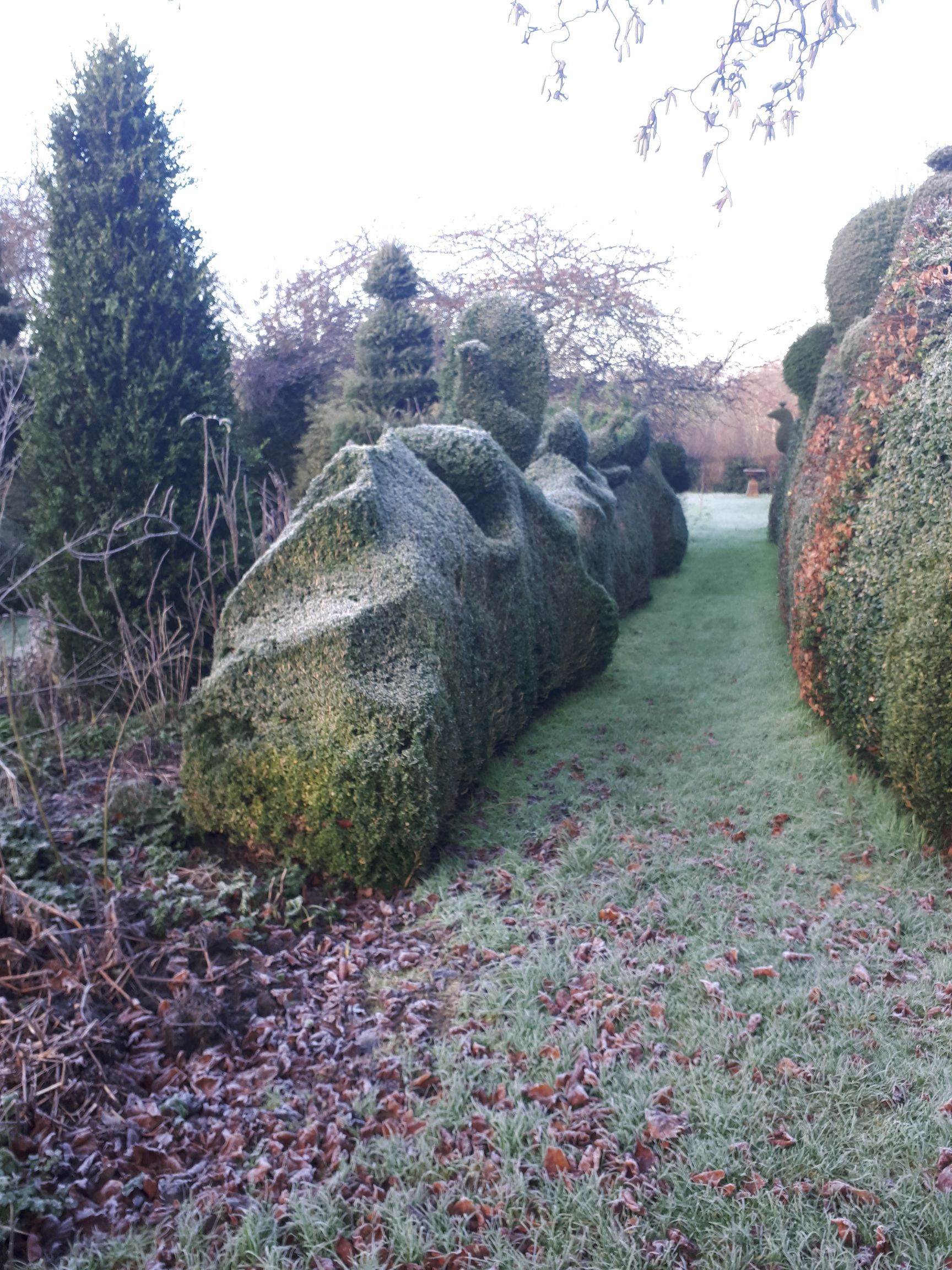 Charlotte Molesworth, my topiary mentor, and I are running our popular topiary workshop again in 2022. You can email me for details – or go here for information, your ticket and to find out about dates. Book A Spot On A Topiary Workshop, September 2022