THE MODERN MINT BLOG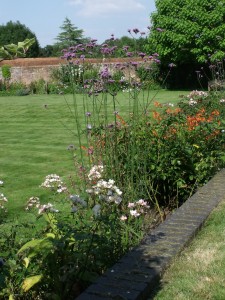 We know we know – Verbena bonariensis is so well known, planted in so many gardens, that it has become uncool to use it these days. Its ubiquitiousness means it gets judged in harsher tones than other plants, as if its popularity has made it offensive.
This is not the Verbena's fault. It became popular for a reason – it weaves its way around the garden but doesn't out compete other plants, it provides height and structure, encourages wildlife, is a gorgeous purple, looks good with other plants and fits into schemes as diverse as a country meadow to urban minimalism. Who wouldn't want a plant like that? (Possibly the people of Buenos Aires, where this Verbena was discovered and given its name 'bonariensis'… we've not noticed it around the city recently. Time for a trip and take a better look? See if the Argentines are enjoying one of their own…?)
At Modern Mint we refuse to let this lack of love for the plant deter us – a heinous crime against the arbitrarial zeitgeist of good taste it currently may be, but it is a plant with wonderful qualities (for an example of how it is currently viewed, note that it didn't make it into Dan Pearson's list.)
The wheels will keep turning and it will come back into fashion, hopefully this time considered the great garden plant it is.
Where and how do you use it?
Plant it in full sun or part shade.
Don't cut it down before winter, let it stand (and seed.)
It looks great alongside shrub roses, or Miscanthus…
It prefers a damper soil. Really, it does. Henk Gerritsen told us, and observations we made from our own experiments lead us to agree…
"I sometimes made deadful miscalculations. For example, I assumed that due to their lanky growth Verbena bonariensis  and Verbena hastata loved aridity, but in practise I noticed that they wilted away in dry places. Only later did I read that in the wild both species grow in moist places, in South and North America respectively."
That concludes our ode to Verbena bonariensis. We hope you dismiss the current vogue of not using Verbena, and enjoy it as the brilliant garden plant it is.
(And click on the link below to take you to the wonderful Henk Gerritsen book we quoted from above…)
July 10 th 2014
Oct11
Need a talk for your garden club? Via Zoom because of Covid-restrictions this winter? Then I can help! It is great you are trying to keep your club going, and though Zoom is not the same as getting a group together and talking about gardening live, of the moment, right now it is the best alternative we have got. How I Do A Zoom Talk For Your Garden Club I'm very happy to do Zoom talks and have moved about 20% online so far (from end of March 2020 to the start of October 2020) – although that number is …
Oct09
Just a quick message from a garden club last night after I gave a talk for them via Zoom… Hi Darren, We would just like to thank you for a very enjoyable and fun talk this evening for our first Zoom meeting! Think we can say that everyone enjoyed it, we have already had positive feedback from some of the members, obviously the way forward at the moment! We were certainly very pleased with the turn out for the first virtual meeting! If you are a garden club speaker and want to give it a try, then please do …
Sep21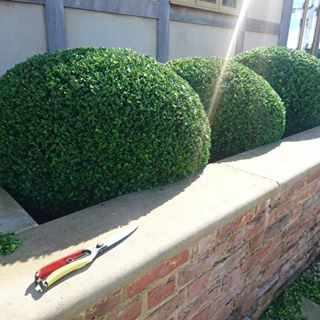 I was asked by the European Boxwood & Topiary Society to help out with answering a common question – How to sharpen your shears? So we spent a fun day making a video, that hopefully will help you make sure you have sharp, shiny blades to do your topiary pruning with. And you can find here more examples of the topiary I make with my sharp blades.