THE MODERN MINT BLOG
My new talk for 2019 'A Very British Garden' has now been given to a few garden clubs in the UK. If you wish to book me for another talk, then you can find my talk subjects here – Garden Club Speaker.
A Very British Garden
Is about what I see when I work on gardens in the UK, the problems that I am consistently asked to solve – like bare fences, smelly compost, why boxwood plants are being defoliated and how come slugs are eating all the lettuce….
It has been great fun to write and I hope you will book it soon.
Below are notes for those who have heard it and wish to learn more….
The Alternative Plant List
Baptisia
Chamaenerion
Rose 'Madame Alfred Carriere'
Jasmine 'Clotted Cream'
Trachelospermum jasminoides
Campsis radicans
Carpenteria californica
Abeliophyllum distichum
Osmanthus
Magnolia wilsonii
Stewartia pseudocamellia
Trillium
I realise that, to those who have not seen the talk, this will sound like an odd list. In the talk, all is explained. Honest.
You can read about a few more plants that garden designer Dan Pearson recommends here.
Plant Nurseries
Phoenix Perennial Plants
Marchants Hardy Plants
Hards Cottage Garden Plants
Crug Farm
Great Dixter
There are loads more independent nurseries out there, sharing great garden plants. Go seek them out!
Real Seeds
Great seeds, great tasting vegetables, all to be saved and shared. Growing fantastic vegetables is a brilliant way to make a British garden something special. Use them!
Boxwood Caterpillar
Find out more here how to cope with the devastating caterpillar and moth. And check your boxwood plants this spring for the webbing! It is up to those of us who garden to be on the lookout for this caterpillar that is defoliating both gardening wild boxwood all over the UK and Europe. It has no natural predators – except the keen-eyed gardener who wants to make a difference.
So please do check your boxwood plants!
Balmoral Cottage, The Garden Of Charlotte Molesworth
My topiary mentor is opening her garden in Kent through 2019. Dates can be seen here, as well as details for how to stay in the Potting Shed in the garden.
Charles Dowding – No Dig Gardening
You can read more about Charles Dowding and his no-dig gardening technique in this blog about my visit to his garden here.
Fascinating reading, as are his books, especially – The No Dig Home & Garden.
He also uses copper tools…
Finally, Use A Green Energy Supplier
This is surely a no brainer (along with going peat free on your compost!) The simplest and easiest change you can make to help reduce your carbon footprint and keep the earth from becoming a terrible place. We use Bulb and recommend you do too. There are financial benefits for us both, as well as the moral one.
And they make it simple to switch, even paying your fees if you have any for leaving your current energy supplier early.
Check out how you (and the planet) can benefit from using Green Energy now.
February 28 th 2019
Nov17
This Autumn I have presented another 'Topiary Provocation' to keen gardeners and designers. If you want to know more about topiary, the report on what we discussed and where modern topiary is going can be read by clicking the link below: Topiary Provocation Report Autumn 2021 This report is free to post on your own website or blog, just credit Modern Mint, and don't change anything within it. Alternatively you can just share it with keen friends… or enemies?
Sep29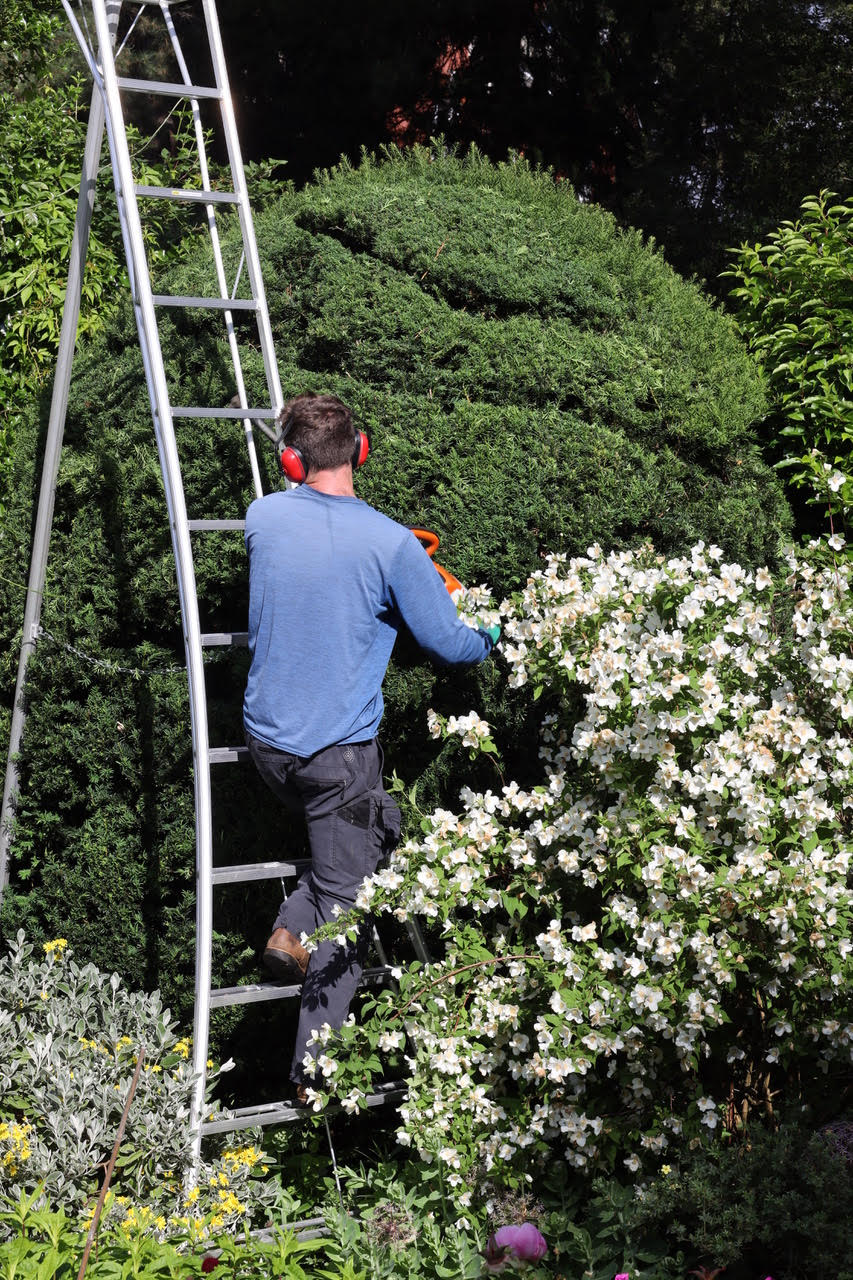 Making a new topiary out of the large, dull facade of a Taxus blob… My work was to change it up from a 'jelly drop' shape and give it texture, open it out and let the light through, and make it a sculptural feature in the background of the garden in summer… yet a major part of the garden in winter. A few more years before it becomes something special, but there was far more leaf and growth inside the plant than I thought and so it will not take too long for it to gain in character and become …
Sep27
Two weeks ago I was invited to teach topiary at the garden of Griselda Kerr, the author of The Apprehensive Gardener. I love teaching and sharing skills, but I was placed on the spot in the afternoon and asked to show how I would make a new topiary from an existing shrub. So below is a speeded-up video of me creating a cloud-pruned topiary from an old boxwood tree. I particularly love the ending when the class get involved….! See the video here. One hour was all it took, and though it needed a little tidying-up, it was made by …