THE MODERN MINT BLOG
We use Bulb, a 100% green energy supplier, to provide the electricity in our home and office.
It was the easiest, simplest change we could make to lower our carbon footprint and help the planet.
Are we recommending them to you?
Yes we are!
By switching today you can be provided with renewable energy at a pricer cheaper than the big 6. Switching is easy, as Bulb will:
Take care of everything
Never leave you without power during the switch
Pay any exit fees from your old supplier
It takes 2 minutes to sign up, then they do the rest.
Plus, if you use this link to switch, you get £50 and so do we. Not split between us, that's £50 each. A nice little bonus alongside doing something to reduce climate change.
We hope you will consider taking the step to switch to renewable energy. It is important we burn less fossil fuels and focus on a world of renewable energy instead.
January 10 th 2019
Sep21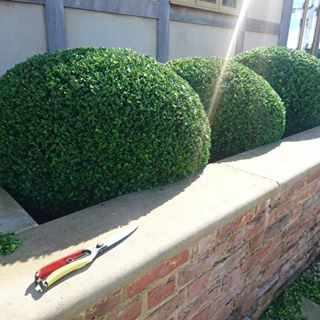 I was asked by the European Boxwood & Topiary Society to help out with answering a common question – How to sharpen your shears? So we spent a fun day making a video, that hopefully will help you make sure you have sharp, shiny blades to do your topiary pruning with. And you can find here more examples of the topiary I make with my sharp blades.
Aug16
You can get a ticket for this new talk I'm giving at the European Boxwood And Topiary Society here – TALK TICKETS It is on the 25th August at 6pm. It should be great fun and I'm very excited to be sharing some recent thoughts about topiary with people – and how it might work in a modern garden.
Jun14
If you have a subscription, you can check out an article about bespoke ideas for your garden in the Telegraph. There are some great crafts people there, so check it out. Click Here To See The Article About my Topiary Work In The Telegraph