THE MODERN MINT BLOG
(No, Christmas is not here yet…) But we thought we would share the best coffee table garden books that we have come across – in case you need to give someone a present that is hefty enough to mean something, cheap enough to afford and beautiful enough to actually be worthwhile.
1) Mirrors of Paradise: The Gardens of Fernando Caruncho
Our number one book is about garden designer Fernando Caruncho. He was a big influence on us when we started our garden design business and there is much to be learnt from his planting schemes – basically, he uses several species of a very few plants, allaying this with a satisfying sense of space and void. We gave this book as a gift to a client last year, to open his mind to a philosophy of gardening that he had moved away from completely (he had gone for more dynamic, wilder plantings…)
Why did we offer him something that he wasn't so interested in? To show him just how far he had come in his relationship with his garden. And because the gardens, whether they are your style or not, will make you sit up and look closely. This book will reflect back what you know and don't know about gardening. Buy Mirrors of Paradise: The Gardens of Fernando Caruncho
now.
2) Ulf Nordfjell: Fourteen Gardens
Ribes, phlox, dicentra, gillenia… blueberry, lingonberry, meadows… scilla, puschkinia and narcissus… these are the plants Ulf uses, these are the plants you will see in the coffee table garden book. Another brilliant designer that will get you looking at your garden in a totally new way…
3) The Scandinavian Garden
Following on with the Scandinavian theme is this one about Scandinavian Gardens. It is a coffee table book, so of course the pictures are brilliant, but the writing too is sharp enough to make you want to have nothing but rocks and lichen to tend.
We have spent a lot of time in Scandinavia over the last decade and, though the growing season is short, the people are not afraid to use colour and really enjoy the time they have. Whenever we open this book it makes us long to spend summer gardening in Scandinavia, using dill in all our food and walking through the Swedish forests picking mushrooms to take back home and fry in lots of butter. Giving The Scandinavian Garden
as a gift will certainly make you stand out to your friends…
4) Jardins de Jacques Wirtz
It seems at times this book is a struggle to get. Because it adorns the coffee tables of that many homes? We hope so, as it is a magnificent book, another one that inspired us when we set out to design gardens. He is known for his cloud pruned box and hedges of tightly clipped beech, yet as Monty Don says…
"There are flowers too. Lots of them. But no traditional borders. Everything has a utilitarian shape about it. They grow their flowers in rows… this might seem brutally functional, but… the flower garden thus takes on the easy confidence of an allotment…"
Having this coffee table garden book will catch the eye and set off conversation with anyone who sees it.
5) Zen Gardens: The Complete Works of Shunmyo Masuno, Japan's Leading Garden Designer
38 gardens, a conversation with designer Shunmyo and site plans to pour over. If you know someone interested in garden design or horticulture, they will be amazed when you give them this. Why amazed? Because having visited Japan, we can tell you the gardens are jaw dropping in the way they look and the serene atmosphere they provide you with. This book is worth it.
Hopefully these five recommendations for coffee table garden books have helped you find a present for someone you care about – if you like it, they should as well, yes?
Happy shopping!
August 8 th 2014
Feb22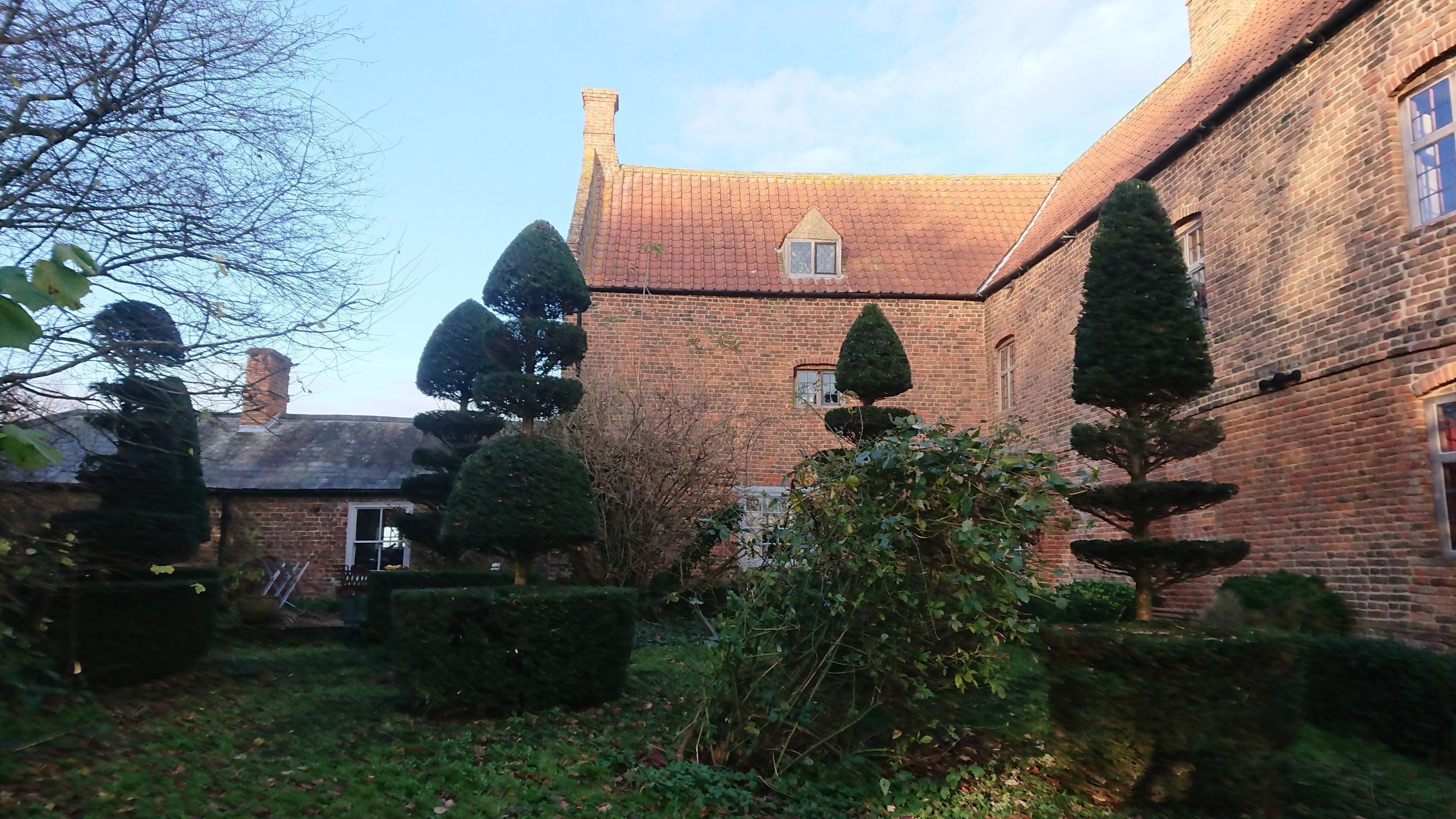 Guanock House needs a trainee topiary artist! Some of you may know it as the first home and garden of designer Arne Maynard, but is now owned and maintained by Michael Coleman and his wife Michelle. They offer meditation workshops and retreats there and it is as beautiful a house and garden as you could wish to visit. They called me in last Autumn to help shape up some of the topiary as it was all getting out of hand, but what it really needs is someone with a steady hand and lots of patience to take over the clipping …
Feb09
Here are some photos of work I have been doing at the garden of Charlotte Molesworth in Kent. Snow and ice brings out the depth of the different planes and angles carved into the boxwood. A garden has to look beautiful in winter – and topiary (green architecture)  helps do that! For more topiary pictures, click here.
Feb01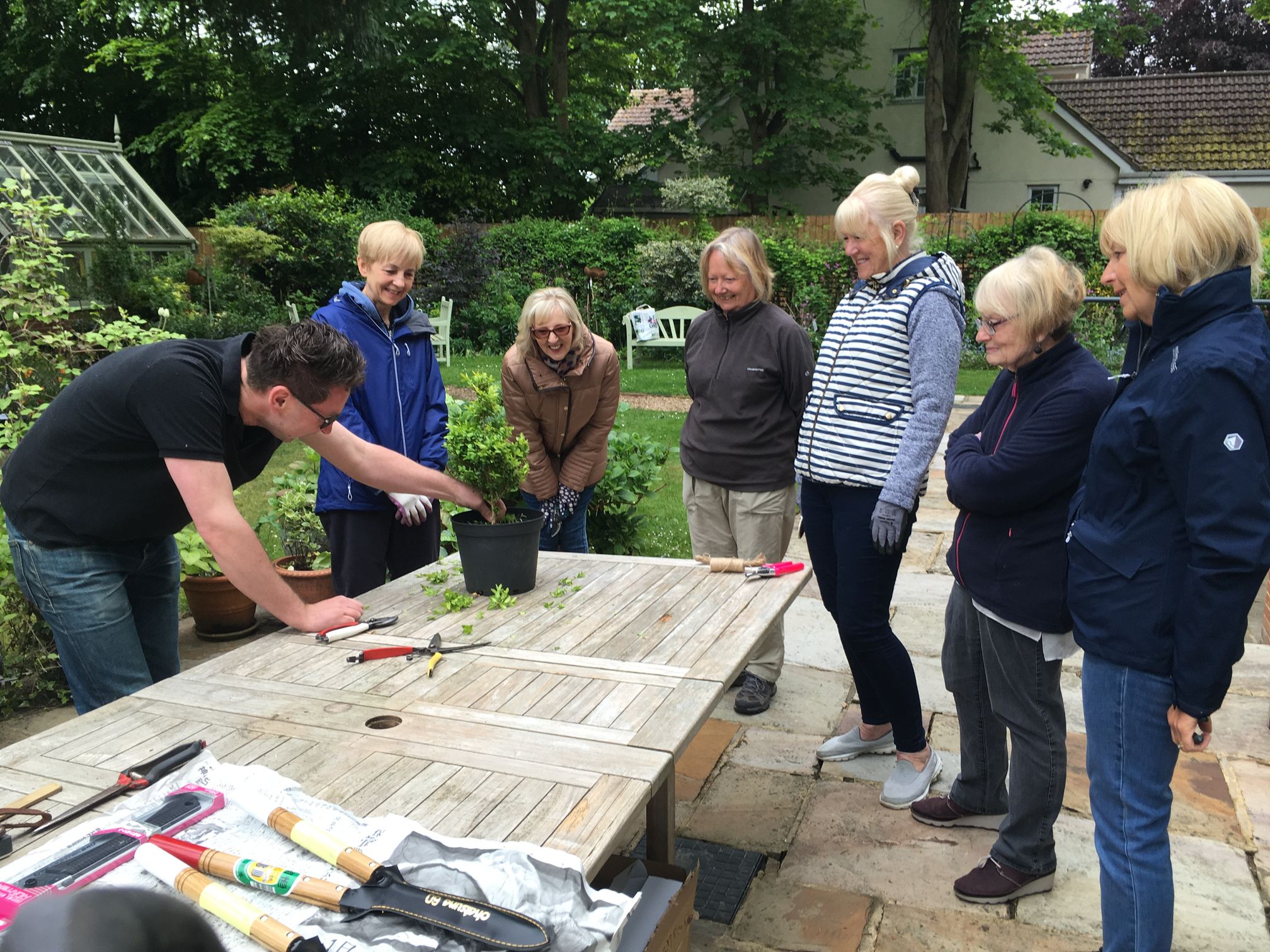 I am an experienced teacher of topiary and pruning, running workshops in the topiary garden of Charlotte Molesworth in Kent, as well as for The English Gardening School and The European Boxwood And Topiary Society. So if you are a keen gardener, a garden club, a group of friends who want to know more or even an absolute beginner who has been bitten by the gardening bug, then do contact me about what you might like to learn. What a laugh we are having in this workshop session I ran for a group of friends in Essex… Many people employ …