THE MODERN MINT BLOG
The video features Monty Don visiting different gardens in South Africa. If you watch a short section from 26-30 minutes you will see him with a man named Donovan, who has a garden called L'il Eden in Cape Town.
"I see myself as an artist…" Donovan says, "… I come to my garden, I experiment, I play around with the rocks… it's always changing."
The garden is also used to run a project introducing children to the pleasures of gardening. Donovan has a very clear idea of what his garden does for people, and what his role is to the garden.
What role do you take in your own outdoor space? What attitude do you view your garden with?
This is an endlessly fascinating question, and the answer you give more often than not reflects the garden you end up with. Someone who sees it as hard work will probably have lots of hard landscaping. Someone who loves wildlife and nature will probably let weeds grow in the pathways. Someone who loves flowers will probably have the 'big four' – ornamental poppies, iris, peonies and delphiniums – with a fair few roses too.
Henk Gerritsen wrote 'don't whinge.' A good attitude to cultivate as things can often go wrong in the garden!
Architectural Plants say 'be bold and avoid being timid.'
While Strilli Oppenheimer put "we seek to combine forces with nature rather than fighting against it, and to explore the boundaries between garden and nature. In doing so, we have created a haven to an abundance of insect and animal life, fungi and indigenous flora. This is our legacy, our investment in the future."
All of them strong, clear viewpoints on what a garden can be. So to help your garden, spend as much time cultivating your attitude to it as you do cultivating the soil. How you think about the landscape in front of you, and the world around you, needs every bit as much time, attention and love as your plants do.
And as for us here at Modern Mint – what attitude do we take? We want to invite you to see any outdoor space through our eyes, whether it be a field, a garden, a pot, or the bare soil of a traffic island – a place of potential beauty, that can be transformed in a way that has a positive impact on people as well as the planet.
We want you to be so excited about your garden that you feel like you can jump over the moon. That, for us, is the attitude we take.
Great books to read and, we hope, inspire you…
April 26 th 2014
Feb22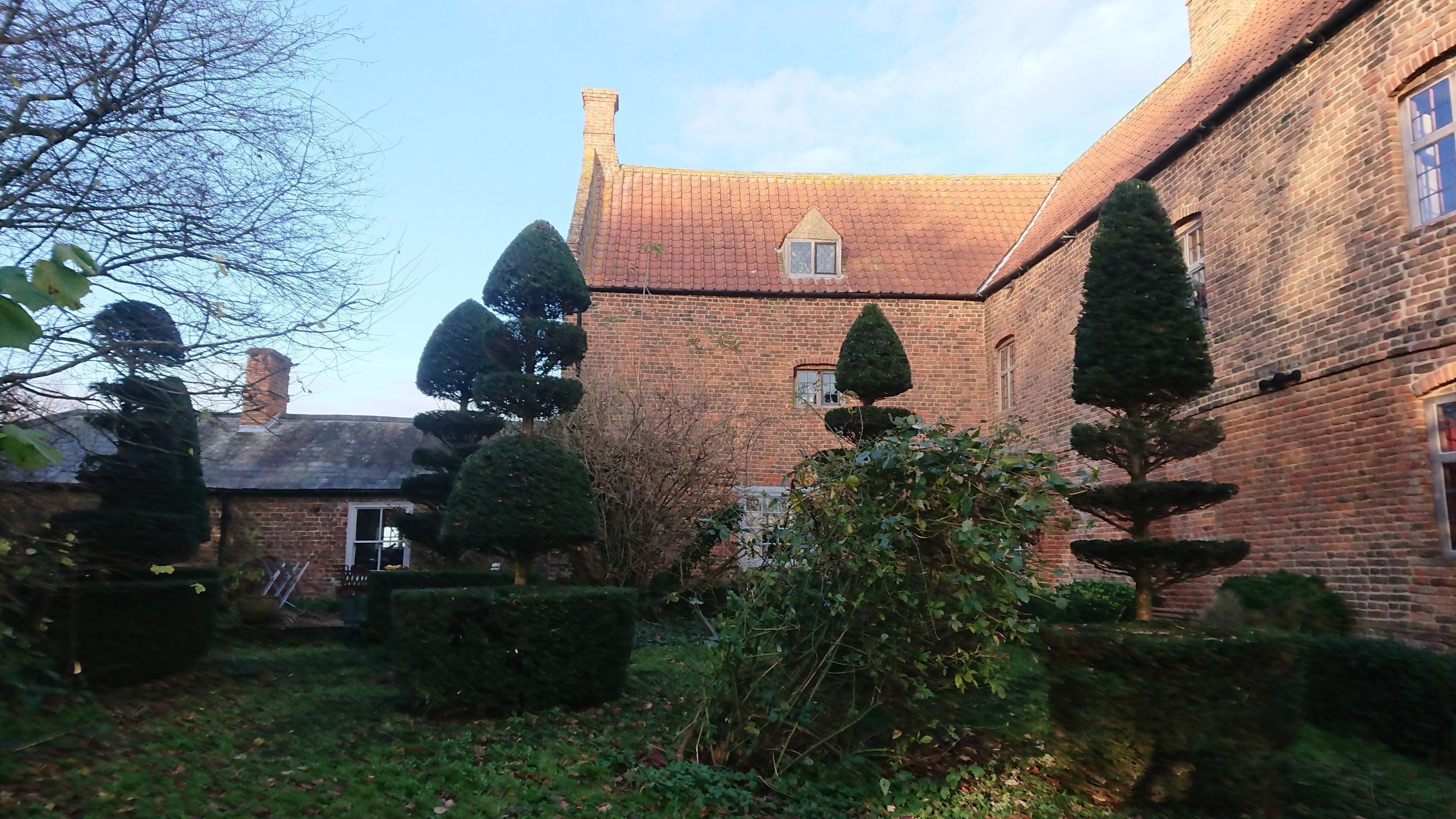 Guanock House needs a trainee topiary artist! Some of you may know it as the first home and garden of designer Arne Maynard, but is now owned and maintained by Michael Coleman and his wife Michelle. They offer meditation workshops and retreats there and it is as beautiful a house and garden as you could wish to visit. They called me in last Autumn to help shape up some of the topiary as it was all getting out of hand, but what it really needs is someone with a steady hand and lots of patience to take over the clipping …
Feb09
Here are some photos of work I have been doing at the garden of Charlotte Molesworth in Kent. Snow and ice brings out the depth of the different planes and angles carved into the boxwood. A garden has to look beautiful in winter – and topiary (green architecture)  helps do that! For more topiary pictures, click here.
Feb05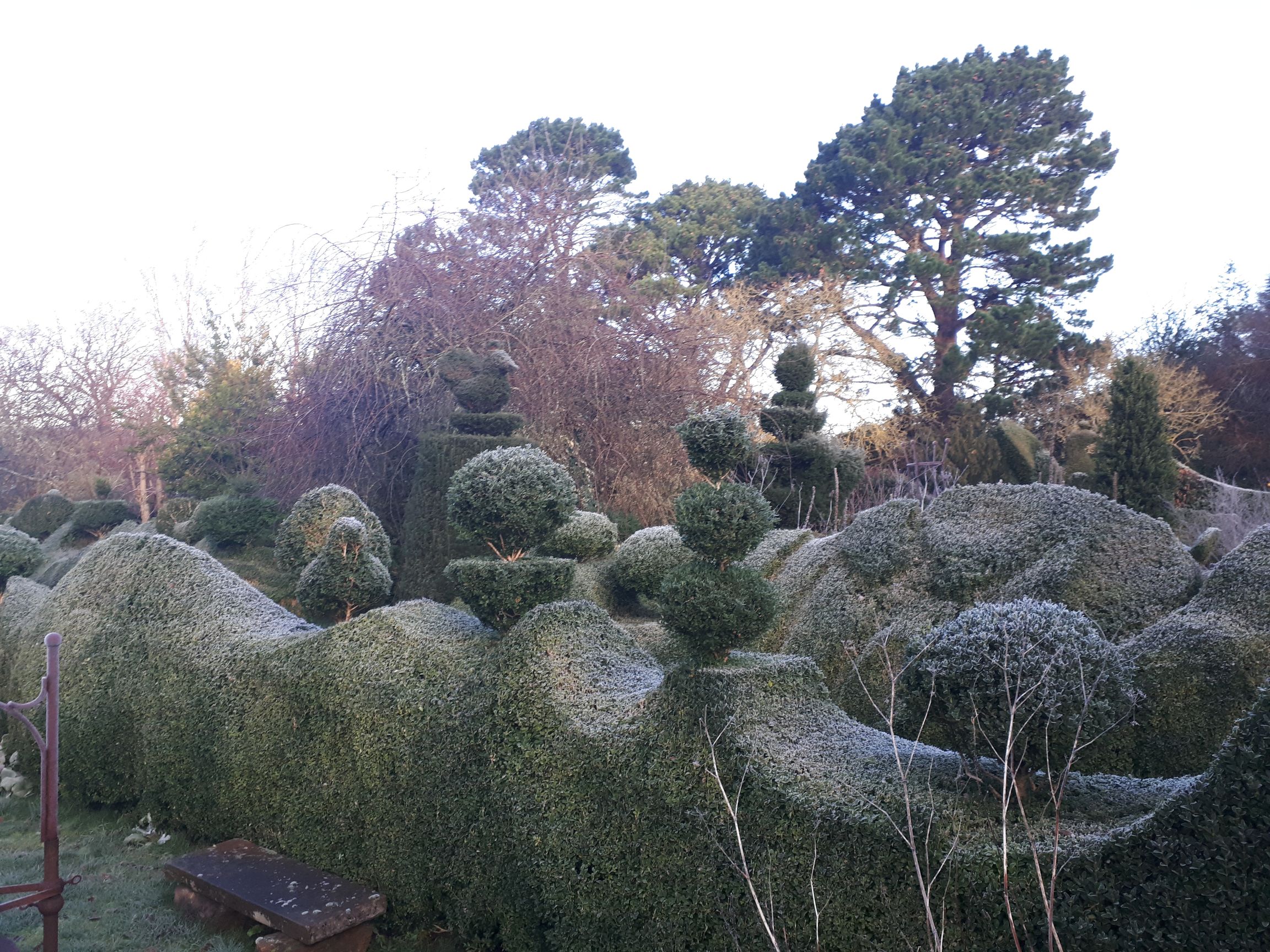 How To Use Topiary In The Garden is my new talk, which I first gave last year via Zoom for the European Boxwood And Topiary Society. Returning to Zoom again, there are two dates available to see and hear the talk: March 16th – Book your ticket here April 6th – Book your ticket here The talk is great fun, perfect for keen gardeners or people who want to know how to improve their garden with hedges and architectural plants. How To Use Topiary In The Garden looks at how to move away from the idea topiary is twee or old-fashioned, …