THE MODERN MINT BLOG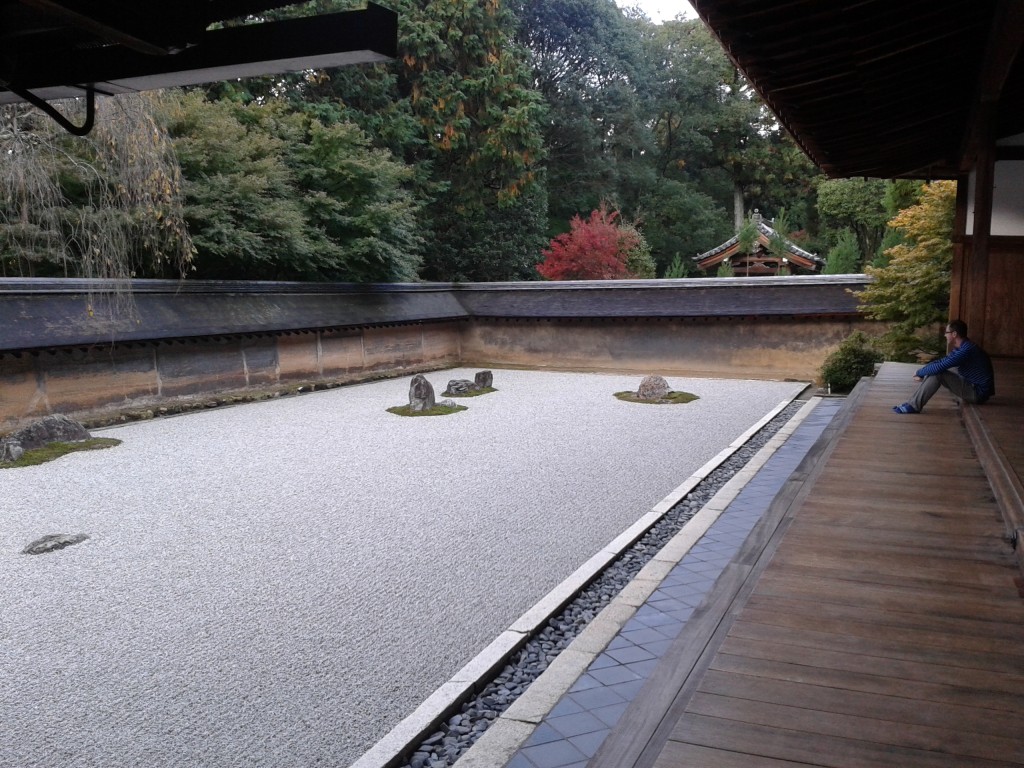 Last November the Modern Mint team went to view the gardens of Japan (and eat sushi, in vast quantities.)
This picture, at the famous Zen garden of Ryoan-ji, was taken at 7.50am on a Monday morning. Hence the privacy. There are 15 stones in the garden, but only 14 can be viewed at any one time from the platform. It is said that if you gain enlightenment the fifteenth stone will be revealed to you. We didn't find enlightenment, but we did have to get up early, take three buses and then knock on the temple door asking to be allowed in in order to get any time alone to view the garden.
How long did we get before the masses (schoolchildren/tourists) arrived? How long did we get to spend, the only people in the world at that particular moment on that particular rainy Monday morning at the temple garden of Ryoan-ji? We got to soak in its wonderful atmosphere, completely undisturbed, for a whole eight minutes.
It was absolutely worth it.
Recommended Reading:
Around The World In 80 Gardens
Japanese Zen Gardens
Japanese Gardens: Tranquility, Simplicity, Harmony
The Gardens of Japan
May 14 th 2014
Feb10
There seems to be some underhand shenanigans going on here. Bob Flowerdew is threatening to resign. We face losing the UK's cornerstone organic garden. So please take a look at what is going on via the Facebook group…. go on! Go Now! Save Ryton Organic Gardens!
Feb06
Today we will be looking at Garden Design Trends in 2018. Just so you are in the know about what is cool and what is not cool in the 12 months ahead…. For the past like, million years I have shared my thoughts on what the gardening industry tell us the latest trends are going to be. If you are interested, you can see here the garden design trends for 2017. Or take a peek at my favourite of all the posts I have written – Alternative Garden Design Trends. This is my individual take on what the latest garden design …
Feb06
Well now, this is interesting…. UK Plans 50 Million New Trees in Northern Forest Likely? See the pitfalls? We love the idea and wholeheartedly support as much tree planting as possible. But are seriously doubtful that this is more than a sticking plaster solution to England being so vastly 'under-treed'…. or should that be 'overfelled?' Yet whether this idea happens or not, all we ask is that you please make sure you plant as many trees as you can in your garden!