THE MODERN MINT BLOG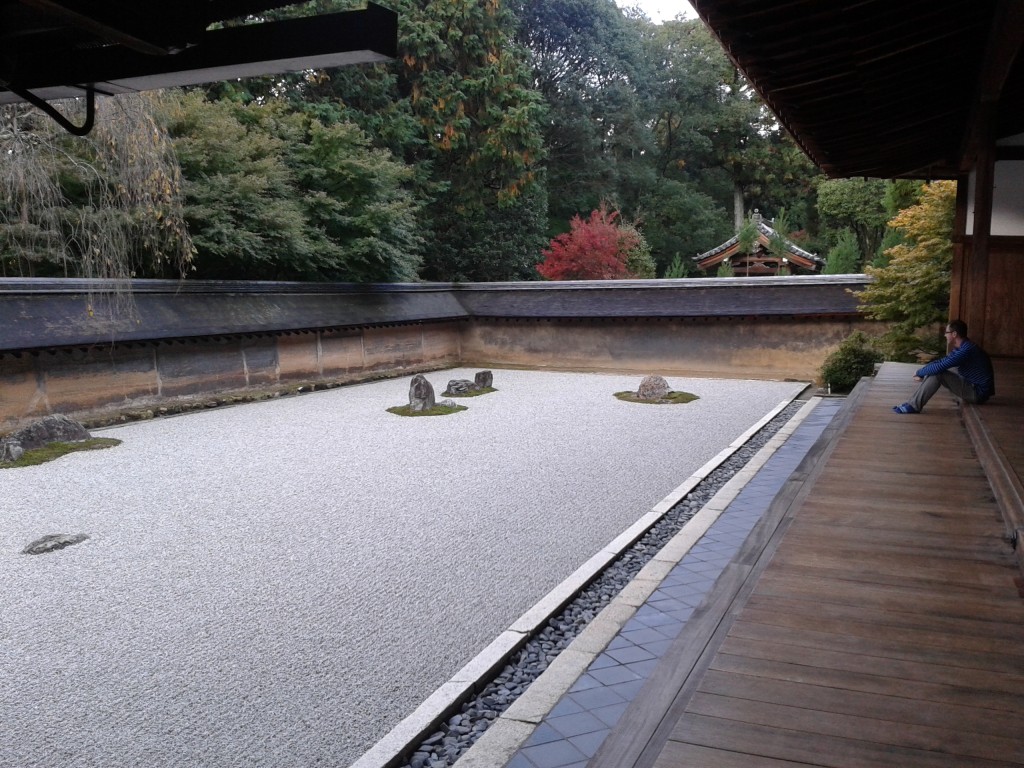 Last November the Modern Mint team went to view the gardens of Japan (and eat sushi, in vast quantities.)
This picture, at the famous Zen garden of Ryoan-ji, was taken at 7.50am on a Monday morning. Hence the privacy. There are 15 stones in the garden, but only 14 can be viewed at any one time from the platform. It is said that if you gain enlightenment the fifteenth stone will be revealed to you. We didn't find enlightenment, but we did have to get up early, take three buses and then knock on the temple door asking to be allowed in in order to get any time alone to view the garden.
How long did we get before the masses (schoolchildren/tourists) arrived? How long did we get to spend, the only people in the world at that particular moment on that particular rainy Monday morning at the temple garden of Ryoan-ji? We got to soak in its wonderful atmosphere, completely undisturbed, for a whole eight minutes.
It was absolutely worth it.
Recommended Reading:
Around The World In 80 Gardens
Japanese Zen Gardens
Japanese Gardens: Tranquility, Simplicity, Harmony
The Gardens of Japan
May 14 th 2014
Apr11
I have visited two new clubs this week to present a garden talk. They were in different parts of the country and so a lot of driving, but worth every hour sat on the motorway in traffic! The talks went well and I have had some lovely feedback… "Thank you so much for providing a presentation which was an almost impossible mix of enthusiasm, joy, entertainment, education and inspiration. They say that laughter is the best medicine and there was certainly plenty of that, and everyone left with a smile on their face, but just as important is that it …
Mar28
Secateurs & Marie Kondo I was interviewed recently for an article in the Telegraph about the best secateurs for the garden. I let my mouth run away with me (as normal) and said that the Okatsune pruners with the red and white handles, that I use everyday in the garden, are the kind you don't throw away when you Marie Kondo your possessions. I mean that, because I do believe in buy once buy well. But when it gets reported in the paper, I don't half sound like a wally…! "Lerigo devoutly describes his chosen make of Japanese secateurs, Okatsune, …
Mar27
Modern Mint and myself have been helping the Daily Telegraph discover the best secateurs on the market. And lo and behold, our Okatsune secateurs came out top! At last, recognition for a great value pair of secateurs that I use everyday! You can see what they thought of the other items on the post here – Daily Telegraph Best Secateurs. Or buy yourself a pair from Modern Mint.