THE MODERN MINT BLOG
Native trees, if you need help deciding what you might like to plant…
1) Native Trees, Evergreen
– Box (Buxus Semperivens)
Dense wood, good in dry conditions, used for topiary.
– Holly (Ilex Aquifolium)
Dark green foliage, beautiful bark and trunk. Prize tree in winter. Male to female mix for berries.
– Yew (Taxus Baccata)
Topiary, trim once in August, thick hedge, grows faster than you think.
– Juniper (Juniperus Communis)
Dry and eat the berries, smell good or bad depending on your taste, slow growing.
– Scots Pine (Pinus Sylvestris)
Conical, red bark, needle leaves.
2) Native Trees, Deciduous
– Hawthorn (Crataegeus Monogyna)
Blossom in May, can eat the haws in Autumn (if eaten with the leaves, it is known as 'bread and cheese…')
– Hornbeam (Carpinus Betulus)
Trunk twists with age, great on clay soils, fresh green leaf.
– Elm (Ulmus Glabra)
Not often seen due to disease.
– Alder (Alnus Glutinosa)
Good near water, catkins in spring.
– Whitebeam (Sorbus Aria)
Fruits in autumn, leaves furry and silver below – which you notice when they are blowing in the wind.
– Service Tree (Sorbus Torminalis)
Rich red Autumn colours, smaller tree, fruits were used for brewing beer.
– Poplar (Populus Alba)
White underside of leaf, quick grower.
– Lime (Tilia Cordata, Tilia Platyphyllos)
Scented flowers in July, small, hard fruit.
– Buckthorn (Rhamnus Frangula, Rhamnus Cathartica)
Wet sites, red fruits in autumn, R. Cathartica is a smaller tree.
– Crab Apple (Malus Sylvestris)
Flowers in spring, fruits for jam in autumn, tough trees.
– Hazel (Corylus Avellana)
Fast growing, catkins and nuts.
– Oak (Quercus Rober, Quercus Petrea)
Good for wildlife, long-lived, acorns.
– Maple (Acer campestre)
Fast growing, good autumn colour.
– Birch (Betula Pubescens, Betula Pendula)
Silver and reddish bark, catkins, roots near the surface of the soil.
– Aspen (Populus Tremula)
Fluttering leaves, moist conditions, good autumn colour.
– Spindle (Euonymus Europaeus)
Great in Autumn for fruit and leaf, slightly ugly habit.
– Rowan (Sorbus Aucuparia)
Orange leaf in autumn, great berries!
– Dogwood (Cornus Sanguinea)
Dark red twigs in winter!
– Elder (Sambucus Nigra)
Fast growing, flowers for cordial or champagne, then berries later in the year.
– Ash (Fraxinus Excelsior)
Light airy canopy good for growing bulbs below.
– Cherry (Prunus Padus, Prunus Avium)
Blossom, liable to get diseased – we would rather grow cherry trees for their fruit.
– Blackthorn (Prunus Spinosa)
Massive thorns! Great berries for sloe gin.
– Willow (Salix Caprea, Salix Alba, Salix Fragilis, Salix Triandra, Salix Pentandra)
Moist soils, pollard in spring, shiny foliage.
– Strawberry Tree (Arbutus Unedo)
Red, peeling bark, found in Ireland, deep red fruits.
We hope this list of native trees helps. Although 'native' is open to debate… Where Do Camels Belong?: The story and science of invasive species
August 7 th 2014
Aug05
I will be bringing a show about gardening to the Faversham Fringe on Wednesday, August 28th at 8.30pm. More details and tickets here – Faversham Fringe, The Grinning Gardener.
Jun30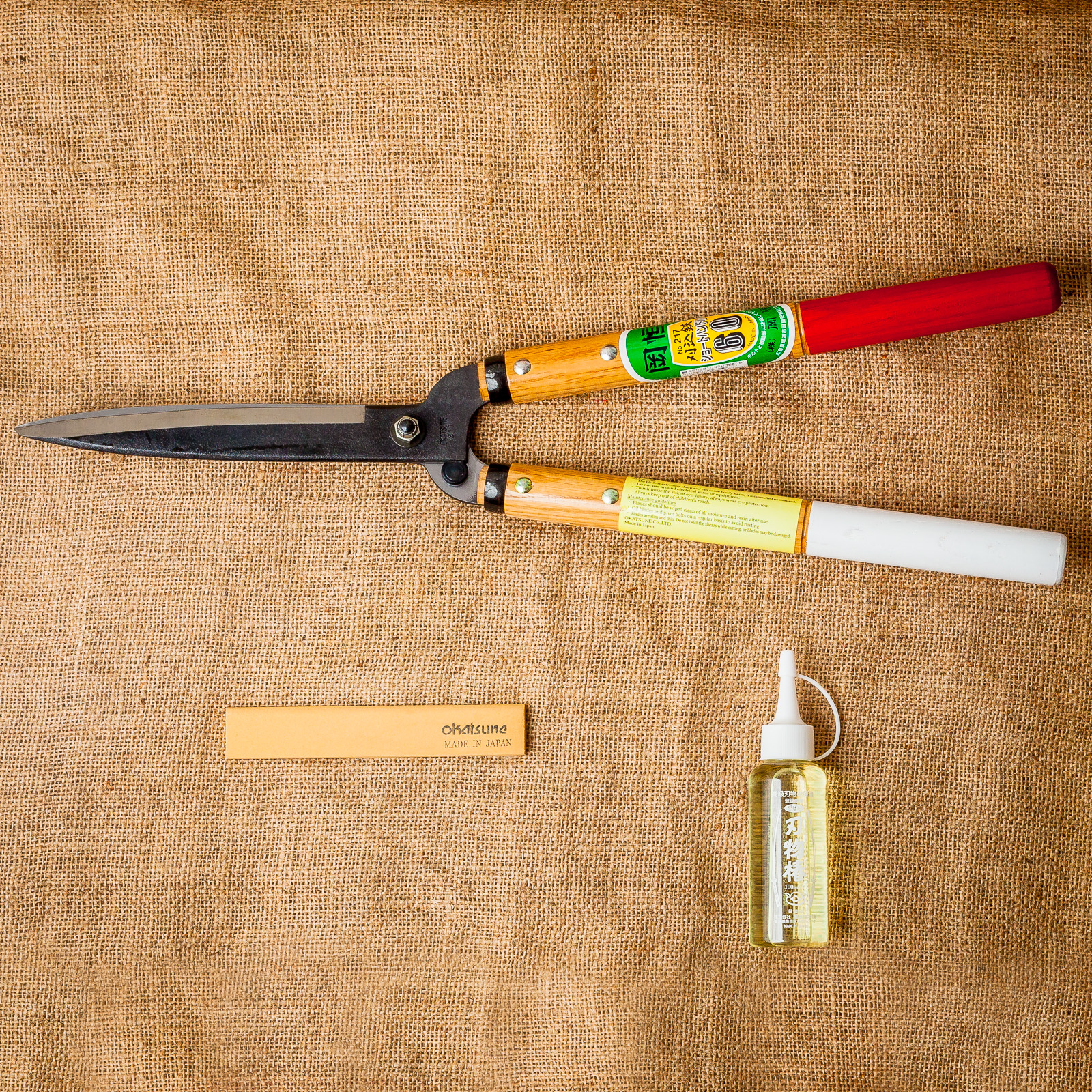 I recently wrote a piece for Topiarius magazine, the flagship publication of the European Boxwood & Topiary Society – of which Modern Mint is both a member and big supporter. Check out the EBTS here. They frequently run courses and talks too, so worth keeping an eye on. Below is the piece I wrote about the tools I use when making topiary and pruning trees…. Darren's Piece In Topiarius Magazine I use Okatsune Secateurs, which I started pruning with when working on a large orchard in Hampshire. My Felco's were too difficult to open with cold hands, but the chunky …
May20
Just inc are you are free in the following dates in June, you can visit my mentor Charlotte Molesworth's topiary garden… Check out the dates the garden is open here. And you can of course join both Charlotte and I for a topiary workshop in the garden in July, as well as September. Hope to see you there!