THE MODERN MINT BLOG
We have often been cited Sissinghurst and its White Garden as the ideal look a client wants.
It is easy to see why this is – being easy on the eye, having plants people can recognise and encapsulating a fullness, a romantic notion, that can be easily described by clients who may otherwise struggle to express themselves.
Originally the concept for Vita Sackville-West's white garden was for it to be a 'Grey' garden…
"I am trying to make a grey, green, and white garden… I visualize the white trumpets of dozens of Regale lilies, grown three years ago from seed, coming up through the grey of southernwood and artemisia and cotton-lavender, with grey-and-white edging plants such as Dianthus Mrs. Sinkins and the silvery mats of Stachys Lanata, more familiar and so much nicer under its English names of Rabbits' Ears or Saviour's Flannel. There will be white pansies, and white peonies, and white irises with their grey leaves… at least, I hope there will be all these things. I don't want to boost in advance about my grey, green and white garden. It may be a terrible failure. I wanted only to suggest that such experiments are worth trying, and that you can adapt them to your own taste and your own opportunities.
All the same, I cannot help hoping that the great ghostly barn-owl will sweep silently across a pale garden, next summer, in the twilight – the pale garden that I am now planting, under the first flakes of snow."
Vita was right – such experiments are worth trying. But a white garden nowadays is not an experiment, it is an ideal or a fashion statement a garden designer is expected to achieve.
So what can be used? We found this list of plants from a Gardens Illustrated article as a starting point to move you in the right direction…
Spring:
Tulips
Cardoon
Sweet Rocket
Summer:
Foxtail lilly
Nigella
Argentine forget-me-not
Lychnis
Orlaya
Borage
Allium
Mullein
Sidalcea
Ammi
Foxglove
Gaura
Onopordum
Eryngium
Rose-bay willowherb
Meadow Rue
Sium
Veronicastrum
Browallia
Spider flower
Solanum
Aster
Penstemon
Cosmos
Erigeron
Sweet peas
Eucomis
Hydrangea
Petunia
Romneya
For examples of a good white garden you could visit Furzelea, or Ulting Wick…
But what we encourage most, if you are inspired by Vita, is not to try and reproduce a white garden – but take the spirit in which it was made – an experiment worth trying. And adapt it to your own taste and needs.
Recommended Reading:
Vita Sackville-West's Sissinghurst: The Creation of a Garden
Planting Schemes from Sissinghurst: Classic Garden Inspirations
Rosemary Verey: The Life and Lessons of a Legendary Gardener
… and as an antidote to all that white and pastel…
Colour for Adventurous Gardeners
The Bold and Brilliant Garden
May 23 rd 2014
Oct11
Need a talk for your garden club? Via Zoom because of Covid-restrictions this winter? Then I can help! It is great you are trying to keep your club going, and though Zoom is not the same as getting a group together and talking about gardening live, of the moment, right now it is the best alternative we have got. How I Do A Zoom Talk For Your Garden Club I'm very happy to do Zoom talks and have moved about 20% online so far (from end of March 2020 to the start of October 2020) – although that number is …
Oct09
Just a quick message from a garden club last night after I gave a talk for them via Zoom… Hi Darren, We would just like to thank you for a very enjoyable and fun talk this evening for our first Zoom meeting! Think we can say that everyone enjoyed it, we have already had positive feedback from some of the members, obviously the way forward at the moment! We were certainly very pleased with the turn out for the first virtual meeting! If you are a garden club speaker and want to give it a try, then please do …
Sep21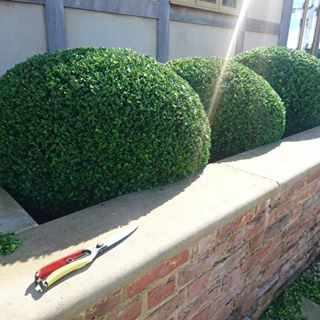 I was asked by the European Boxwood & Topiary Society to help out with answering a common question – How to sharpen your shears? So we spent a fun day making a video, that hopefully will help you make sure you have sharp, shiny blades to do your topiary pruning with. And you can find here more examples of the topiary I make with my sharp blades.