THE MODERN MINT BLOG
We have often been cited Sissinghurst and its White Garden as the ideal look a client wants.
It is easy to see why this is – being easy on the eye, having plants people can recognise and encapsulating a fullness, a romantic notion, that can be easily described by clients who may otherwise struggle to express themselves.
Originally the concept for Vita Sackville-West's white garden was for it to be a 'Grey' garden…
"I am trying to make a grey, green, and white garden… I visualize the white trumpets of dozens of Regale lilies, grown three years ago from seed, coming up through the grey of southernwood and artemisia and cotton-lavender, with grey-and-white edging plants such as Dianthus Mrs. Sinkins and the silvery mats of Stachys Lanata, more familiar and so much nicer under its English names of Rabbits' Ears or Saviour's Flannel. There will be white pansies, and white peonies, and white irises with their grey leaves… at least, I hope there will be all these things. I don't want to boost in advance about my grey, green and white garden. It may be a terrible failure. I wanted only to suggest that such experiments are worth trying, and that you can adapt them to your own taste and your own opportunities.
All the same, I cannot help hoping that the great ghostly barn-owl will sweep silently across a pale garden, next summer, in the twilight – the pale garden that I am now planting, under the first flakes of snow."
Vita was right – such experiments are worth trying. But a white garden nowadays is not an experiment, it is an ideal or a fashion statement a garden designer is expected to achieve.
So what can be used? We found this list of plants from a Gardens Illustrated article as a starting point to move you in the right direction…
Spring:
Tulips
Cardoon
Sweet Rocket
Summer:
Foxtail lilly
Nigella
Argentine forget-me-not
Lychnis
Orlaya
Borage
Allium
Mullein
Sidalcea
Ammi
Foxglove
Gaura
Onopordum
Eryngium
Rose-bay willowherb
Meadow Rue
Sium
Veronicastrum
Browallia
Spider flower
Solanum
Aster
Penstemon
Cosmos
Erigeron
Sweet peas
Eucomis
Hydrangea
Petunia
Romneya
For examples of a good white garden you could visit Furzelea, or Ulting Wick…
But what we encourage most, if you are inspired by Vita, is not to try and reproduce a white garden – but take the spirit in which it was made – an experiment worth trying. And adapt it to your own taste and needs.
Recommended Reading:
Vita Sackville-West's Sissinghurst: The Creation of a Garden
Planting Schemes from Sissinghurst: Classic Garden Inspirations
Rosemary Verey: The Life and Lessons of a Legendary Gardener
… and as an antidote to all that white and pastel…
Colour for Adventurous Gardeners
The Bold and Brilliant Garden
May 23 rd 2014
Sep29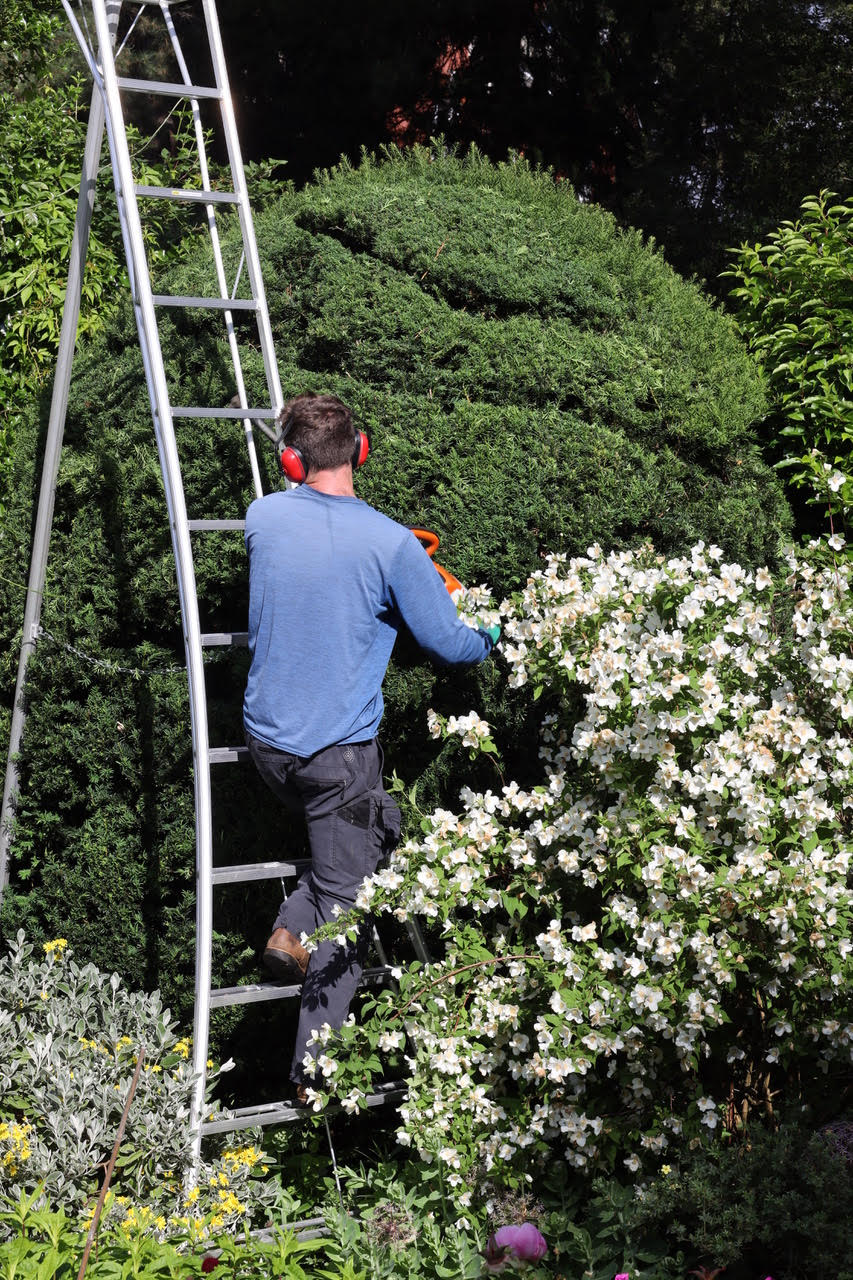 Making a new topiary out of the large, dull facade of a Taxus blob… My work was to change it up from a 'jelly drop' shape and give it texture, open it out and let the light through, and make it a sculptural feature in the background of the garden in summer… yet a major part of the garden in winter. A few more years before it becomes something special, but there was far more leaf and growth inside the plant than I thought and so it will not take too long for it to gain in character and become …
Sep27
Two weeks ago I was invited to teach topiary at the garden of Griselda Kerr, the author of The Apprehensive Gardener. I love teaching and sharing skills, but I was placed on the spot in the afternoon and asked to show how I would make a new topiary from an existing shrub. So below is a speeded-up video of me creating a cloud-pruned topiary from an old boxwood tree. I particularly love the ending when the class get involved….! See the video here. One hour was all it took, and though it needed a little tidying-up, it was made by …
Sep27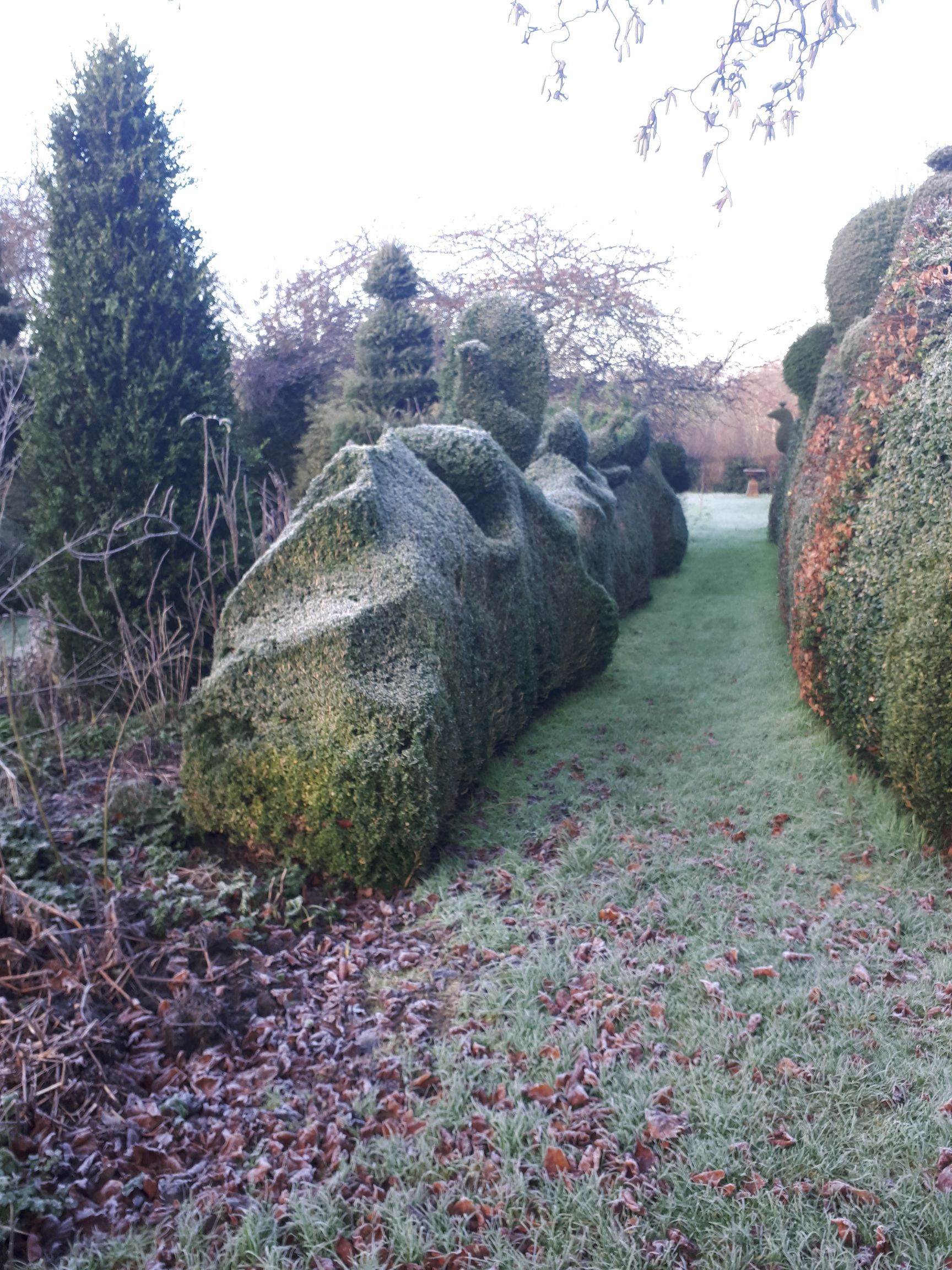 Charlotte Molesworth, my topiary mentor, and I are running our popular topiary workshop again in 2022. You can email me for details – or go here for information, your ticket and to find out about dates. Book A Spot On A Topiary Workshop, September 2022