THE MODERN MINT BLOG
Today Modern Mint visited another garden in Essex that was open for the NGS (last week was Ulting Wick.)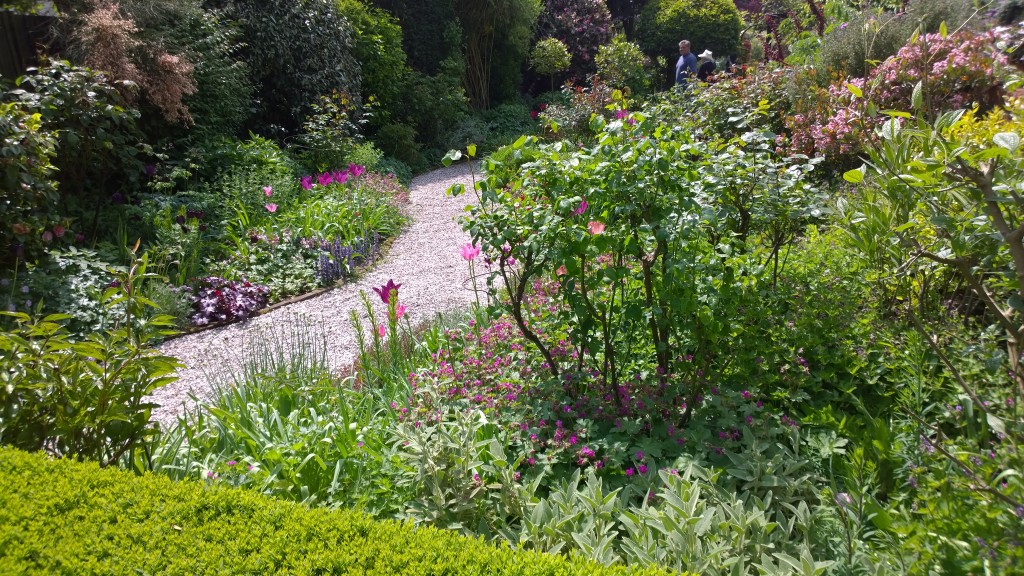 The garden is designed and looked after by owner of the house Avril and her husband, who nowadays is chief pruner – for example, on this lovely yew 'blob'… how we love to see shapes like these (especially next to a wilder or more chaotic planting…!)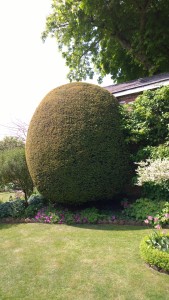 Imagine cloud pruning this (yew is forgiving, should you get it wrong!) What a fun days work, a physical and mental exercise, training your patience and your creative eye… if the shears you used for cloud pruning weren't so sharp, we'd suggest children should be taught how to do it in school…
The garden is south-facing and slopes down away from the house, meaning Avril can plant more tender plants. A Gerbera had come through the winter in the ground with no more  protection than a cloche placed over it. Astelias and Tetrapanax look comfortable placed in the borders too.
There were a series of small garden rooms close to the house, our favourite the 'White Garden'. It was a small, cool area that created a completely different atmosphere to the hot, openness in the rest of the garden (the rest of the garden may have felt like this as a neighbour had just removed some large trees from the boundary line, Avril saying she now had to move the ferns that grew in the shaded borders because they were being scorched.)
An Aeonium in a pot was a lovely touch, the colour a great match with shiny plum coloured Centaurea 'Jordy'. An Artemisia, which grew throughout the garden, provided a softly lit punctuation at the edge of the gravel. These were the touches that showed what a lovely eye for plants the owner has.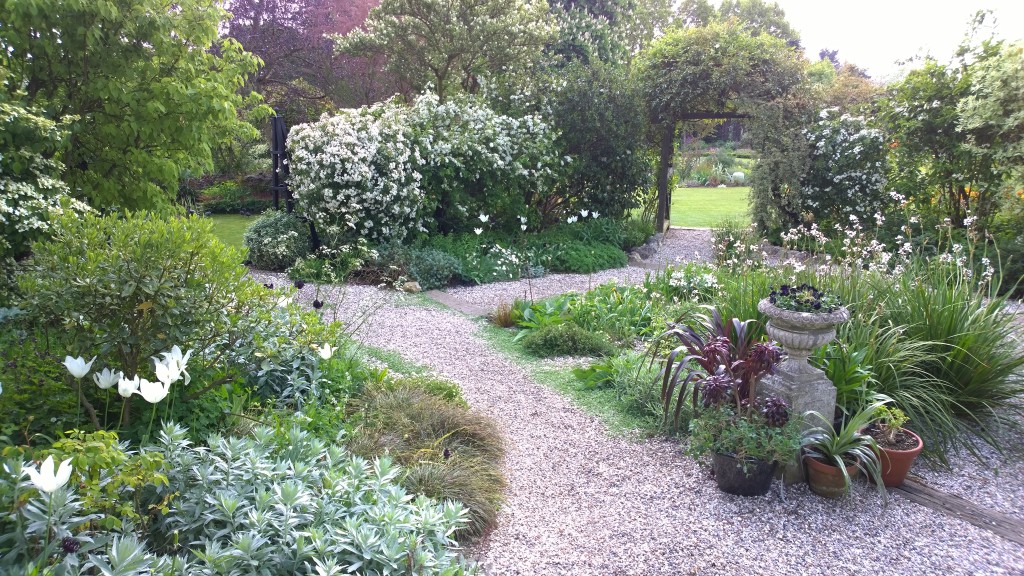 At the bottom end of the garden a tree had died two years ago, leaving a space that needed to be revamped. A new border has been added and is already beginning to mature. It lacks a sense of direction or cohesiveness at this moment, but this is a private garden and so it doesn't have to be perfect straight away. The owner has a chance to test ideas, look closely and see what works, and gradually adapt and enhance the planting while keeping on top of the inevitable weeds that will emerge from the newly cultivated ground. We're sure Avril will get it right, her garden is her creative outlet, and look forward to seeing how it changes and adapts over the next few years.
Our suggestion (at least, what we would be excited to try if we came across this space) would be to experiment with as many tender perennials as we possibly could. Forget being sensible – you have a large, open south facing border that drains quickly – we would set ourselves the challenge of finding out how many tender flowers we could grow. And if it went wrong and everything died… we could always say it was a large border for summer bedding (then spend the winter getting ready to try again.)
It is a fun exercise trying to imagine how you would use an outdoor space. It helps sharpen your 'garden instincts' and, even more importantly, stating your ideas makes you braver to take an idea and run with it. When you get the opportunity to do something, why not be brave enough to try and make something fantastic?
Another idea for revamping this area could be to have made a meadow. The lawn is cut so the stripes are in a circle…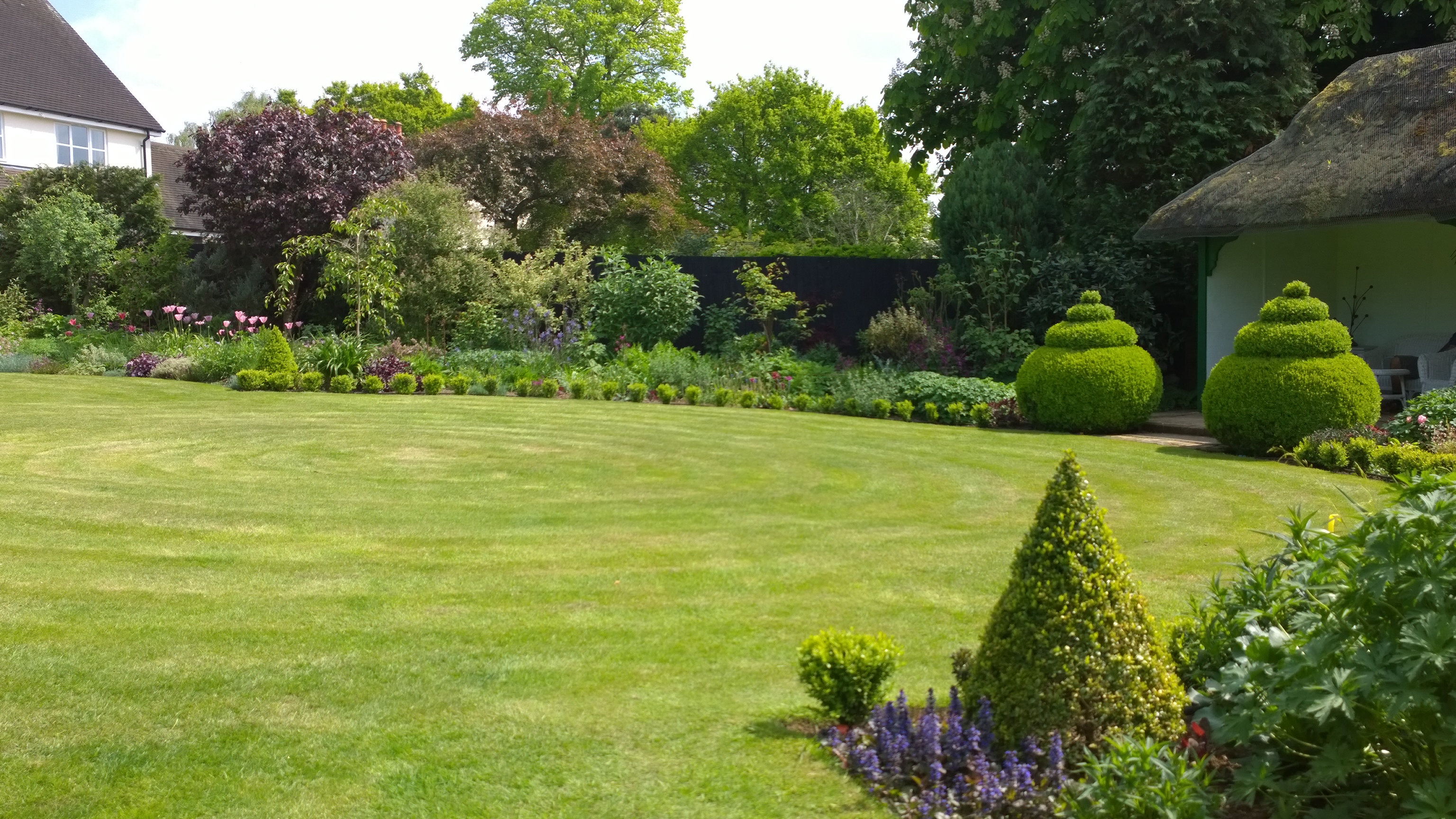 … and the new border is to the left of the picture, closer to the house. Around the outside of the garden are long, deep borders. Perhaps these could be considered quite enough to tend to, allowing the more mysterious flowering of a meadow (mysterious in that what flowers tends to change every year) to become the main event at the end of the garden, when you walk down from the house and past the 'white garden' and pond. That would certainly alter the atmosphere in this area, as much as the tree falling over must have. The first meadow sown could be full of annuals, to see how that works for a year. A gentle editing could then have given the biennials and grasses a chance to take over… then shrubs and small trees… before coming back full circle and allowing one large tree to dominate the area again, a circular climax back to the original state… it may have taken a few years, for sure… but why not?
You will also notice, in the picture above, the two 'tumpties' stood on guard by the pavillion… the sheer size of them, the solidity below that fresh growth… makes them so tactile. We love topiary like this in the garden – plant more tumpties please!
Furzelea is a beautiful garden and Avril a knowledgeable plantswoman. If you are in Danbury, Essex, do go take a look. They will be open next in June.
Further Reading:
Highgrove: A Garden Celebrated
Vita Sackville-West's Sissinghurst: The Creation of a Garden
The Garden at Hidcote
April 30 th 2014
Jun10
Brought By Bike is an excellent website I found last month, where businesses offer their services by (of course) bicycle. Modern Mint and my topiary work is now live on the site offering my topiary services, via bike, to the following two postcodes – CM1 CM2 Now I can imagine I will need to borrow a ladder should anyone have a larger shrub, but most town gardens in the Chelmsford area have a need not just for privacy but to let light into the house… so a balance must be struck when shaping hedges and shrubs to cover both needs. …
May10
Transforming Topiary – a video made for the European Boxwood And Topiary Society by Charlotte Molesworth and I, in her garden. We take a dog topiary and work out how to update it, turning it into a bird. Worth a watch I think, and hopefully useful to you! You can see more of my clipping on the topiary page. Or read my Spring 2021 Topiary Provocation here.
Apr28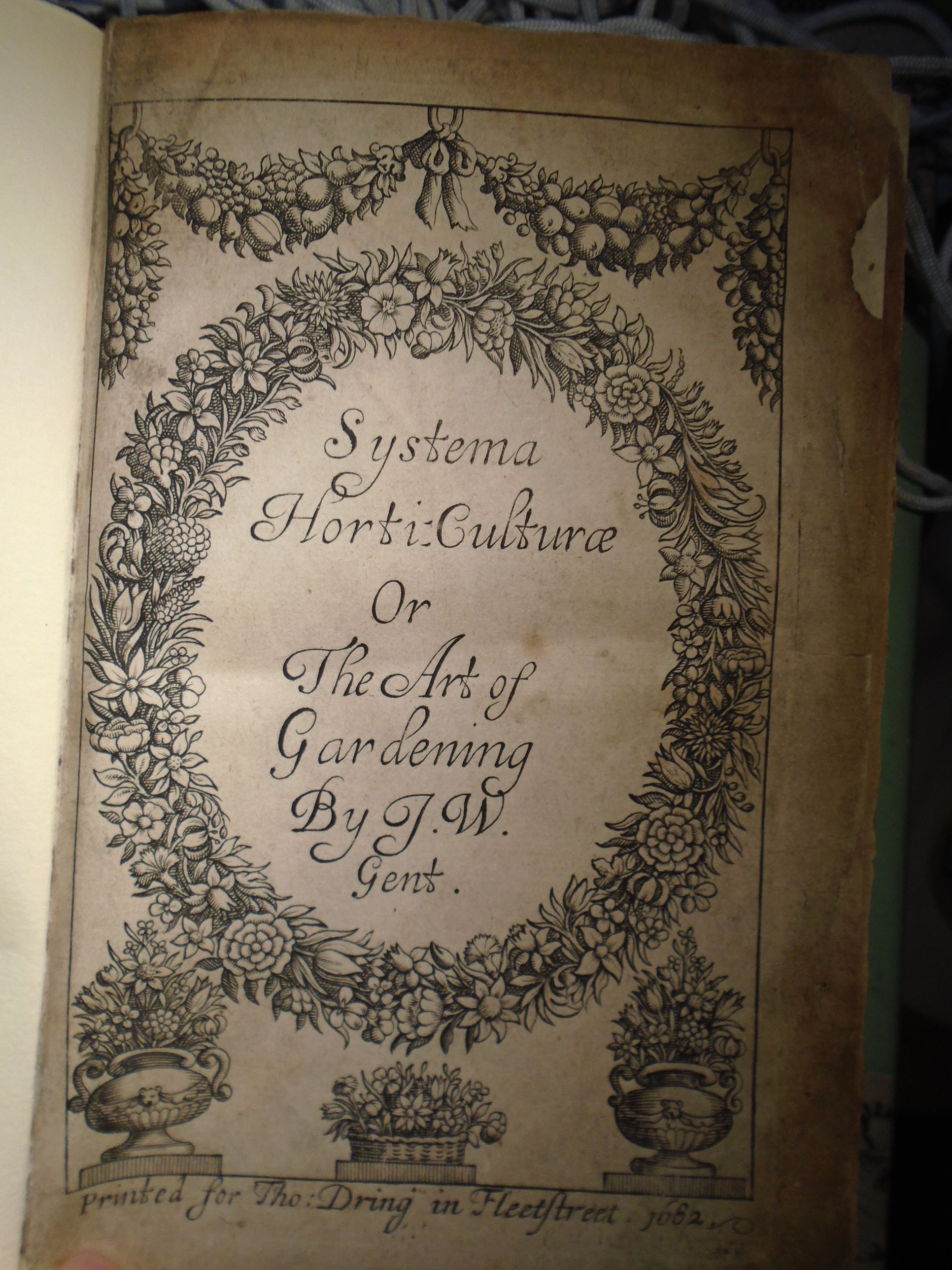 Phillyrea is one of my favourite plants for topiary. I have been using it for quite a few years as a specimen shrub, mostly due to the fact it clips well and has a tough habit – all good characteristics for a topiary plant. It also has a  reputation for being an excellent nectar source for bees… Read more about Phillyrea here. Mentioning this to Malcolm Thicke, a market garden historian and writer, he sent me a some photos of topiary and phillyrea mentioned by John Worlidge in Systema Horticulturae from 1682…. incredible! He also mentioned to me that in …