THE MODERN MINT BLOG
The National Gardens Scheme is well underway for 2014. Yesterday we saw the garden at Ulting Wick in Essex, owned by Phillipa Burrough and run by herself and full-time gardener Neil.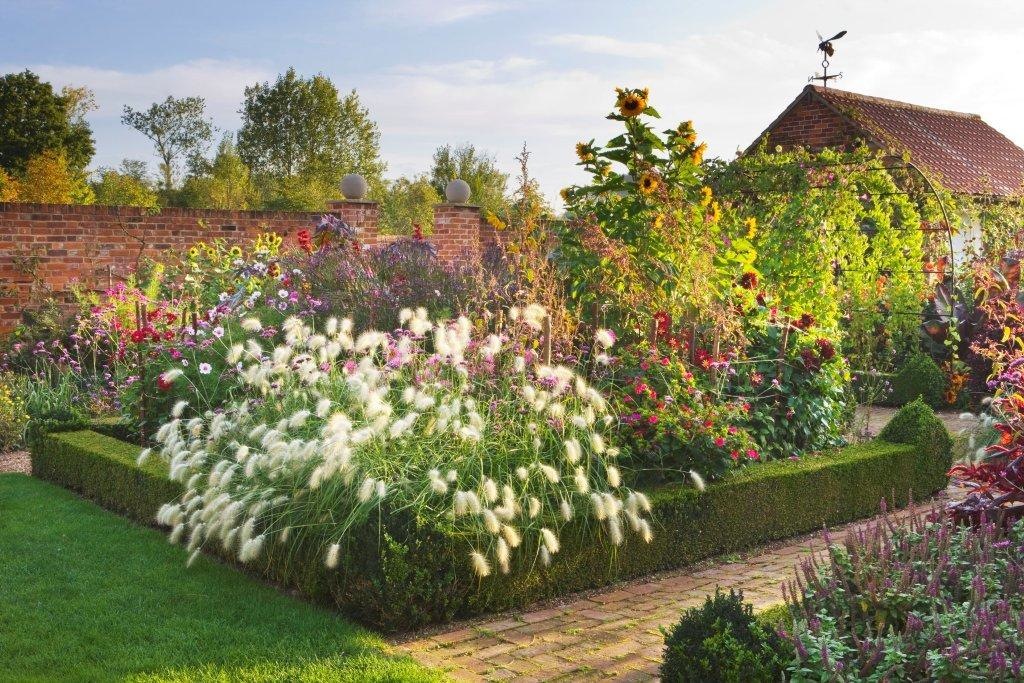 This garden has been featured in Gardens Illustrated, and is renowned locally for the exuberant display of tulips in the spring. It was a real pleasure to walk around and superbly cared for – Phillipa herself was a pocket rocket dashing around with the lawnmower preparing for the big open day on Sunday 27th April. If you are free, do head to this part of Essex and take your time walking around.
We hope it inspires you to be bold with your choice of colour and style of plants!
This year the tulips in the Old Farmyard Garden have been replaced by a new planting scheme, due to a virus in the soil. It has an experimental look, and a competely different atmosphere to when it was packed with tulips, the bright stars of spring. To recreate that 'wow' factor in April, without using the variety of colour tulips bring you, is difficult. If you use spring flowers you will get a fresh, verdant look, with lots of yellow, white and blue. Beautiful, but not punchy. Neither will you get the flower power necessary from planting grasses or later season plants either, as in spring time these plants give you more a sense of gathering speed, of putting on their make-up for later. Perhaps biennials will prove the solution?
Already the owner is questioning how it could be improved for next year. This attitude to gardening is commendable and refreshing, as further experimenting will lead to further discoveries (and hopefully more of those breathtaking moments well loved gardens can provide!)
The garden at Ulting Wick is a well worth a visit. As is this one, at Furzelea…
For more garden ideas, check out these books…
April 25 th 2014
May03
Over the last two years I have been involved with a couple of projects that have ended up being recorded, then placed on Youtube or Instagram. I'm hoping they will be useful to you, so I have decided this morning to pop them together in one handy blog post so that you can bookmark the page and revisit when you need some inspiration for your topiary. See below then, a few videos about topiary I have recently been involved with… Garden Masterclass – Provocations of a Modern Topiarist Transforming Topiary Topiary Teacher Put On The Spot https://www.instagram.com/p/CTj-EfOKRL6/ In the above …
May03
Mark Zlotsky is an artist based in New York, and today I just wanted to share his project 'Topiary Tango'. In his introduction to the project he talks of topiary being a forgiving art, which I love and is soooooo true…..! For proof, just take a look at some projects I have made with a sharp pair of shears, a hedgetrimmer and a pruning saw. Do check out Mark Zlotsky's project, because although his interest began by looking at topiary through the prism of architecture and the relationship of one building to another, he touches directly onto a way of …
Apr27
Gardenista, the online magazine about gardens and design, have interviewed me about topiary. The article is called 'Rethinking Topiary: A Garden Tradition Loosened Up' and was published this morning. Written by the excellent garden writer Clare Coulson, I share some thoughts on using deciduous plants, how to clip (name-dropping Anne Lamott and her book on writing at one stage… oh, how I wander off subject sometimes!) and how to improve topiary by what you plant around it. Do take a look at the article in Gardenista. Or for more about my topiary work, check out the topiary page.