THE MODERN MINT BLOG
Gardening teaches you to have the confidence to fail.
The cyclical nature of the four seasons forces you to be this way. One year goes badly, but no matter, next year you come back and try again.
It is a valuable lesson to learn for so many areas of life – how to make money, how to enjoy relationships, how to be better at your job – start it, don't judge or demean your efforts halfway through, reflect at the end how it has gone… then get ready to start again.
The confidence to fail, again and again and again. An attitude worth cultivating as well as you cultivate your veg patch.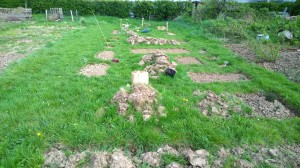 Recommended Reading:
A Gentle Plea for Chaos
We Made A Garden
May 4 th 2014
Apr11
I have visited two new clubs this week to present a garden talk. They were in different parts of the country and so a lot of driving, but worth every hour sat on the motorway in traffic! The talks went well and I have had some lovely feedback… "Thank you so much for providing a presentation which was an almost impossible mix of enthusiasm, joy, entertainment, education and inspiration. They say that laughter is the best medicine and there was certainly plenty of that, and everyone left with a smile on their face, but just as important is that it …
Mar28
Secateurs & Marie Kondo I was interviewed recently for an article in the Telegraph about the best secateurs for the garden. I let my mouth run away with me (as normal) and said that the Okatsune pruners with the red and white handles, that I use everyday in the garden, are the kind you don't throw away when you Marie Kondo your possessions. I mean that, because I do believe in buy once buy well. But when it gets reported in the paper, I don't half sound like a wally…! "Lerigo devoutly describes his chosen make of Japanese secateurs, Okatsune, …
Mar27
Modern Mint and myself have been helping the Daily Telegraph discover the best secateurs on the market. And lo and behold, our Okatsune secateurs came out top! At last, recognition for a great value pair of secateurs that I use everyday! You can see what they thought of the other items on the post here – Daily Telegraph Best Secateurs. Or buy yourself a pair from Modern Mint.