THE MODERN MINT BLOG
How many plant pots do you have in the shed?
It is normally quite a few, once you dust off the spider webs and take a really good look!
Some estimates in the media equate the figure to be 5 million redundant plant pots sat in homes across the UK.
That is a lot of plastic that has no use, and cannot be recycled. Until now, that is…
At Modern Mint we sell a few eco-friendly products that re-use these plastic plant pots. Have you seen our stylish clocks?
We also do a brilliantly helpful set of plant labels, both printed and clear… what vegetable gardener doesn't need these?
Think that is all? Think again. We make your old plastic plant pots into a bird feeder too… this is WILDLY popular!
Gosh, we even make them into house signs!
No longer should those pots of yours be left, useless and gathering cobwebs, at the bottom of the garden. Now they can be truly recycled.
To find your nearest garden centre, who will take your pots from you free of charge, click here.
Don't have a garden centre near you who can collect them?
Print out this leaflet and give it to the garden centre manager so they have all the information they need to make plant pot recycling happen at theirs!
Another way to save plastic plant pots ending up in landfill, is to grow your plants from seed. Worth a try?
Modern Mint – helping recycle plant pots, instead of sending them to landfill.
May 31 st 2016
Oct11
Need a talk for your garden club? Via Zoom because of Covid-restrictions this winter? Then I can help! It is great you are trying to keep your club going, and though Zoom is not the same as getting a group together and talking about gardening live, of the moment, right now it is the best alternative we have got. How I Do A Zoom Talk For Your Garden Club I'm very happy to do Zoom talks and have moved about 20% online so far (from end of March 2020 to the start of October 2020) – although that number is …
Oct09
Just a quick message from a garden club last night after I gave a talk for them via Zoom… Hi Darren, We would just like to thank you for a very enjoyable and fun talk this evening for our first Zoom meeting! Think we can say that everyone enjoyed it, we have already had positive feedback from some of the members, obviously the way forward at the moment! We were certainly very pleased with the turn out for the first virtual meeting! If you are a garden club speaker and want to give it a try, then please do …
Sep21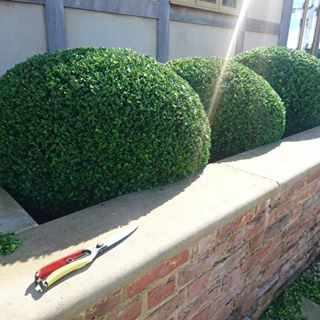 I was asked by the European Boxwood & Topiary Society to help out with answering a common question – How to sharpen your shears? So we spent a fun day making a video, that hopefully will help you make sure you have sharp, shiny blades to do your topiary pruning with. And you can find here more examples of the topiary I make with my sharp blades.