THE MODERN MINT BLOG
Here at Modern Mint we have now opened our webshop.
What has the distinction of being our first ever product for sale?
Seedballs!
What are Seedballs? They are a little ball of clay and compost. This little ball then creates perfect conditions for the seeds that are also in the ball of clay to germinate. It is a permaculture technique that we first read about in this book…
… we no longer have a copy as we gave ours to a Parisian theatre director about 5 years ago, in the hope they would turn it into a show. That has not happened (yet?) but the philosophies in the book still linger in our minds – to work with nature, not against – and so reduce the amount of work necessary to grow crops and other plants.
A little chilli powder is also in with the seeds, to stop the birds eating them before they have time to germinate.
When you get your tin and open it up, don't plant the balls – just scatter them onto bare soil, or into pots. Water them (or, if you are being frugal with water, just let the rain do the work for you) and before long they will have germinated and be on their way. Just like in this Essex garden.
Brilliant idea as a gift, or as an easy way to get children interested in nature and the outdoors. Different tins have different plants, the current bestseller is the Bee Mix but that iconic flower the Poppy is running it a close second at the moment…
Or better yet, try our offer to get the best of each kind!
For more of the Japanese Farmer Masanobu Fukuoka's words (and we highly recommend more of his words are worth it) go explore the books below…
June 23 rd 2014
Aug19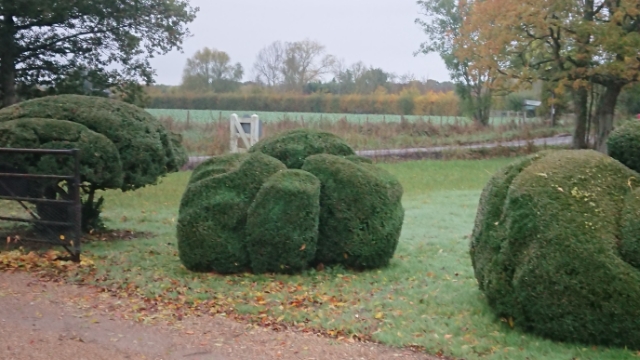 Topiary Composition and design is a major part of my work – which is why I have created an online seminar for keen gardeners and creatives to learn how to compose a piece of topiary. There are several dates available so please head here to buy a ticket. The seminar lasts two hours (including q and a) and will explore the process needed to look at a shrub or hedge and work out what you can design from it. These principles have been learnt the hard way – through mentoring, experimenting and years of practise. Hopefully, it will help you shortcut …
Jun10
Brought By Bike is an excellent website I found last month, where businesses offer their services by (of course) bicycle. Modern Mint and my topiary work is now live on the site offering my topiary services, via bike, to the following two postcodes – CM1 CM2 Now I can imagine I will need to borrow a ladder should anyone have a larger shrub, but most town gardens in the Chelmsford area have a need not just for privacy but to let light into the house… so a balance must be struck when shaping hedges and shrubs to cover both needs. …
May10
Transforming Topiary – a video made for the European Boxwood And Topiary Society by Charlotte Molesworth and I, in her garden. We take a dog topiary and work out how to update it, turning it into a bird. Worth a watch I think, and hopefully useful to you! You can see more of my clipping on the topiary page. Or read my Spring 2021 Topiary Provocation here.