THE MODERN MINT BLOG
Tucked away in the March issue of The Garden magazine is a lovely article by James Wong of 'Grow Your Own Drugs' fame.
He speaks about the Victorian gardeners (like the ones who grew pineapples for the table) and how they continuously experimented and tested new garden ideas.
"The huge irony is that the great Victorian gardeners we struggle to emulate were obsessed with innovation… characterised by an almost pathological pursuit of novelty."
Questioning previously held truths and exploring new avenues of thought about gardens and gardening is the best thing we can do as designers/gardeners/landscapers. The most valuable card we hold as an industry is not to be static, believing we know it all, or that traditions shouldn't be messed with because things were better and brighter in 'the good old days'.
The greatest tribute we can pay to the past is to see the significance of this Victorian ideal and pursue the new, the bold, pick at the thread of what might be and hang around the edges of what we can't quite grasp. Pursuing the novel may lead to dead ends and failure, but there is no wrong in that – a blunder becomes just another starting point.
A modern garden design does not have to be all steel and slabs, with few flowers… or an eco-friendly bird and bee paradise with weeds growing through the paving cracks… it should be a place that gives you what you want, while offering a chance to try what you didn't even know it was possible to have. See the influence of Joy Larkcom on salad growing or Mark Diacono with Szechuan pepper. They are exciting, our 'modern day' Victorian's'
Being open-minded to what is possible and aspiring to discover what you have learnt is the best attitude to have for the present and the future of gardening and garden design.
Look at these books by James Wong, Joy Larkcom and Mark Diacono…
February 26 th 2014
Aug19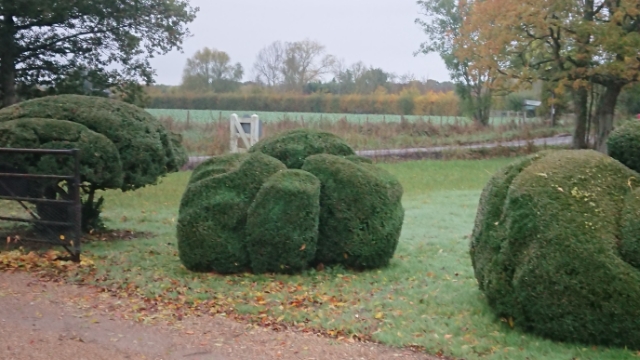 Topiary Composition and design is a major part of my work – which is why I have created an online seminar for keen gardeners and creatives to learn how to compose a piece of topiary. There are several dates available so please head here to buy a ticket. The seminar lasts two hours (including q and a) and will explore the process needed to look at a shrub or hedge and work out what you can design from it. These principles have been learnt the hard way – through mentoring, experimenting and years of practise. Hopefully, it will help you shortcut …
Jun10
Brought By Bike is an excellent website I found last month, where businesses offer their services by (of course) bicycle. Modern Mint and my topiary work is now live on the site offering my topiary services, via bike, to the following two postcodes – CM1 CM2 Now I can imagine I will need to borrow a ladder should anyone have a larger shrub, but most town gardens in the Chelmsford area have a need not just for privacy but to let light into the house… so a balance must be struck when shaping hedges and shrubs to cover both needs. …
May10
Transforming Topiary – a video made for the European Boxwood And Topiary Society by Charlotte Molesworth and I, in her garden. We take a dog topiary and work out how to update it, turning it into a bird. Worth a watch I think, and hopefully useful to you! You can see more of my clipping on the topiary page. Or read my Spring 2021 Topiary Provocation here.