THE MODERN MINT BLOG
Yesterday was the launch of Fairtrade Fortnight. This year the campaign is in support of banana farmers who are struggling to make a living from their crop. Supermarkets have almost halved the price of bananas over the last ten years, meaning it is farmers who bear the brunt of our savings.
Buying Fairtrade bananas means workers have:
Safe conditions to work in.
Earn enough for a decent standard of living.
Have rights and benefits.
The idea of sourcing all your food from the local area is a good aim. But in the winter months the body begins to crave something a little more exotic. A fruit like pineapple becomes a real treat. We bought one from Riverford Organic last week and went to roast it with vanilla seeds…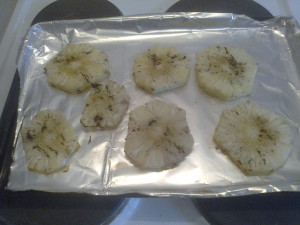 … delicious. Less acidic than orange or grapefruit, and the flesh has a strong almost meaty texture.
For a more luxurious dish, try adding rum and star anise as well.
If you want to stay local with your pineapple, why not grow one yourself? Full instructions are given here by Bob Flowerdew. You may find they are surprisingly easy to grow!
Two hundred years ago a Head Gardener's reputation was built on their ability to grow a pineapple for the household. Originally a South American plant, the first pineapple came to England from Barbados in 1657. Dutchman Henry Telende, the head gardener at Pembroke House, began cultivating nearly 50 fruiting plants. In a brick-lined pit they placed a layer of fresh horse dung. They then covered this with an even thicker layer of tanners bark (a powder made from oak bark, which would keep a constant heat of 25 degrees.) The pineapple would go into this pit and then be covered with glass. The water given to the pineapples by Telende and his team was also heated to be at soil temperature when given to the plant.
James Barnes (who had worked at Cranford House in Essex, but most famously gardened for nearly thirty years at Bicton in Devon) became acknowledged as the best pineapple grower by the mid 1800's. He had the use of a pit, which meant he could have, "a thorough command of the root temperature… abundance of light, heat and ventilation." That seems about right for growing such an exotic looking fruit.
Do think Fairtrade when shopping. It is not more expensive, it is actually the true value of the product – when everyone involved in producing it gets the fair deal you yourself would want.
And good luck growing pineapples at home!
February 25 th 2014
Apr11
I have visited two new clubs this week to present a garden talk. They were in different parts of the country and so a lot of driving, but worth every hour sat on the motorway in traffic! The talks went well and I have had some lovely feedback… "Thank you so much for providing a presentation which was an almost impossible mix of enthusiasm, joy, entertainment, education and inspiration. They say that laughter is the best medicine and there was certainly plenty of that, and everyone left with a smile on their face, but just as important is that it …
Mar28
Secateurs & Marie Kondo I was interviewed recently for an article in the Telegraph about the best secateurs for the garden. I let my mouth run away with me (as normal) and said that the Okatsune pruners with the red and white handles, that I use everyday in the garden, are the kind you don't throw away when you Marie Kondo your possessions. I mean that, because I do believe in buy once buy well. But when it gets reported in the paper, I don't half sound like a wally…! "Lerigo devoutly describes his chosen make of Japanese secateurs, Okatsune, …
Mar27
Modern Mint and myself have been helping the Daily Telegraph discover the best secateurs on the market. And lo and behold, our Okatsune secateurs came out top! At last, recognition for a great value pair of secateurs that I use everyday! You can see what they thought of the other items on the post here – Daily Telegraph Best Secateurs. Or buy yourself a pair from Modern Mint.