THE MODERN MINT BLOG
Yesterday was the launch of Fairtrade Fortnight. This year the campaign is in support of banana farmers who are struggling to make a living from their crop. Supermarkets have almost halved the price of bananas over the last ten years, meaning it is farmers who bear the brunt of our savings.
Buying Fairtrade bananas means workers have:
Safe conditions to work in.
Earn enough for a decent standard of living.
Have rights and benefits.
The idea of sourcing all your food from the local area is a good aim. But in the winter months the body begins to crave something a little more exotic. A fruit like pineapple becomes a real treat. We bought one from Riverford Organic last week and went to roast it with vanilla seeds…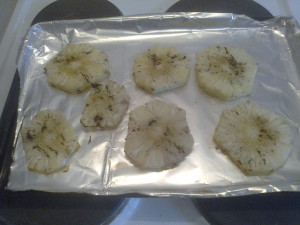 … delicious. Less acidic than orange or grapefruit, and the flesh has a strong almost meaty texture.
For a more luxurious dish, try adding rum and star anise as well.
If you want to stay local with your pineapple, why not grow one yourself? Full instructions are given here by Bob Flowerdew. You may find they are surprisingly easy to grow!
Two hundred years ago a Head Gardener's reputation was built on their ability to grow a pineapple for the household. Originally a South American plant, the first pineapple came to England from Barbados in 1657. Dutchman Henry Telende, the head gardener at Pembroke House, began cultivating nearly 50 fruiting plants. In a brick-lined pit they placed a layer of fresh horse dung. They then covered this with an even thicker layer of tanners bark (a powder made from oak bark, which would keep a constant heat of 25 degrees.) The pineapple would go into this pit and then be covered with glass. The water given to the pineapples by Telende and his team was also heated to be at soil temperature when given to the plant.
James Barnes (who had worked at Cranford House in Essex, but most famously gardened for nearly thirty years at Bicton in Devon) became acknowledged as the best pineapple grower by the mid 1800's. He had the use of a pit, which meant he could have, "a thorough command of the root temperature… abundance of light, heat and ventilation." That seems about right for growing such an exotic looking fruit.
Do think Fairtrade when shopping. It is not more expensive, it is actually the true value of the product – when everyone involved in producing it gets the fair deal you yourself would want.
And good luck growing pineapples at home!
February 25 th 2014
Feb10
There seems to be some underhand shenanigans going on here. Bob Flowerdew is threatening to resign. We face losing the UK's cornerstone organic garden. So please take a look at what is going on via the Facebook group…. go on! Go Now! Save Ryton Organic Gardens!
Feb06
Today we will be looking at Garden Design Trends in 2018. Just so you are in the know about what is cool and what is not cool in the 12 months ahead…. For the past like, million years I have shared my thoughts on what the gardening industry tell us the latest trends are going to be. If you are interested, you can see here the garden design trends for 2017. Or take a peek at my favourite of all the posts I have written – Alternative Garden Design Trends. This is my individual take on what the latest garden design …
Feb06
Well now, this is interesting…. UK Plans 50 Million New Trees in Northern Forest Likely? See the pitfalls? We love the idea and wholeheartedly support as much tree planting as possible. But are seriously doubtful that this is more than a sticking plaster solution to England being so vastly 'under-treed'…. or should that be 'overfelled?' Yet whether this idea happens or not, all we ask is that you please make sure you plant as many trees as you can in your garden!