THE MODERN MINT BLOG
Growing Cut Flowers in the UK
One of the most amazing ways you can use your garden space here in the UK is to grow your own cut flowers.
Cut flowers are such an unusual product – they are basically plants that are being chopped whilst in their prime, sent out for sale, then we are buying them and placing them in a vase in order to watch them die.
To do this with flowers grown in other countries means the flowers are put through several modes of transport (trucks, planes, lorries, trucks again, then cars…) just to reach our homes.
It also means –
They were probably grown in a glasshouse
The varieties available will be a much narrower choice, as all flowers grown a long distance from the UK must be robust and have a long life after being cut… which will also mean less scent to begin with, as the variety of flower will have it bred out for the prize of durability!
They need huge amounts of energy to keep them cooled to 2 degrees during transport
They must be dipped or sprayed in a fungicide
They will lose any scent after being dipped in silver nitrate to extend their best appearance
It may be 4 days before they get to the shop – and then they may be another 3 days on the shelves!
The cellophane they come in is going to end up in landfill
You will need to add a sugary solution of 'plant food' to perk up the blooms, and that just means another unrecyclable piece of packaging to go straight into the dump
So flowers grown outside of the UK, for a UK home, have quite a few cons stacked up against them.
Another Way for Cut Flowers?
Yes, of course! As we said at the start of this post, growing your own cut flowers is a brilliant way to use any land you have available to you to grow plants. Daffodils make a really easy, early season bouquet…
Though the best flower power in spring will always come from tulips…
Click To Buy Bee Friendly Tulips and Daffodils at Modern Mint
What else is great about local, UK cut flowers?
They are likely to be chemical free – if they have been sprayed, it is likelier to have been sprayed with a seaweed solution than anything dangerous
They don't travel far, so are less stressed
You will probably get flowers like sweet peas (when in season) as they are difficult to cut and transport too far. A bouquet of sweet peas gently tied with a bit of string and bunged into a vase (simple!) must be the most heart-warming present you can ever give someone….
Growing your own will get you outdoors, using your brain muscles as well as the muscles in your body, and so keep you fit and healthy
Local flowers will last a long time in the vase!
They are going to smell great.
Cons of Local Cut Flowers
You won't be able to buy your loved one roses on Valentine's day fellas, because the season does not support the flowering of roses – but you know what, who cares? Why would you give the one person you love a flower dipped in fungicide anyway?
For Seasonal Flower Ideas on Valentine's Day, Check This Blog on Modern Mint
So now you know – growing your own cut flowers is a great way to get a better choice of flowers, which have a wonderful fragrance and last longer in the vase. They are also far better for our environment.
What is stopping you growing cut flowers in your garden?
Try these 9 Ideas for Growing Cut Flowers to help you decide what to grow, or visit Flowers from the Farm to buy from a grower locally….!
August 28 th 2016
Sep29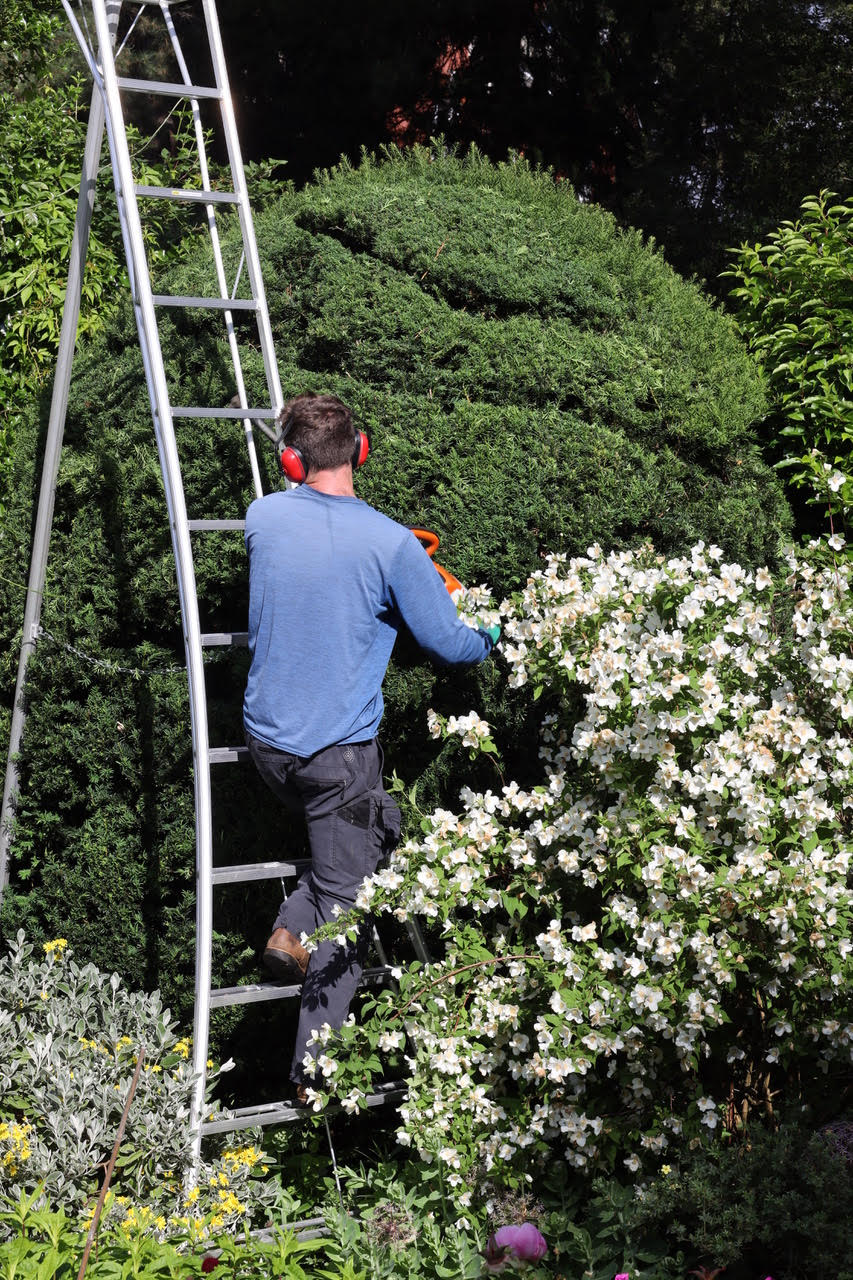 Making a new topiary out of the large, dull facade of a Taxus blob… My work was to change it up from a 'jelly drop' shape and give it texture, open it out and let the light through, and make it a sculptural feature in the background of the garden in summer… yet a major part of the garden in winter. A few more years before it becomes something special, but there was far more leaf and growth inside the plant than I thought and so it will not take too long for it to gain in character and become …
Sep27
Two weeks ago I was invited to teach topiary at the garden of Griselda Kerr, the author of The Apprehensive Gardener. I love teaching and sharing skills, but I was placed on the spot in the afternoon and asked to show how I would make a new topiary from an existing shrub. So below is a speeded-up video of me creating a cloud-pruned topiary from an old boxwood tree. I particularly love the ending when the class get involved….! See the video here. One hour was all it took, and though it needed a little tidying-up, it was made by …
Sep27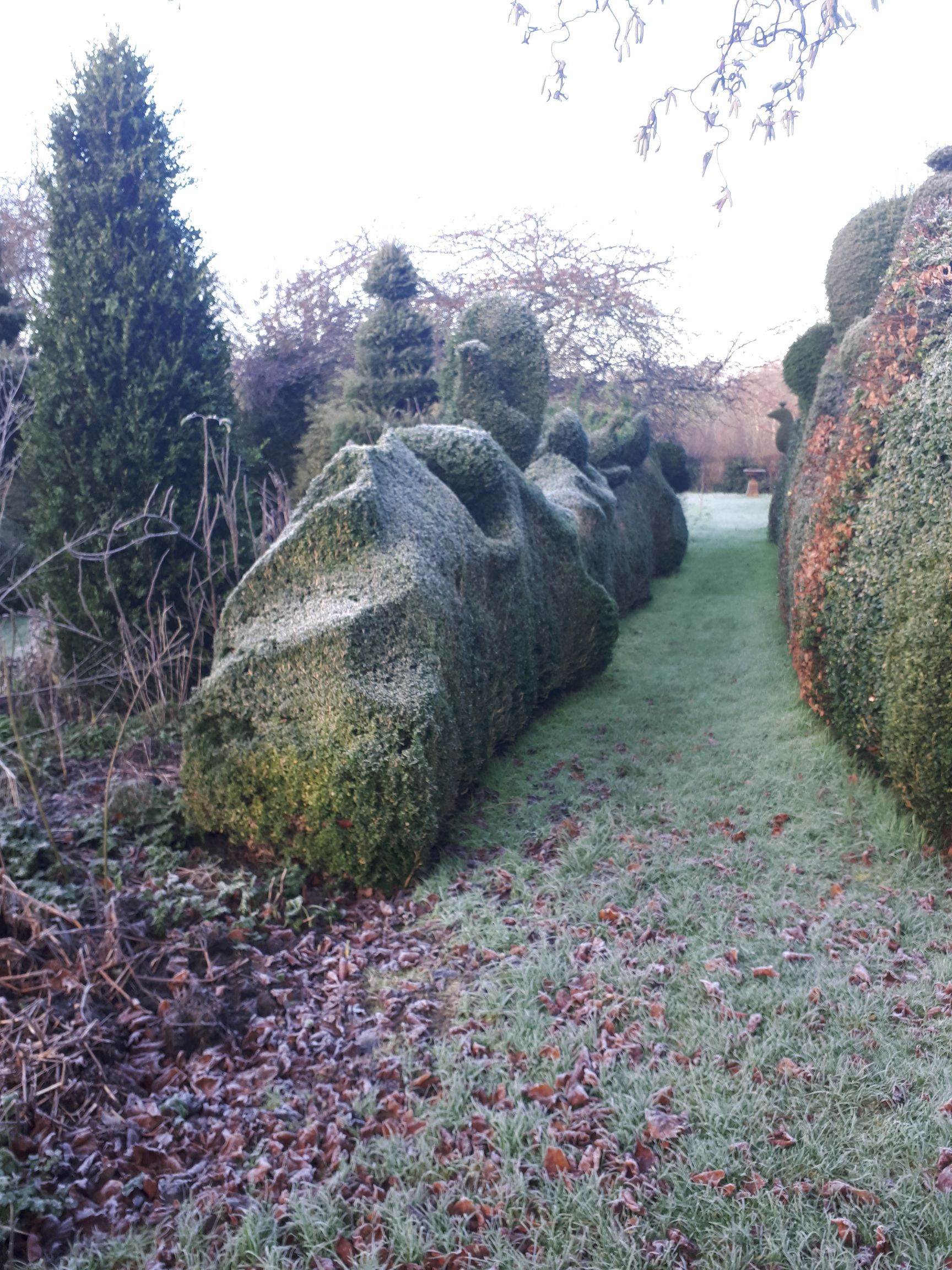 Charlotte Molesworth, my topiary mentor, and I are running our popular topiary workshop again in 2022. You can email me for details – or go here for information, your ticket and to find out about dates. Book A Spot On A Topiary Workshop, September 2022