THE MODERN MINT BLOG
Need a gift for someone and they are just so difficult to buy for?
We all have a family member, friend or colleague like it – they give you no clues as to what they might like, no ideas for what they might need and appreciate, no signs for something that might just make them smile come Christmas.
They are, all in all, a difficult one to buy for.
This is where Modern Mint can come in and help you.
Gifts for Difficult People – wildlife/outdoorsy types
If they love nature and being outside, we definitely have ideas to help you here.
A small budget (around £5) can get you an eco-friendly bird feeder. This bird feeder is made from recycled plastic pots here in the UK, which means less plastic going to landfill. The product itself is sturdy and, though the photograph on the box suggests threading an apple onto the feeder, we like to think you will be more imaginative than that – try cheese, blueberries or even a Christmas Pudding – perhaps one you just don't have the room to eat this festive season?
See the Eco Bird Feeder now.
(If you have pots to recycle, check here to see if a nursery or garden centre near you will take them.)
Seedballs – in different varieties – also cover the difficult Secret Santa / Stocking Filler / Small Budget yet a Decent Present area we have to work in.
Could this product help you with your difficult person to buy for?
Other Outdoorsy Gifts
Another recycled product we love is our gardening hat from Brazil.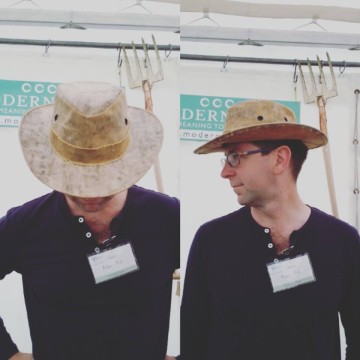 But it could also be used for dog walking. As could our dog whistles, hand made here in the UK from off cuts of off cuts from forestry work.
Not only do they look amazing, they give a merry toot when blown to grab your hound's attention.
Though we are aware it won't work for every dog… (aka the Famous Fenton!)
Gifts for the Garden Lover
Here are unique and excellent presents for people who love their gardens. The first is the secateur and whetstone gift set.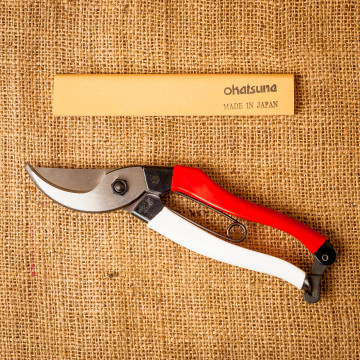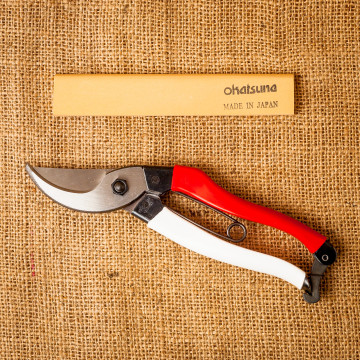 These Japanese secateurs are amazing quality. The steel is so good and stays sharp a long time – then with the soft grit of this whetstone, it can be sharpened again to become factor quality keen all over again. This will be a very appreciated present…
As will our shears gift set.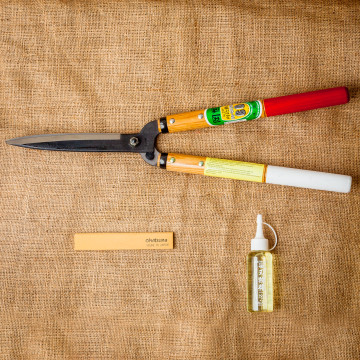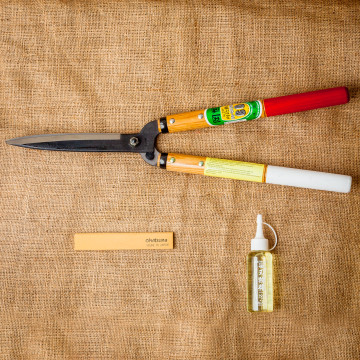 Or our copper and bronze tools, hardworking and well-shaped trowels and hoes for proper gardeners. Not just pretty to look at, these fit beautifully in the hand and are sharp, so slice far more easily into the soil….
See all of our bronze tools.
Keep Warm & Well – Gifts for Those Who Need It!
Warm feet and moisturised hands. This is what you need if you are an outdoorsy type. These two gift sets should help you out of a tight spot, when you just don't know what else a difficult person will appreciate…
Gardener's Hand Cream Gift Set.
Need a Gift For Someone Who Likes A Night In?
You can't go wrong with an embroidery kit, UK designed and made – you even get to practise on the bag before you start the actual design… how clever is that?
Or if they are something of a book worm, then we have these fantastic books by the earth friendly gardener – Digging Deep is pointed and, well, deep… while Eco Garden is inspiring!
Gifts for those who Like Beautiful Designs & Objects
Then it must be our Eco Clocks…
… and laptop brushes we present you with.
The Final Gift for Difficult People
Is our range for children. This starts with skipping ropes…
… but ends with catapults. A gift for the big kids out there.
Buy a catapult – or just enjoy a browse.
November 9 th 2016
$last_class = " list-blog"?>
May03
Over the last two years I have been involved with a couple of projects that have ended up being recorded, then placed on Youtube or Instagram. I'm hoping they will be useful to you, so I have decided this morning to pop them together in one handy blog post so that you can bookmark the page and revisit when you need some inspiration for your topiary. See below then, a few videos about topiary I have recently been involved with… Garden Masterclass – Provocations of a Modern Topiarist Transforming Topiary Topiary Teacher Put On The Spot https://www.instagram.com/p/CTj-EfOKRL6/ In the above …
$last_class = " list-blog"?>
May03
Mark Zlotsky is an artist based in New York, and today I just wanted to share his project 'Topiary Tango'. In his introduction to the project he talks of topiary being a forgiving art, which I love and is soooooo true…..! For proof, just take a look at some projects I have made with a sharp pair of shears, a hedgetrimmer and a pruning saw. Do check out Mark Zlotsky's project, because although his interest began by looking at topiary through the prism of architecture and the relationship of one building to another, he touches directly onto a way of …
$last_class = " list-blog"?>
Apr27
Gardenista, the online magazine about gardens and design, have interviewed me about topiary. The article is called 'Rethinking Topiary: A Garden Tradition Loosened Up' and was published this morning. Written by the excellent garden writer Clare Coulson, I share some thoughts on using deciduous plants, how to clip (name-dropping Anne Lamott and her book on writing at one stage… oh, how I wander off subject sometimes!) and how to improve topiary by what you plant around it. Do take a look at the article in Gardenista. Or for more about my topiary work, check out the topiary page.