THE MODERN MINT BLOG
That's right, late spring is the time for clipping and pruning those box hedges, balls, cones and other weird and wonderful shapes you have in your garden. So here is a small selection of photos from our work this year…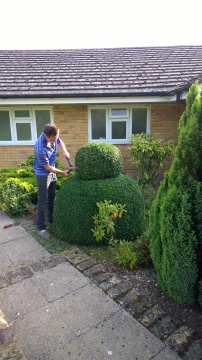 … we have written before about topiary, so please do delve deeper into our blog to discover more about what the heck it is we are trying to achieve when we get out the shears and secateurs, and why creating a piece of 'live sculpture' in your garden may well be the best thing you could do this year…
Jake Hobson and Creative Pruning
Talking of secateurs, the sharpest, shiniest and best value on the market are these ones from Okatsune…
And for those of you living in Essex and London, who perhaps have an old hedge or plant that needs renovating, you can always ask us about our Organic Topiary service.
It could be the best and cheapest way to deal with that overgrown established shrub in your garden!
Happy clippings folks!
July 14 th 2015
Nov14
Lovely to see the RHS have a small article in the latest Garden Magazine telling people about reducing their gardening carbon footprint. We were banging on about this ages ago…. we even did a whole project about it for the Chelsea Fringe 2017…. Capture Carbon In Your Garden. The RHS notes: Plant anything green to capture carbon Mulch soils and avoid digging to make sure carbon stays in the soil Don't use labour and carbon intensive nitrogen-based fertilisers – instead use natural alternatives like seaweed, comfrey (yes, it is stinky!) or mulching with well-rotted horse manure or homemade garden compost…. which …
Nov14
Just a quick note to share these choices of roses for their hips, from the RHS magazine. The rose choices were… Rosa rugosa 'Alba' – yes, lovely. choice Rosa filipes 'Kiftsgate' (not sure who has the space to grow this one!) Rosa 'Francis E Lester' Rosa 'Generous Gardener' (though the article noted if you leave the hips on you will get fewer flowers later in the season) Rosa 'Morning Mist' Rosa 'Cupid' Rosa sericea subspecies omeiensis f. pteracantha (not just a mouthful of a name, but the hips drop off quickly too, within a few weeks) Rosa 'Geranium' Rosa californica …
Nov08
We are, as those keen followers of Modern Mint will know, a little bit excited about British gin. One of our longest and best blog posts is all about it – Best UK Gin 2017. To help you choose a great gin, we have (unselfishly) been trying lots of new ones during the year. Here is one, Botanist Gin, that we think is excellent…. Do take a closer look at other recommendations though – they have been well-tested!