THE MODERN MINT BLOG
That's right, late spring is the time for clipping and pruning those box hedges, balls, cones and other weird and wonderful shapes you have in your garden. So here is a small selection of photos from our work this year…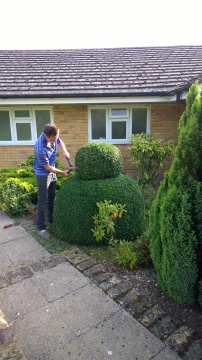 … we have written before about topiary, so please do delve deeper into our blog to discover more about what the heck it is we are trying to achieve when we get out the shears and secateurs, and why creating a piece of 'live sculpture' in your garden may well be the best thing you could do this year…
Jake Hobson and Creative Pruning
Talking of secateurs, the sharpest, shiniest and best value on the market are these ones from Okatsune…
And for those of you living in Essex and London, who perhaps have an old hedge or plant that needs renovating, you can always ask us about our Organic Topiary service.
It could be the best and cheapest way to deal with that overgrown established shrub in your garden!
Happy clippings folks!
July 14 th 2015
Apr23
This piece in the Guardian got me thinking a lot – it shows how an orchestra, a country and a town in Devon have been putting the cost of their carbon footprint at the head of their priority list. Read the article – Carbon Cutters. Gardening is not above this. From refraining from using peat compost to moving to a decent pair of shears, you can easily reduce your carbon footprint. Perhaps you could even make your own compost, so as to enhance life in your garden all the way down the food chain? (For more on that, you can …
Apr23
I loved this as well – I had read about the bees of Notre Dame before, when I discovered Paris was a pesticide free city (shouldn't all cities be like this?) and was pleased to discover, after the fire at Notre Dame, that the bees were safe and sound. Not that the smoke would have harmed them, it would have just put them to sleep! Take a read and enjoy the fact Paris is trying to bring more bees to the city.
Apr23
Just a quick note to suggest a few places you might want to buy seed from. There are more, but these were mentioned in a blog at Riverford organic the other day and I thought they would be useful to share…. Real Seeds (who I use a lot. They are great!) Seed Co-operative Vital Seeds