THE MODERN MINT BLOG
Want to know the best plants to use for topiary? Here is the common palette, and included are a few trees that love to be pollarded, or espaliered, or can take being cut to the ground or have their leaves stripped from the stem…
… not all of these plants will give you the classic topiary forms, but they may be worth experimenting on and discovering how they can be pruned and what impression they leave you with when they are!
Box
Yew
Holm Oak
Holly
Azalea
Ilex crenata
Bay
Thuja
Hebe
Portugese laurel
Pines (including Scots pine)
Robinia
Olive
Osmanthus
Fig
Lime
Privet
Rosemary
Eleagnus x ebbingei
Eucalyptus
Hazel
Willow
Plane
Myrtus apiculata
Alder
Cornus
Gingko
Pittosporum
Rhamnus
Beech
Hornbeam
Berberis
Lonicera
Phillyrea
Pyracantha
Photinia
Cupressus
Chestnut
Pyrus
Ash
Rhododendron
Podocarpus
Cinnamomum
Juniper
Aucuba
Acer
Hawthorn
Viburnum
Prunus – lots of fruit trees take to being espaliered!
Elder
Buddleia
Conifer
Laurel
Abies
Cedar
Chaemycyparis
Oak
Pieris
Camellia
Cryptomeiria
Choisya
Tree ferns
Bananas
Bamboos
Yuccas
Lyonothamnus
Magnolia
Oleander
Euonymous
Choisya
Palms
What to clip with?
Okatsune hedge shears…
We hope you can add to the topiary palette with your own experiments – happy clipping!
February 1 st 2015
Feb22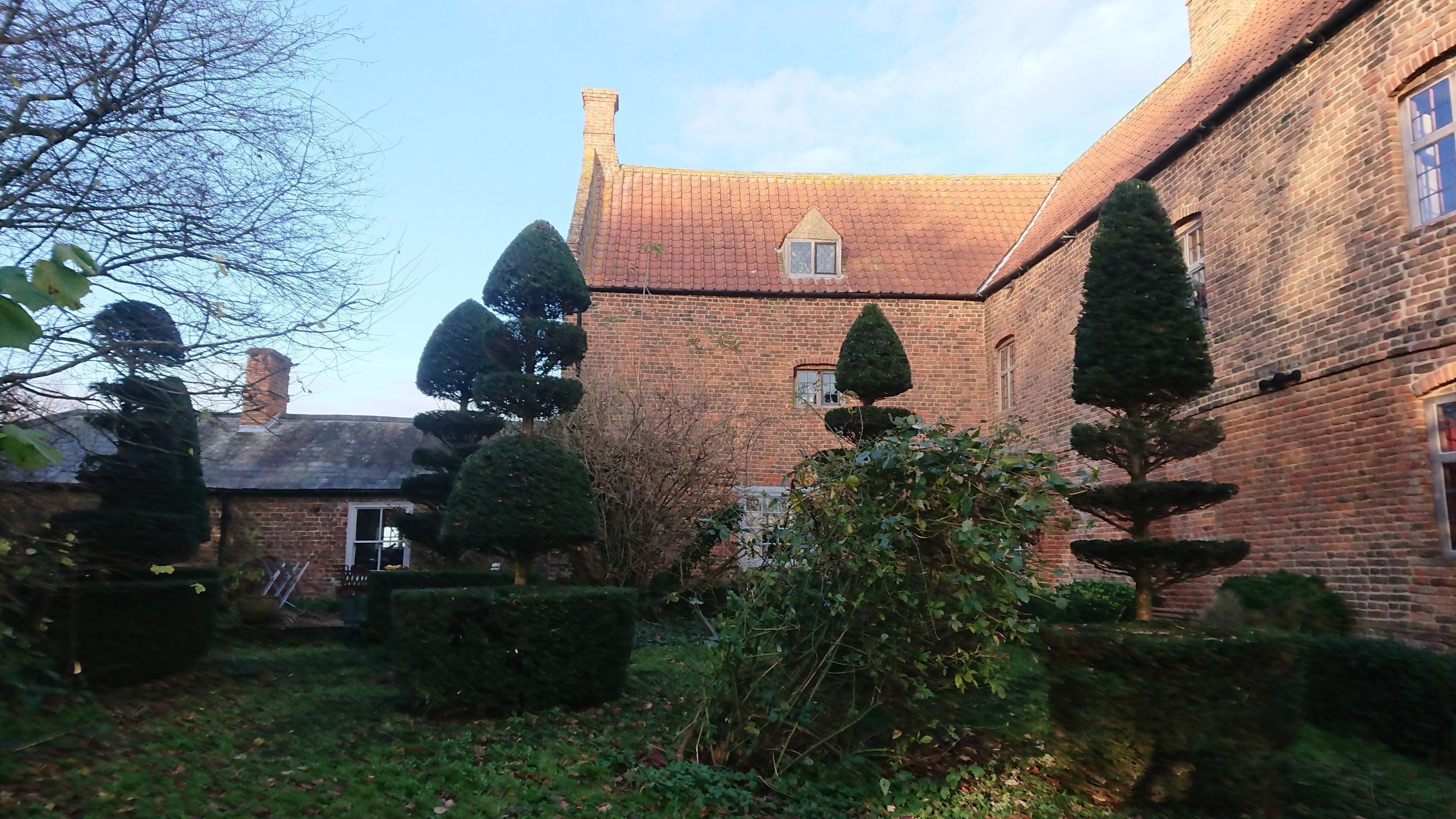 Guanock House needs a trainee topiary artist! Some of you may know it as the first home and garden of designer Arne Maynard, but is now owned and maintained by Michael Coleman and his wife Michelle. They offer meditation workshops and retreats there and it is as beautiful a house and garden as you could wish to visit. They called me in last Autumn to help shape up some of the topiary as it was all getting out of hand, but what it really needs is someone with a steady hand and lots of patience to take over the clipping …
Feb09
Here are some photos of work I have been doing at the garden of Charlotte Molesworth in Kent. Snow and ice brings out the depth of the different planes and angles carved into the boxwood. A garden has to look beautiful in winter – and topiary (green architecture)  helps do that! For more topiary pictures, click here.
Feb01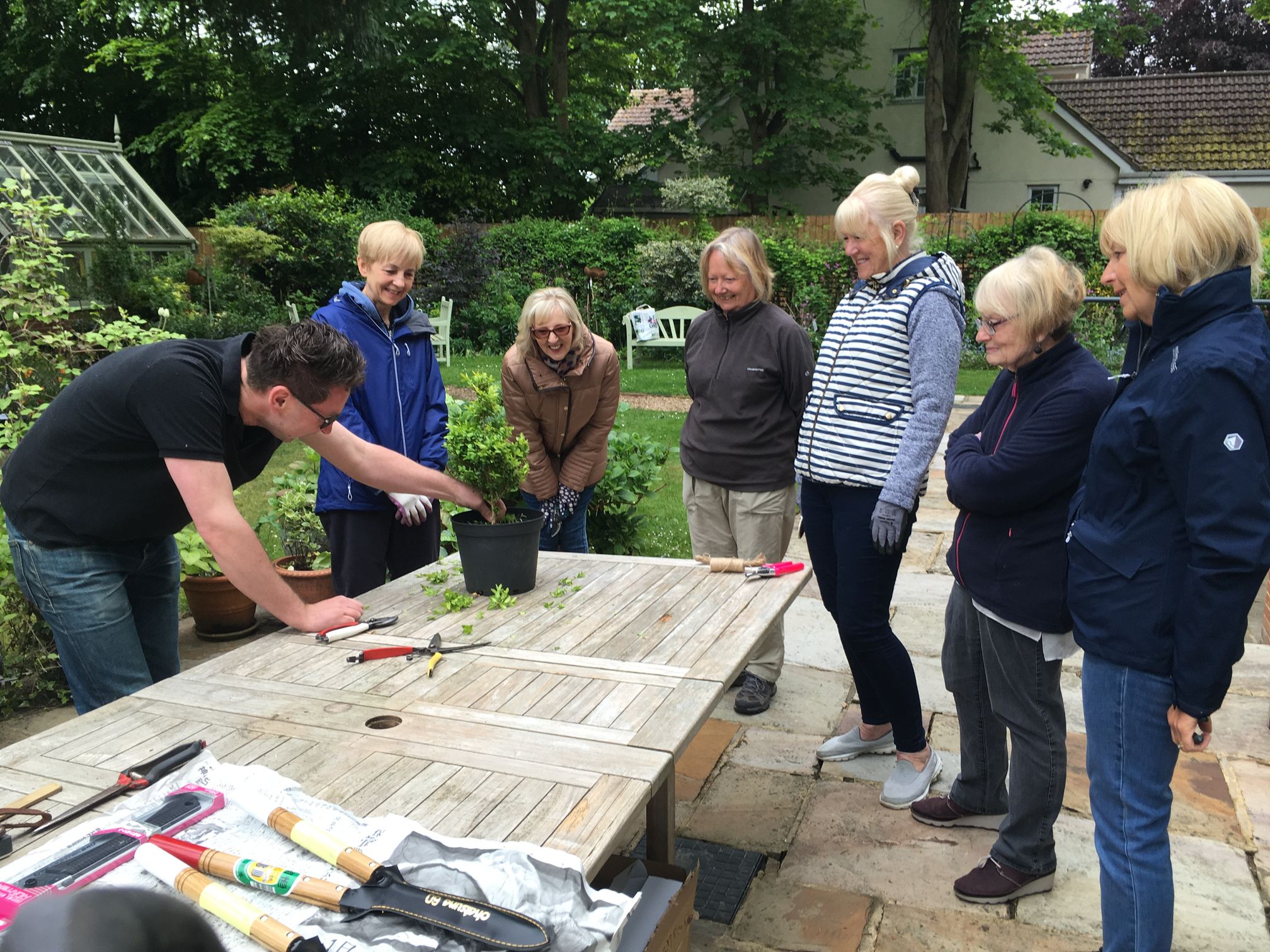 I am an experienced teacher of topiary and pruning, running workshops in the topiary garden of Charlotte Molesworth in Kent, as well as for The English Gardening School and The European Boxwood And Topiary Society. So if you are a keen gardener, a garden club, a group of friends who want to know more or even an absolute beginner who has been bitten by the gardening bug, then do contact me about what you might like to learn. What a laugh we are having in this workshop session I ran for a group of friends in Essex… Many people employ …