THE MODERN MINT BLOG
Want to know the best plants to use for topiary? Here is the common palette, and included are a few trees that love to be pollarded, or espaliered, or can take being cut to the ground or have their leaves stripped from the stem…
… not all of these plants will give you the classic topiary forms, but they may be worth experimenting on and discovering how they can be pruned and what impression they leave you with when they are!
Box
Yew
Holm Oak
Holly
Azalea
Ilex crenata
Bay
Thuja
Hebe
Portugese laurel
Pines (including Scots pine)
Robinia
Olive
Osmanthus
Fig
Lime
Privet
Rosemary
Eleagnus x ebbingei
Eucalyptus
Hazel
Willow
Plane
Myrtus apiculata
Alder
Cornus
Gingko
Pittosporum
Rhamnus
Beech
Hornbeam
Berberis
Lonicera
Phillyrea
Pyracantha
Photinia
Cupressus
Chestnut
Pyrus
Ash
Rhododendron
Podocarpus
Cinnamomum
Juniper
Aucuba
Acer
Hawthorn
Viburnum
Prunus – lots of fruit trees take to being espaliered!
Elder
Buddleia
Conifer
Laurel
Abies
Cedar
Chaemycyparis
Oak
Pieris
Camellia
Cryptomeiria
Choisya
Tree ferns
Bananas
Bamboos
Yuccas
Lyonothamnus
Magnolia
Oleander
Euonymous
Choisya
Palms
What to clip with?
Okatsune hedge shears…
We hope you can add to the topiary palette with your own experiments – happy clipping!
February 1 st 2015
Aug05
I will be bringing a show about gardening to the Faversham Fringe on Wednesday, August 28th at 8.30pm. More details and tickets here – Faversham Fringe, The Grinning Gardener.
Jun30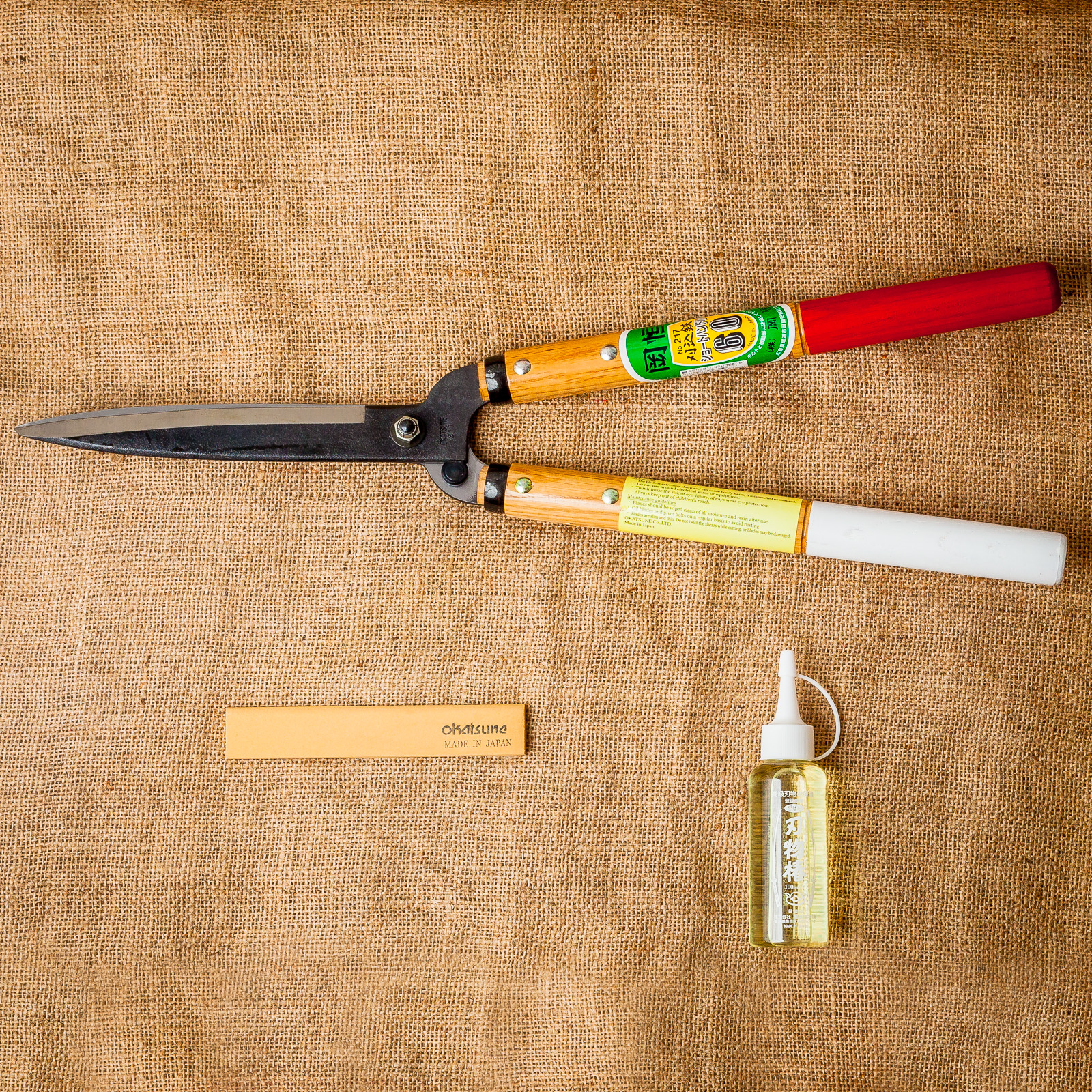 I recently wrote a piece for Topiarius magazine, the flagship publication of the European Boxwood & Topiary Society – of which Modern Mint is both a member and big supporter. Check out the EBTS here. They frequently run courses and talks too, so worth keeping an eye on. Below is the piece I wrote about the tools I use when making topiary and pruning trees…. Darren's Piece In Topiarius Magazine I use Okatsune Secateurs, which I started pruning with when working on a large orchard in Hampshire. My Felco's were too difficult to open with cold hands, but the chunky …
May20
Just inc are you are free in the following dates in June, you can visit my mentor Charlotte Molesworth's topiary garden… Check out the dates the garden is open here. And you can of course join both Charlotte and I for a topiary workshop in the garden in July, as well as September. Hope to see you there!