THE MODERN MINT BLOG
Struggling to find a gift that is actually decent, for the gardener or garden lover in your life?
Here are some ideas that, I hope, tap into what a gardener really will appreciate… rather than the tut you might get in M & S (I'm looking with angry, disappointed eyes at you, M & S copper plated trowel that you can purchase for not much money that looks good but lasts for no time and is a pile of dog mess to use…. to put it lightly….)
Our tools – snips, secateurs, Diggy Diggy trowel, slug-repellant trowel, shears. Okay, okay – now we've got that over with. We sell stuff we stand by, that we use in the garden. We're done now ok? You can carry on down the list and find something else that we don't have a hand in on this website.
Boots – got to have a good pair of boots in the garden. We wear these from Portuguese Treasures. The working boot. Soles are recycled from old car tyres. This wonderful nod towards recycling something useful to lower the carbon footprint is offset somewhat by the plane journey they send the boots on to reach you in the UK. But it is a start…. and the boots will last you.
Books – Henk Gerritsen wrote 'Essay On Gardening' and it is a masterpiece. Tough to get hold of though, admittedly. We also love this one by Barn The Spoon, or this book about 'Late Summer Flowers' by the wonderful nurserywoman Marina Christopher. You can also try 'Feral' by George Monbiot.
Rapanui shirts – organic cotton. Sustainable fashion is good for the planet, these shirts are thick and well-made. Perfect for the garden.
Trees For Life – give the gift of a future.
Truffle Hunting In Dorset – this one is a little bit special! Truffle hunting with dogs, here in the UK. Bit more expensive, but hey, make a weekend of it!
Organic wine – we recommend… drinking. =)
Riverford Organic Vegetable Box – if you don't have time or space to grow all your own vegetables, then get a delivery every week. We love Riverford and we know that by eating organic food, we are also supporting a landscape that enhances life.
Trip to a brilliant nursery – like this one, Marchant's Hardy Plants, perhaps in the New Year when you can enjoy their Snowdrop Day.
Bokashi – oh? You don't know Bokashi? Me either, at least, I've never tried it yet. But I do know people who love to Bokashi their food waste and it all looks good. You basically pickle your leftover dinner and unused vegetables, then chuck it on the garden where it helps improve the soil. Something that will be massive in years to come. We hope.
So there you go, ten ideas for Christmas presents for the gardener in your life. (And as a bonus, try this if you know a beekeeper…. Hive Tool for Beekeepers.)
December 4 th 2018
Feb22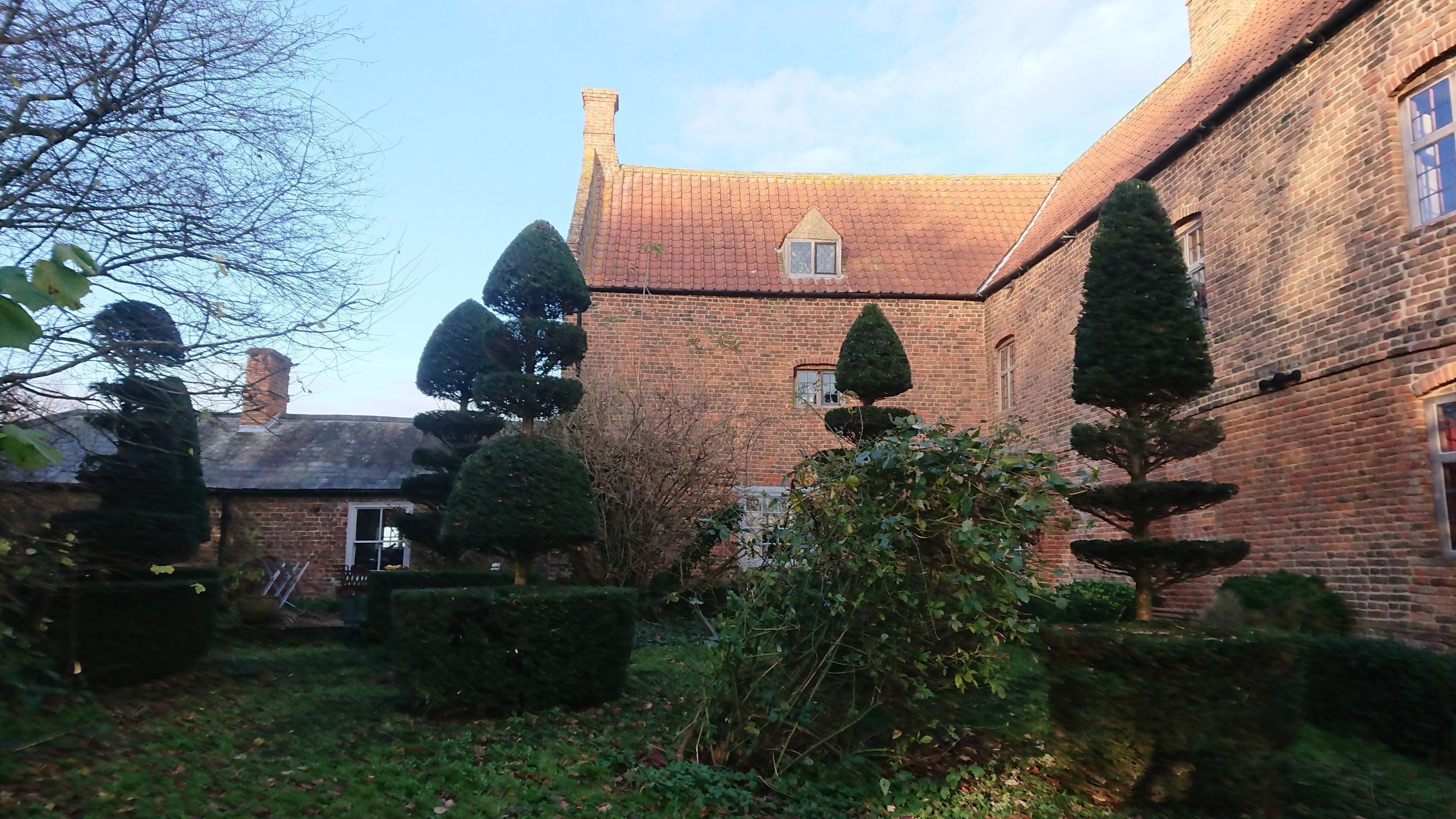 Guanock House needs a trainee topiary artist! Some of you may know it as the first home and garden of designer Arne Maynard, but is now owned and maintained by Michael Coleman and his wife Michelle. They offer meditation workshops and retreats there and it is as beautiful a house and garden as you could wish to visit. They called me in last Autumn to help shape up some of the topiary as it was all getting out of hand, but what it really needs is someone with a steady hand and lots of patience to take over the clipping …
Feb09
Here are some photos of work I have been doing at the garden of Charlotte Molesworth in Kent. Snow and ice brings out the depth of the different planes and angles carved into the boxwood. A garden has to look beautiful in winter – and topiary (green architecture)  helps do that! For more topiary pictures, click here.
Feb05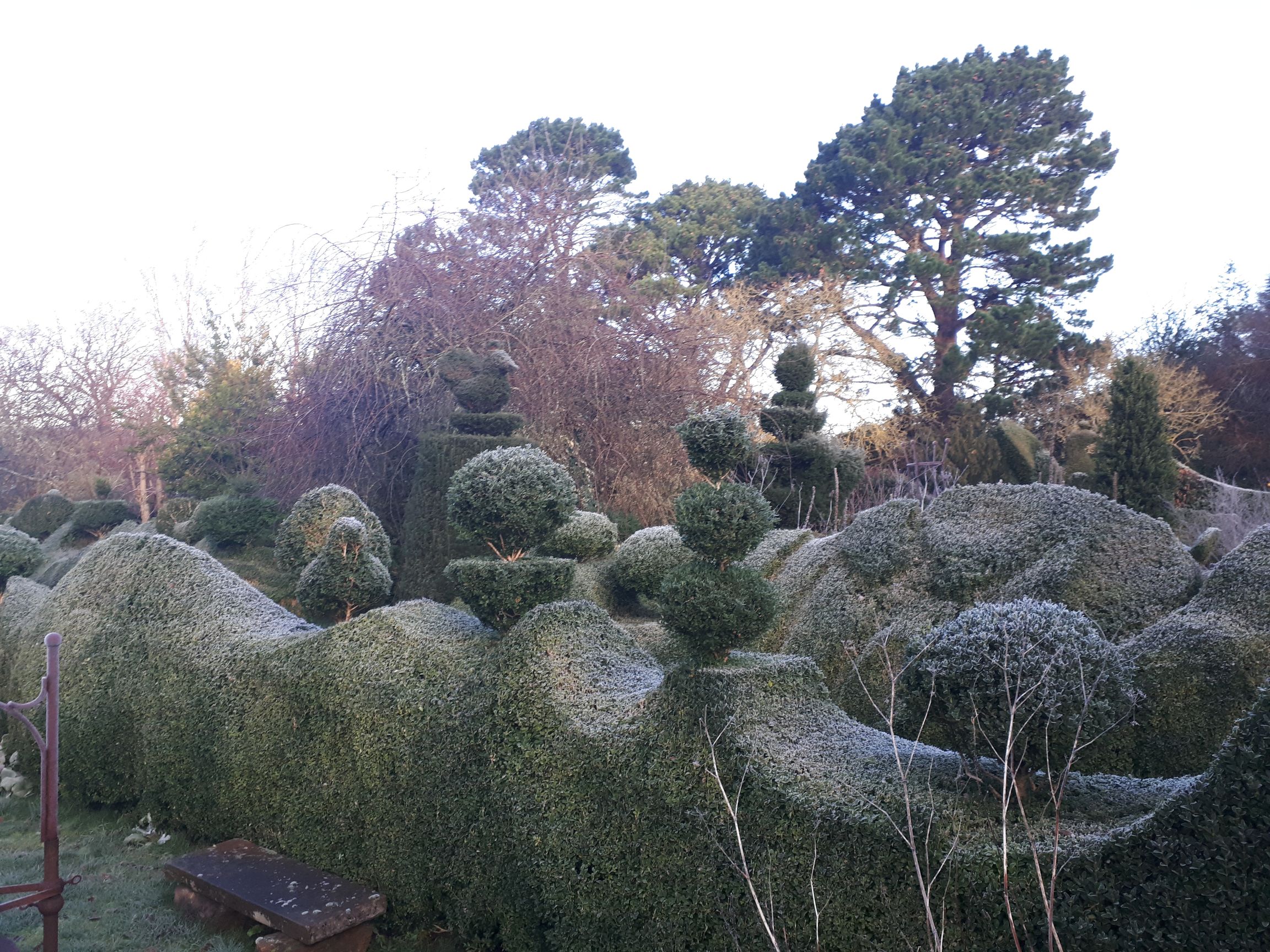 How To Use Topiary In The Garden is my new talk, which I first gave last year via Zoom for the European Boxwood And Topiary Society. Returning to Zoom again, there are two dates available to see and hear the talk: March 16th – Book your ticket here April 6th – Book your ticket here The talk is great fun, perfect for keen gardeners or people who want to know how to improve their garden with hedges and architectural plants. How To Use Topiary In The Garden looks at how to move away from the idea topiary is twee or old-fashioned, …