Floral Snips
Floral snips are for dead-heading. Basically, use them for making cuts to stems you might find when wandering around the flower beds, vegetable patch or fruit cage in your garden.
Please note I also offer a (great value) two-pack of these snips.
Why I Use These Floral Snips
I use to grow cut flowers for florists. (I was terrible at it, because I took too much work on and so couldn't farm the flowers as efficiently as I should have done. You can read more about my floristry work here.)
The problem was I found secateurs too big for cutting stems when I was collecting the flowers. So I moved onto these little snips. They have a longer blade than in others you might see, meaning you can slip them (with great care) in between a large number of stems and select the flower you wish to cut.
Which is useful!
I'm sure someone told me they were originally bonsai snips. Which is probably why they have the longer blades. And of course the strength in the steel, because they would need to cut tougher vegetation.
The Action Of The Snips
One little spring helps the cutting action feel smooth. Keeping the moving parts simple is a trait of the Japanese tools, and is what makes the, quick and reliable to use when deadheading or even taking cuttings.
I also use them for cutting herbs in the kitchen – they are sharper than scissors so don't twist or crush the lovely soft stems of our herbs, and the long blade makes them perfect for getting the job done quickly.
Flowers I Cut With The Floral Snips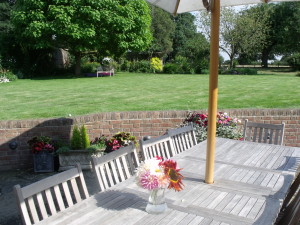 Floral Snips Or Secateurs?
Snips are for snipping – flower stems, deadheading of herbs, grapes and other fruit. You can deadhead roses when they have gone over. Secateurs are for woody pruning like branches and other thicker stems.
You can get secateurs made by the same Japanese company here. Red and white handles. Great steel. Quality of the cutting action is just as high.
What Do Other People Think Of The Snips?
Here is what one of my favourite gardener's has said about these floral snips…
"Terrific for small, dainty pruning."

Carol Klein in Gardeners' World Magazine
Terrific? Yes, yes they are!
Cut flowers make a house a home. So make sure you have some blooms in a vase, and buy yourself a pair (or two!) of floral snips to encourage you out into the garden for some flowers.