Ultimate Shears Gift Set
Our Ultimate Shears Gift Set, for the keenest of gardeners!
Please Note: Whetstones are arriving by Easter, when this will be back in stock!
What Makes This The Ultimate Shears Gift Set?
I have put together the three items you will need to make best use of your shears:
Japanese Shears for pruning
Whetstone for keeping the blades sharp
Camellia Oil to keep them clean and prevent them rusting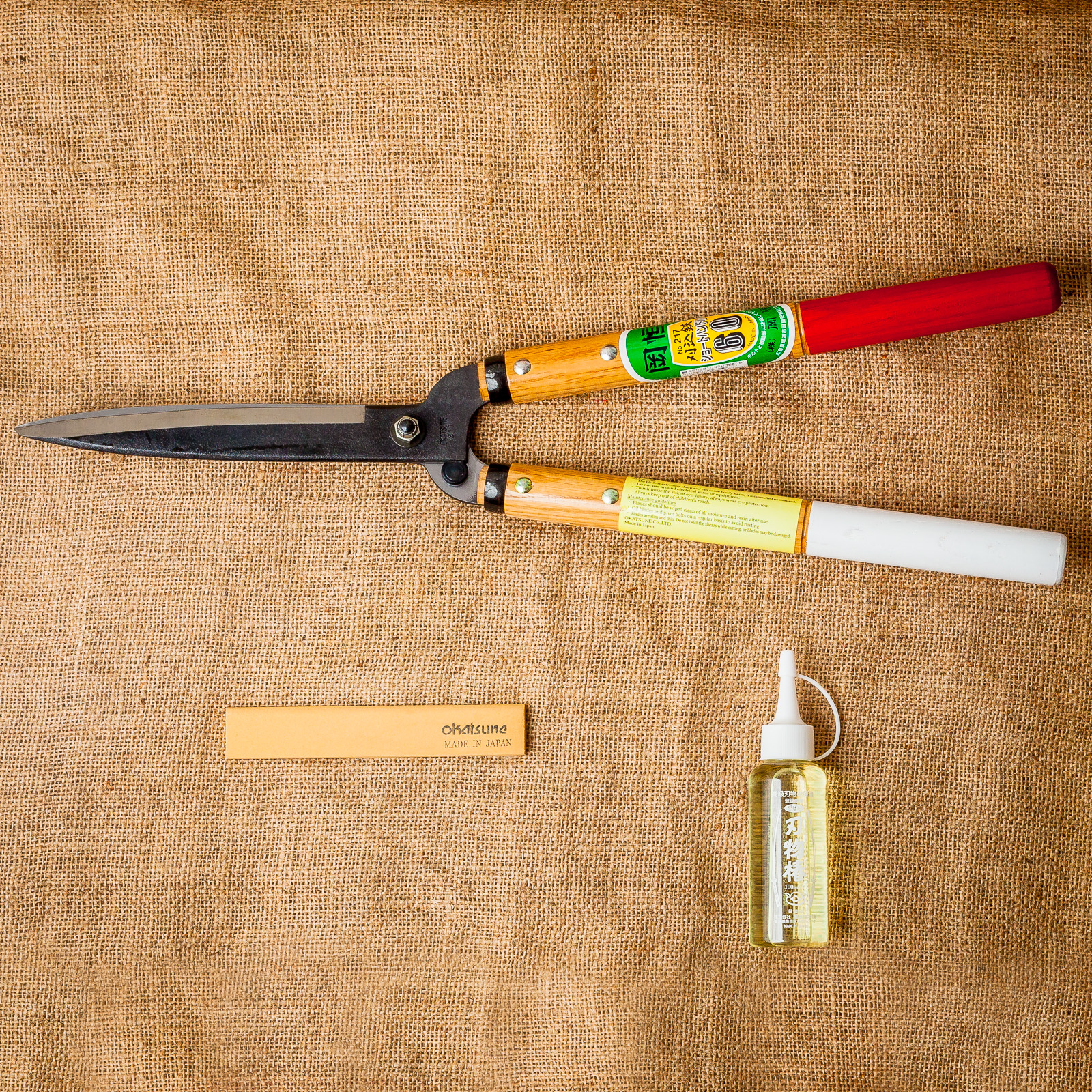 These Okatsune shears from Japan are my favourite. I use them daily during spring and summer for pruning all around the garden (this is partly because I am a topiary artist, so they do get a lot of use!)
They are lightweight, with lovely long blades. They have a brilliant balance to them, yet the handles are still long enough to give you excellent reach when pruning. There is also a sturdiness to them, the steel sharp and strong, that means you can really get stuck in to the clipping you are doing.
Should you need more control when pruning, perhaps because you want to concentrate on a more detailed piece of topiary, the handles have enough room for you to hold them higher up the handle length, closer to the blade, without cracking your knuckles together with each and every clip.
These Japanese shears make pruning a pleasure. (To be fair, when is pruning not a pleasure…?)
More Details On the Ultimate Shears Set
The steel blades have a hardness of 60-61 HRD, which for the tool buffs amongst you (and I do know there are a lot!) is the blade hardness measured on the Rockwell Hardness C scale. If you have no idea about this 'Hardness Scale', don't worry. The steel is hard. Enjoy using it.
Japanese shears have far fewer moving parts than a pair of shears you might get from a garden centre in the UK, which means there is less to go wrong with them.
They have concentrated on the essentials in the Far East – amazing blades, smooth handles, soft action. The 'clip clip clip' noise you make as the handles meet is such a pleasant sound, for me it is up there with the dawn chorus in spring. Actually, I probably think it is more beautiful than that. It is as beautiful as this album by Bob Dylan.
That 'clip clip clip' noise also signals that you are using the shears just right, with a smooth and fluid clipping action that glides across the shrub you are pruning.
Below are my tools in action…
This photo includes the secateurs, which are well worth having in your toolbox!
Pruning Made Easy
Pruning is made easy with a pair of Japanese shears. Buying them as part of the Ultimate Shears Gift Set means you can go into the garden, start pruning, then know you have the tools on hand to keep them sharp, clean and ready to use again the next time.
The whetstone and camellia oil are traditional accessories to the shears, making them a perfect present for the keen gardener who loves to use great tools. Or buy them for yourself, if you finally want to take the plunge and get tools that will become family heirlooms.
Give your garden a clip and your gardening practise a thrill with these ultimate shears, with the bonus of a whetstone for sharpening and camellia oil for keeping them clean. They are the tools I use professionally.