THE MODERN MINT BLOG
When choosing bee friendly plants the key ideas to look out for are:
1) Grow plants that are nectar rich and full of pollen. (So stay clear of overbred double flowers…)
2) Provide a number of flower shapes – flat disks and tubular flowers are great.
3) Plant in blocks – bees, being oh so efficient, want to fly to one spot and pick up as much nectar as possible. Don't ask them to work hard, group your flowers together.
We interviewed nursery woman Rosybee about the top 5 plants for bees. She said,
"… borage, phacelia and echium are all fab and I would probably put in my top 10 – which I will not finalise until I have more empirical evidence. Interestingly those 3 are all from the same plant family and all have the trick of renewing their nectar throughout the day where most plants are dry by lunch-time."
Think big as well when choosing bee friendly plants – trees are a fantastic way to provide nectar and pollen in abundance! Lime, sweet chestnut and sycamore should be on your list if you have the room (we know that putting in a sycamore will leave you with lots of little seedlings around the garden, but they die out when they don't get enough moisture… so those of you who live near Modern Mint in Essex shouldn't have a problem!)
Last of all, try and provide enough shelter so bees can travel (no wind tunnels), steer clear of pesticides (there are alternative ways of thinking) and plant so that something is flowering all year round – Mahonia early in the year will be a fine food source, as will Ivy later in the year.
Plants for Bees:
Geranium
Catmint
Foxgloves
Sedum
Hellebore
Campanula
Poppies
Asters
Cosmos
Lavender
Rosemary
(A lot of these are in Dan Pearson's 'Must-Have Plants'…)
Do check out these books on beekeeping too – you may find with a bit more information you are a natural…
July 23 rd 2014
Sep21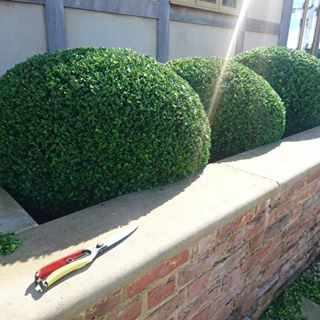 I was asked by the European Boxwood & Topiary Society to help out with answering a common question – How to sharpen your shears? So we spent a fun day making a video, that hopefully will help you make sure you have sharp, shiny blades to do your topiary pruning with. And you can find here more examples of the topiary I make with my sharp blades.
Aug16
You can get a ticket for this new talk I'm giving at the European Boxwood And Topiary Society here – TALK TICKETS It is on the 25th August at 6pm. It should be great fun and I'm very excited to be sharing some recent thoughts about topiary with people – and how it might work in a modern garden.
Jun14
If you have a subscription, you can check out an article about bespoke ideas for your garden in the Telegraph. There are some great crafts people there, so check it out. Click Here To See The Article About my Topiary Work In The Telegraph