THE MODERN MINT BLOG
Really this post is about pruning…
Walking to the accountant in Chelmsford yesterday morning we caught a heavy scent in the air, making us stop in our tracks. Where was it coming from? Which flower, in January, could provide such a rich and intoxicating scent as the sun tried with great audacity to warm the air?
Looking around, there was no bright and gaudy flower, no obvious hint as to what was perfuming the air. So we went hunting into the borders, amongst the cubed, uniformally trimmed shrubs invariably shaped by a male gardener who finds satisfaction with a hedgetrimmer.
"It looks green doesn't it?"
It does, we cannot argue with this. We can though, argue it looks boring and the cutting gesture lacks skill, and that it gives an air of death about a border because there is no movement or depth to the plant. The plant has been suffocated and stifled by the famine of imagination the shrub-trimmer brought to the task.
This effect is played out across every car park and new housing development in the country, as if a motto for the work made could be – "Shrub border pruning. To make your view of nature ugly."
Speak out against this. We will be.
Our search was not long, as there at the back of the border stood three plants of mahonia, their yellow flowers fluorescent with the backdrop of their dark green leaves. Not a charming plant, it looks positively monstrous imposing itself over a delicate snowdrop. But worth having for the scent, that it flowers early in the year so is good to attract pollinators, and that it will give permanence and grounding to a border (if pruned so it doesn't become too awkward and lurching.)
Have a look at Architectural Plants to see a picture. And how to prune with a dynamic purpose.
(These books will teach you how!)
January 29 th 2014
Sep21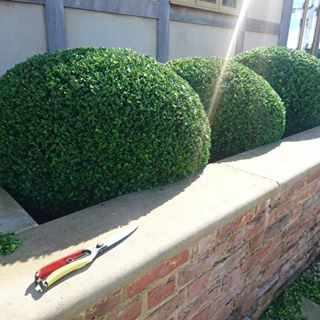 I was asked by the European Boxwood & Topiary Society to help out with answering a common question – How to sharpen your shears? So we spent a fun day making a video, that hopefully will help you make sure you have sharp, shiny blades to do your topiary pruning with. And you can find here more examples of the topiary I make with my sharp blades.
Aug16
You can get a ticket for this new talk I'm giving at the European Boxwood And Topiary Society here – TALK TICKETS It is on the 25th August at 6pm. It should be great fun and I'm very excited to be sharing some recent thoughts about topiary with people – and how it might work in a modern garden.
Jun14
If you have a subscription, you can check out an article about bespoke ideas for your garden in the Telegraph. There are some great crafts people there, so check it out. Click Here To See The Article About my Topiary Work In The Telegraph