THE MODERN MINT BLOG
We visited the 1 1/2 acre garden Woodpeckers at Burnham on Crouch over the last bank holiday weekend. It felt like a bigger garden than this, split as it was into different spaces each with their own atmosphere.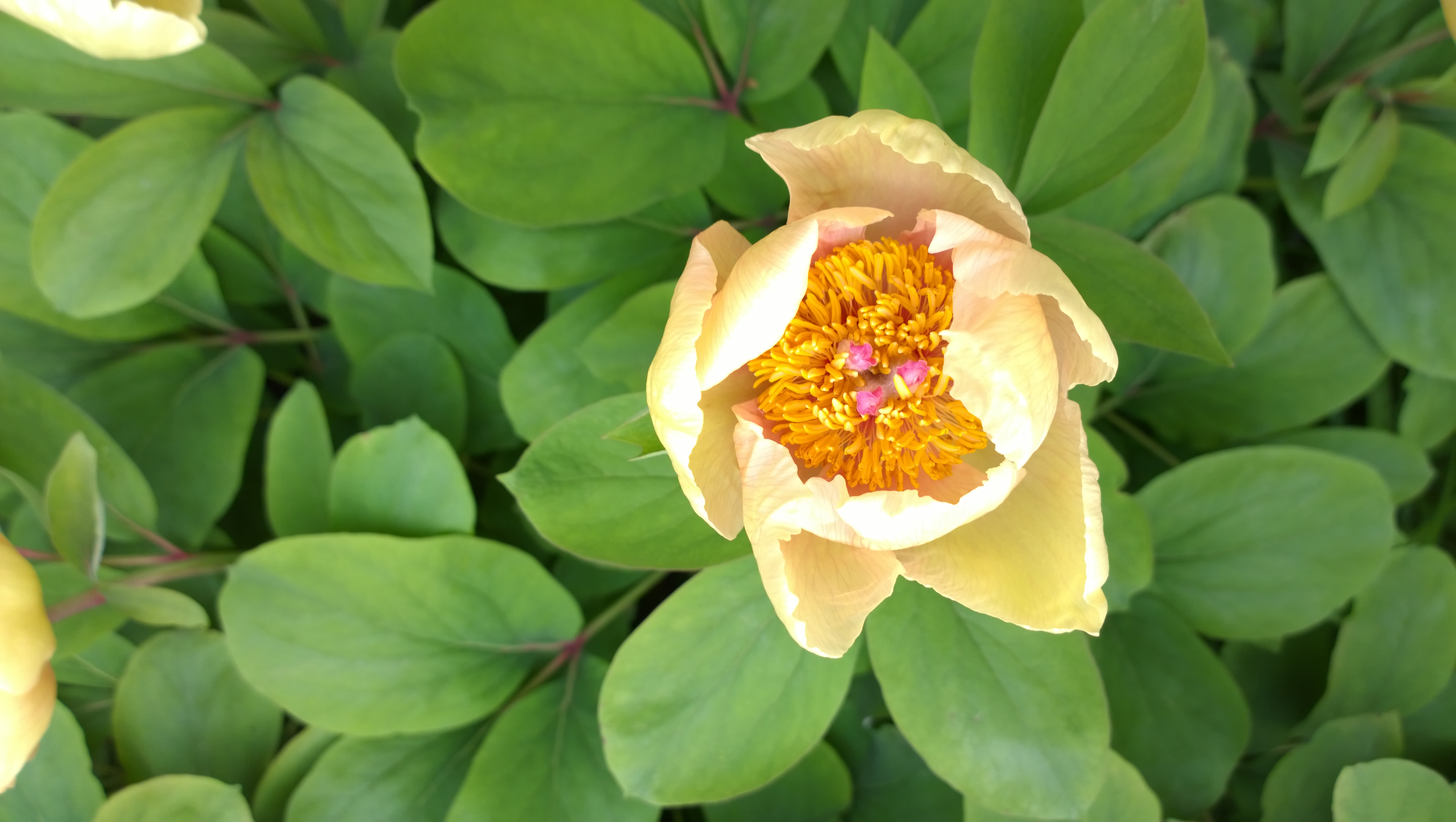 What we liked most was that each space was clearly defined. It takes a brave owner to do that,to take the plunge and not dilute the quality each space in the garden has been asked to provide.
The meadows in the orchard were beautiful at this time of year…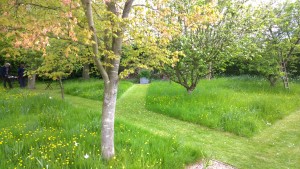 … at least we thought so. We overheard one visitor say, "it's all just managed weeds," as they turned away and headed towards the vegetable garden. It's an old-fashioned way of judging plants – good and bad, wanted and unwanted, plants and weeds – they are all plants, all the same, and have their own uses and their own beauty. But you can't please everyone.
(Just to be clear – meadows are not about 'managing weeds' or having a 'can't be bothered mowing' attitude to the garden work – they are about creating a particular set of conditions, managing them in a similar way, and then allowing the plants that suit those conditions to flourish. You will also get more flowering events per square metre than in many traditional herbaceous borders. What is not to like about that?)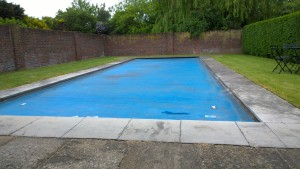 The pool was a flower free zone. It surprised us when we walked in, but the absolute lack of flowers suggested it must be a deliberate choice. Linda explained, "I wanted one place in the garden where I could sit and read my book without getting distracted. If there were flowers here, I would always be looking up and seeing something else that needs to be done."
Many of us could relate to that… and what is more, the walls that enclose the pool garden are beautiful in themselves, and so worth allowing them to take centre stage.
Linda has a genuine love for the exuberance of the cottage garden, and this lends a more relaxed spirit to the garden. Plants can self-seed, borders are full and the odd flowering treasure can be found if you keep your eyes open… a Mathiasella appeared before us on one corner.
The gardens we have visited so far for the NGS in Essex have been of an exceptionally high standard. What is most impressive is the attitude each of these women take to their gardens – they are bold in what they set out to achieve and make conscious choices about how they do it. We encourage that in anyone who is keen to garden – go for it, make something brilliant!
Woodpeckers will be open again in June, please do see the NGS for dates and times.
Recommended Reading:
Yellow Book 2014, The: The National Gardens Scheme
Cottage Garden Flowers
Life in a Cottage Garden
Or for a selection of our favourite books… The Modern Mint Book Store
May 13 th 2014
May03
Over the last two years I have been involved with a couple of projects that have ended up being recorded, then placed on Youtube or Instagram. I'm hoping they will be useful to you, so I have decided this morning to pop them together in one handy blog post so that you can bookmark the page and revisit when you need some inspiration for your topiary. See below then, a few videos about topiary I have recently been involved with… Garden Masterclass – Provocations of a Modern Topiarist Transforming Topiary Topiary Teacher Put On The Spot https://www.instagram.com/p/CTj-EfOKRL6/ In the above …
May03
Mark Zlotsky is an artist based in New York, and today I just wanted to share his project 'Topiary Tango'. In his introduction to the project he talks of topiary being a forgiving art, which I love and is soooooo true…..! For proof, just take a look at some projects I have made with a sharp pair of shears, a hedgetrimmer and a pruning saw. Do check out Mark Zlotsky's project, because although his interest began by looking at topiary through the prism of architecture and the relationship of one building to another, he touches directly onto a way of …
Apr27
Gardenista, the online magazine about gardens and design, have interviewed me about topiary. The article is called 'Rethinking Topiary: A Garden Tradition Loosened Up' and was published this morning. Written by the excellent garden writer Clare Coulson, I share some thoughts on using deciduous plants, how to clip (name-dropping Anne Lamott and her book on writing at one stage… oh, how I wander off subject sometimes!) and how to improve topiary by what you plant around it. Do take a look at the article in Gardenista. Or for more about my topiary work, check out the topiary page.