THE MODERN MINT BLOG
We design and build gardens in Essex and London – at least, that's the simple nuts and bolts answer.
But we are also influenced by writers like Seth Godin…
How inspiring is his advice below on how your business could behave?
Focus on doing the work
Relentlessly get better
Ship the work
Rack up small wins
Earn one fan at a time
This encapsulates beautifully what we are trying to do and could just as well be the 'About Us' page on the Modern Mint website.
We would love to hear from you about transforming your outdoor space. Perhaps you have some ideas already, or perhaps you need inspiration. Well we are here to inform you, present to you the hidden gems and important issues and encourage you to try something you didn't even know was possible.
Earning one fan at a time making gardens that suit the 21st Century is exactly what Modern Mint is about.
Here are our other recommendations for Seth Godin books:
April 11 th 2014
Sep21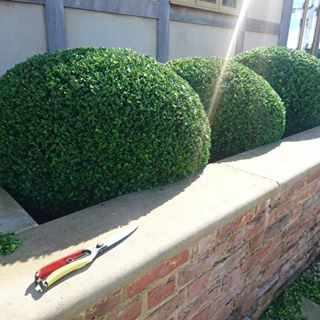 I was asked by the European Boxwood & Topiary Society to help out with answering a common question – How to sharpen your shears? So we spent a fun day making a video, that hopefully will help you make sure you have sharp, shiny blades to do your topiary pruning with. And you can find here more examples of the topiary I make with my sharp blades.
Aug16
You can get a ticket for this new talk I'm giving at the European Boxwood And Topiary Society here – TALK TICKETS It is on the 25th August at 6pm. It should be great fun and I'm very excited to be sharing some recent thoughts about topiary with people – and how it might work in a modern garden.
Jun14
If you have a subscription, you can check out an article about bespoke ideas for your garden in the Telegraph. There are some great crafts people there, so check it out. Click Here To See The Article About my Topiary Work In The Telegraph