THE MODERN MINT BLOG
We have spoken of how gardening can teach us about having the confidence to fail, and we would like to continue to explore these themes. Because gardening can be the catalyst for something even stronger – the ability to be vulnerable.
Every time a designer expresses their idea to a client, they open themselves to ridicule. But this is the job of the professional designer, to express what could be. Or those people who work so hard to open up their gardens to visitors in order to raise money for charity. They are doing the same thing, expressing the ideas they have about the world. And they use this incredibly clunky method to do it, called 'gardening', where so much is out of their control. You wander what makes them do it this way – when they could craft a book or go to a studio and record a song, spending hours chasing perfection and making sure it is just right before anyone gets to read or hear it.
But the best work doesn't happen that way. The best work is done be people who allow themselves to be vulnerable, who have 'the courage to be imperfect' as Brene Brown told us in her Ted talk (see below.)
And with gardening, you have to learn the art of imperfection. You have to learn to let go, to allow nature to take its own course. So perhaps it is easier for gardeners to produce great gardens – with a book or a recording an artist can search forever to discover the tools to get it right, but built within the very fabric of this clunky method of expression called 'gardening' is an out – perfection is impossible, so go for it knowing you will always come up short. It becomes a releasing technique, a move towards freedom. Maybe that is why so many artists become gardeners…?
They cannot be judged by the same parameters as within their other craft?
We hope you will embrace vulnerability, whatever it is you do – whether you create works of art, love someone, kick a football, speak up when all is quiet, or grow dahlias as gifts for your friends and the friends of friends. As Brene Brown says about the people she researched…
"…the other thing that they had in common was this: They fully embraced vulnerability. They believed that what made them vulnerable made them beautiful. They didn't talk about vulnerability being comfortable, nor did they really talk about it being excruciating… they just talked about it being necessary."
May 6 th 2014
Feb22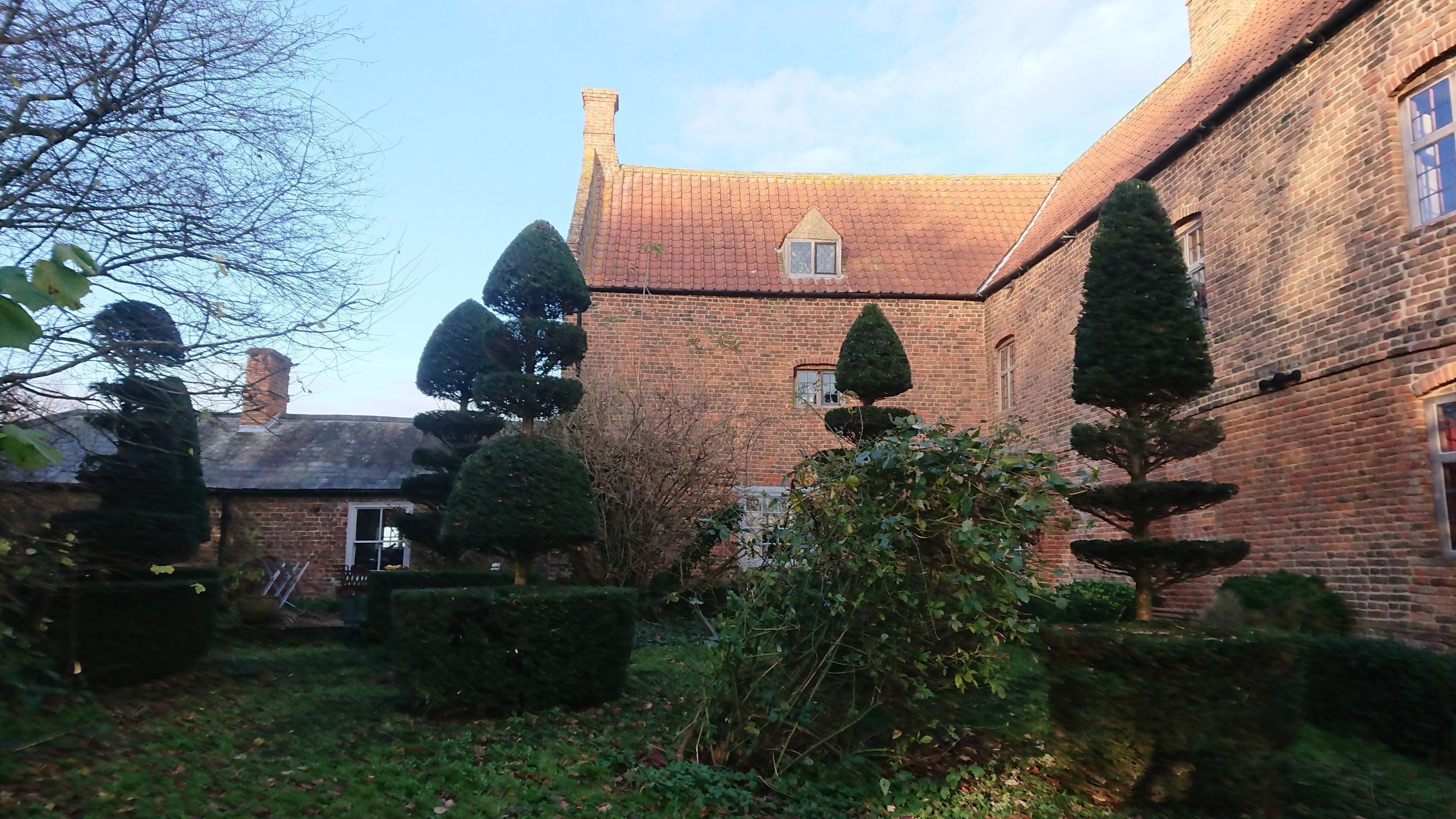 Guanock House needs a trainee topiary artist! Some of you may know it as the first home and garden of designer Arne Maynard, but is now owned and maintained by Michael Coleman and his wife Michelle. They offer meditation workshops and retreats there and it is as beautiful a house and garden as you could wish to visit. They called me in last Autumn to help shape up some of the topiary as it was all getting out of hand, but what it really needs is someone with a steady hand and lots of patience to take over the clipping …
Feb09
Here are some photos of work I have been doing at the garden of Charlotte Molesworth in Kent. Snow and ice brings out the depth of the different planes and angles carved into the boxwood. A garden has to look beautiful in winter – and topiary (green architecture)  helps do that! For more topiary pictures, click here.
Feb01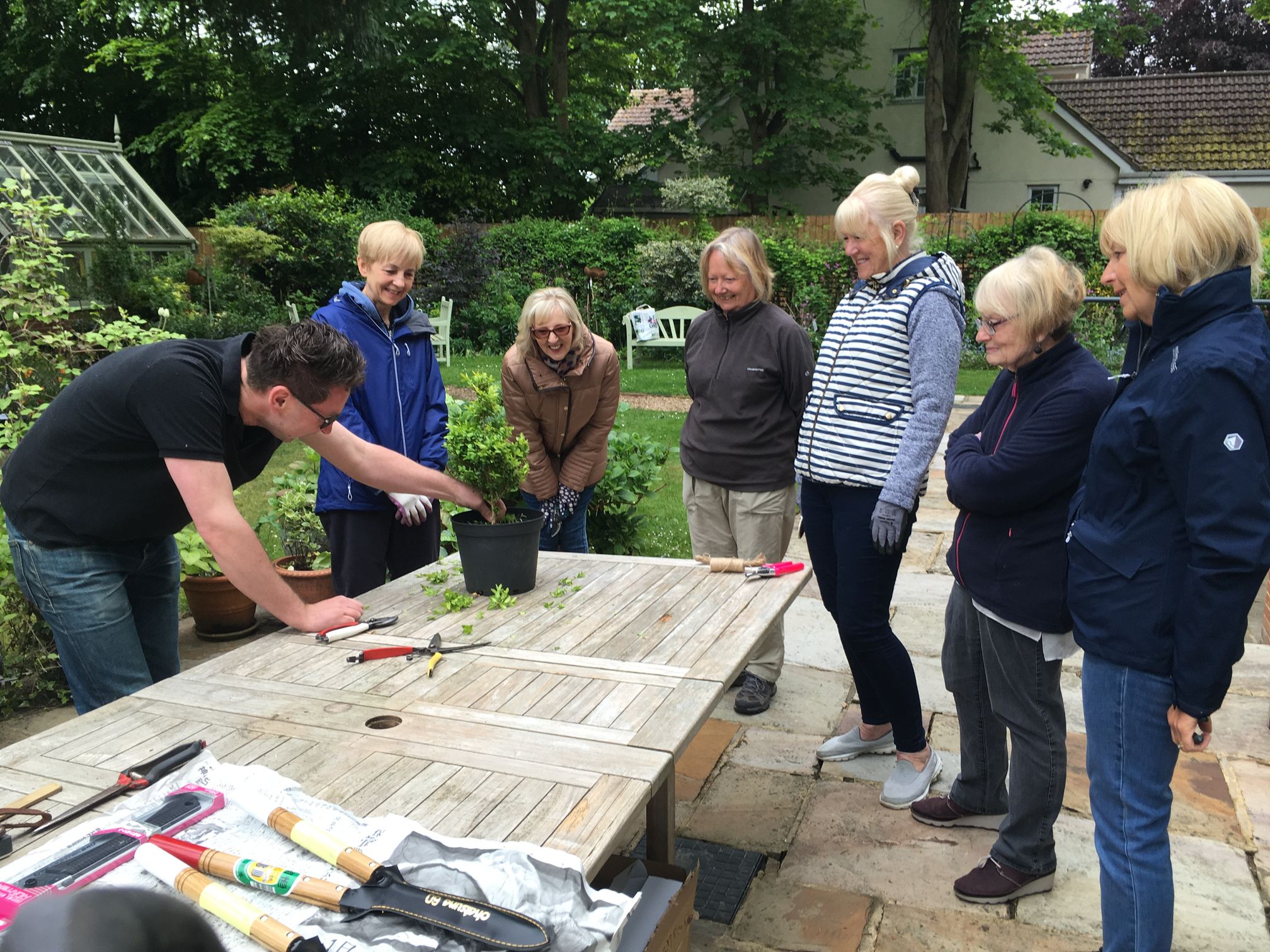 I am an experienced teacher of topiary and pruning, running workshops in the topiary garden of Charlotte Molesworth in Kent, as well as for The English Gardening School and The European Boxwood And Topiary Society. So if you are a keen gardener, a garden club, a group of friends who want to know more or even an absolute beginner who has been bitten by the gardening bug, then do contact me about what you might like to learn. What a laugh we are having in this workshop session I ran for a group of friends in Essex… Many people employ …