THE MODERN MINT BLOG
Urban Bees is bringing bees to our cities. They are not just training people in beekeeping, or partnering up beekeepers with people who have the space to keep a hive (much like the 'adopt a beehive' scheme run by Richard from Essex Bees) but they are also promoting bee-friendly spaces.
Just study the Trees for Bees poster above (you can also view it on the Urban Bees website.) Bees don't want to waste energy, so planting a tree gives the bees an efficient way to earn a vital food source. We love using lime trees in a garden for a client, but the real benefit for bees comes from trees in flower early and late on in the season so get planting a strawberry tree for the Autumn and hazel and goat willow for the Spring!
(We currently have a big patch of cosmos, an annual flower, which is proving incredibly popular with the bees here in Chelmsford. It looks its best in September and should continue to flower all the way through to the first frosts. We have grown it for years now and never cease to enjoy it, as simple a plant as it is…)
Honey will look and taste differently, depending on where it is harvested. In the countryside many farms specialise in only a few crops, so bees visiting these fields will have a narrow diet. Urban bees have the diversity of the city to enjoy, so can stumble across trees and flowers they may not find in any great quantity in the country. On the Urban Bee website they talk about the taste of their honey…
"The honey has a delicate, light flavour with a slight hint of citrus as the bees will have visited many of the local lime trees that flower in June and July."
We have read of a honey from Morocco that was thick and as dark as obsidian. The writer was almost a honey hound, scouring the world to obtain a jar (or at least a taste!) of different types. Until last year, we had never realised honey would be different depending on what the bees had to forage amongst. Nor did we appreciate how different good honey is to the stuff you get in a squeezy bottle… don't buy that anymore, please. Look for something of quality…
Urban Bees is run by Brian McCallum and Alison Benjamin – who wrote these Urban Bee Books
. They are supported by organisations like River of Flowers and Tower Hamlets Cemetery Park, both of whom are doing important work bringing green space to London.
Do support their work and give a helping hand to our Urban Bees.
September 1 st 2014
Aug19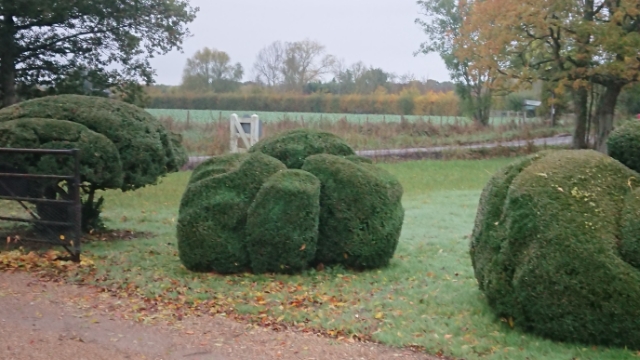 Topiary Composition and design is a major part of my work – which is why I have created an online seminar for keen gardeners and creatives to learn how to compose a piece of topiary. There are several dates available so please head here to buy a ticket. The seminar lasts two hours (including q and a) and will explore the process needed to look at a shrub or hedge and work out what you can design from it. These principles have been learnt the hard way – through mentoring, experimenting and years of practise. Hopefully, it will help you shortcut …
Jun10
Brought By Bike is an excellent website I found last month, where businesses offer their services by (of course) bicycle. Modern Mint and my topiary work is now live on the site offering my topiary services, via bike, to the following two postcodes – CM1 CM2 Now I can imagine I will need to borrow a ladder should anyone have a larger shrub, but most town gardens in the Chelmsford area have a need not just for privacy but to let light into the house… so a balance must be struck when shaping hedges and shrubs to cover both needs. …
May10
Transforming Topiary – a video made for the European Boxwood And Topiary Society by Charlotte Molesworth and I, in her garden. We take a dog topiary and work out how to update it, turning it into a bird. Worth a watch I think, and hopefully useful to you! You can see more of my clipping on the topiary page. Or read my Spring 2021 Topiary Provocation here.