THE MODERN MINT BLOG
This is an interview with Richard from Essex Bees.
We did this partly as a follow up to the interview with Rosybee and partly because the work the two Essex boys of Essex Bees do is fascinating – please do read on to learn more about how they became beekeepers!
What is it Essex Bees do?
Essex Bees set-up and manage bee hives with the support of private individuals, public bodies and businesses, mainly across the south and east of Essex. We also extol the virtues and benefits of not only honey bees but all pollinating insects by giving talks, teaching interested people about beekeeping and answering wide-ranging questions from the general public.
Our aim is to increase the awareness of the importance of the bee and how anyone can help them, with or without our assistance.
How did it all begin?
After one beer too many at a family barbecue! We were discussing the state of the planet and the future for our kids when my brother Dan and I agreed we ought to 'do our bit', rather than sit about waiting for someone else to do it. Making the world a better place for a bee seemed like a good idea, as it would also have a knock-on effect for others – including our kids.
We bought 10 second-hand hives with bees, stuck a couple of small posters in local garden centres to see if anyone was interested, built a website and it's moved on from there.
Before we put a hive on someone's property we do a site survey. Apart from finding the best conditions on where to put the hive we also ask and answer a number of questions on all aspects of keeping bees.
The person who contacted us initially (normally a lady) is always keen, their other half is the one who may be a bit dubious.
Concerns about themselves, neighbours and pets getting stung always come up. I explain that bees may sting only if provoked or if they feel threatened. As long as you are aware of the bees flight path they shouldn't accidently fly into you and its best not to poke around in the hive having a look without a beesuit. Pets get stung once, if at all, and quickly learn from the experience.
On very rare occasions I have decided that either the location is too open to other gardens (for example a hive in the middle of a row of terraced houses with low dividing fences) or that the hubby is really not keen. I then suggest they plant their garden full of bee friendly flowers and attract the insects that way.
So far we have not had to remove a hive once it has been sited and invariably the client wonders if they could have another hive or a friend or family member is interested in having one too. Hence our waiting list!
When did you start beekeeping and what inspired you?
My brother, Dan, used to be a high-flying bank executive working around the world on credit card fraud and IT systems. I used to be a partner in a successful marketing services group in London.
For different reasons we both decided there was more to life and 'downshifted' about 10 years ago. I got an allotment, Dan bought a smallholding in France to live the 'good life' and learnt how to keep bees from an ancient French beekeeper!
After a few years Dan came home for personal reasons and in 2009 we had the barbecue that started Essex Bees. That's when I started beekeeping. We're both environmentally minded and are involved with our local Transition movement, I'm a firm believer in permaculture and Dan despises 'food miles' with a vengeance. It was more a culmination of factors, rather than 'inspiration'.
Can you tell us more about this Ancient French beekeeper?!?
When Dan moved to France (a very rural spot in the middle of the country) he made every effort to fit in. He learnt the language, joined a local bank as an advisor about incoming Brits and also joined the local volunteer fire brigade. He was quickly accepted by the locals and made to feel at home.
When they found out about the life he wanted to live they offered advice and put him in contact with people who could help him. That's how he met his beekeeping mentor.
This gentleman had been a beekeeper for most of his life, was a member of the Maquis during the war, and had run the local beekeeping supply business for many years.
In his late 80's he still gave lessons to those that wanted them, to help supplement his pension plus he enjoyed passing on his knowledge. After learning the basics it's then just a matter of gaining experience…
What makes a good beekeeper?
Patience and a calm persona. A willingness to work with nature rather than try and dominate it. All we do is make sure the bees don't go hungry and treat them for disease if required. It's a case of 'live and let live'.
How can people help pollinating insects…?
Don't use pesticides and grow bee-friendly plants that flower at some point in time from February to October. Lack of suitable forage at all times of the 'bee season' means they can starve. Bees like simple flower structures, not showy multi-petalled ornamentals. Better a foxglove than a double-headed begonia.
Pesticides are indiscriminate and are as lethal to a bee as they are a sawfly. For 'pesticide' think 'insecticide' – or homicide, suicide, regicide. The end result is the same, dead bugs.
Different pollinators have different habitat requirements but leaving piles of wood, or long grass in a 'wild' part of the garden all help. There are not just honey bees and bumblebees, there's also mason bees, carpenter bees, hoverflies, butterflies – the list goes on.
The upside of all this is that other wildlife is also attracted. Put some water on-site (pollinators drink water too, a hive of honey bees can use up to a litre of water a day in the summer) and you'll get even more wildlife there. Bees prefer 'old' water rather than fresh out of the tap!
What are your top 3 plants for attracting insects?
Different pollinators prefer different plants (it's got a lot to do with the length of their tongues reaching the nectar, these vary a lot). Oilseed rape, borage and buddleia attract insects as they pour out nectar, especially for honey bees. Bumblebees love lavender. Sedums are also popular. Ivy is arguably the most important as it flowers at the end of the year when nothing else does.
So my 3 most important plants are willow (the catkins are an early season food source), borage (as bees love them and it makes great honey!) and ivy that is allowed to flower.
In part 2 Essex Bees discuss ways to 'downshift' your life…
For books about beekeeping, visit Amazon now to find Books About Bees
August 1 st 2014
Sep29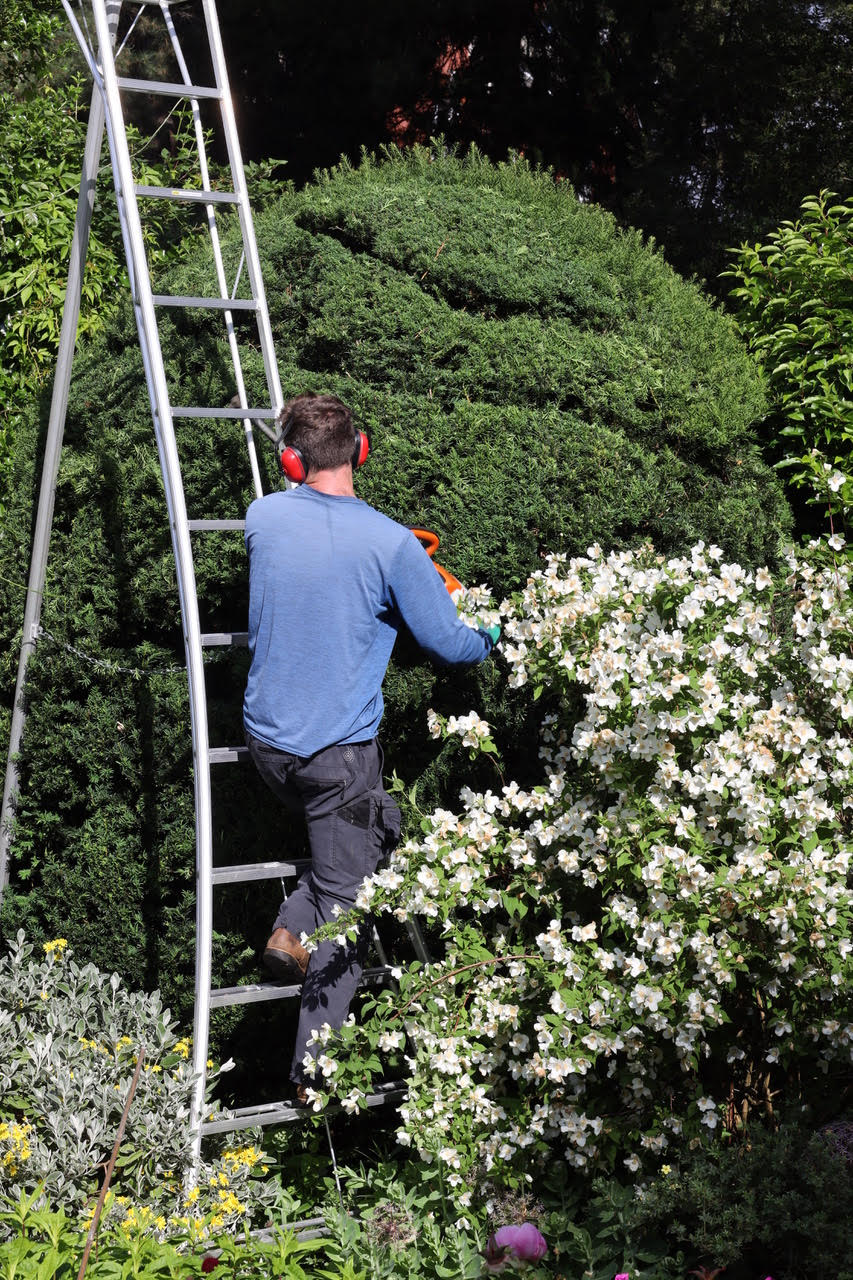 Making a new topiary out of the large, dull facade of a Taxus blob… My work was to change it up from a 'jelly drop' shape and give it texture, open it out and let the light through, and make it a sculptural feature in the background of the garden in summer… yet a major part of the garden in winter. A few more years before it becomes something special, but there was far more leaf and growth inside the plant than I thought and so it will not take too long for it to gain in character and become …
Sep27
Two weeks ago I was invited to teach topiary at the garden of Griselda Kerr, the author of The Apprehensive Gardener. I love teaching and sharing skills, but I was placed on the spot in the afternoon and asked to show how I would make a new topiary from an existing shrub. So below is a speeded-up video of me creating a cloud-pruned topiary from an old boxwood tree. I particularly love the ending when the class get involved….! See the video here. One hour was all it took, and though it needed a little tidying-up, it was made by …
Sep27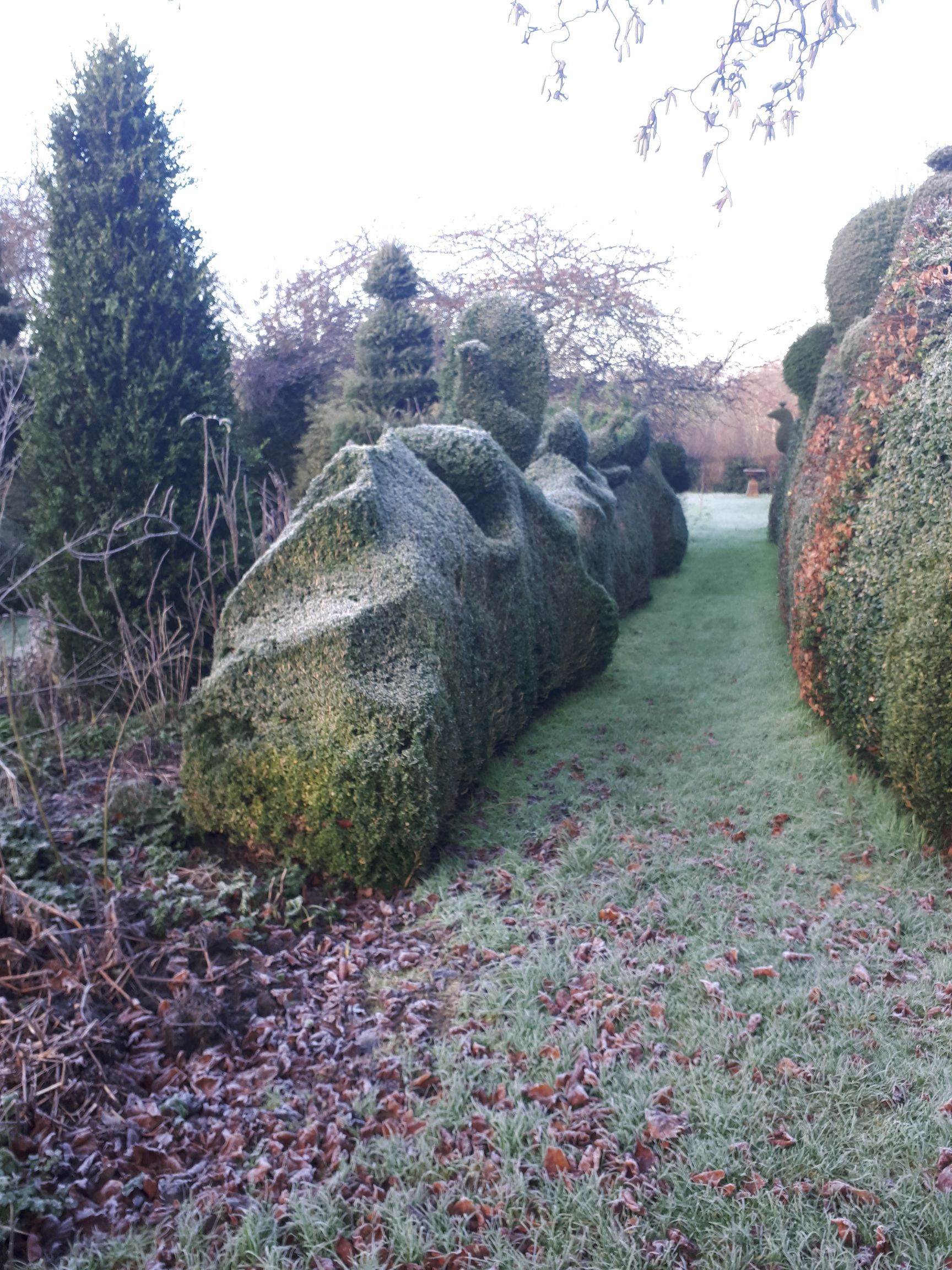 Charlotte Molesworth, my topiary mentor, and I are running our popular topiary workshop again in 2022. You can email me for details – or go here for information, your ticket and to find out about dates. Book A Spot On A Topiary Workshop, September 2022