THE MODERN MINT BLOG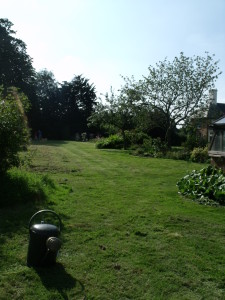 Talking Grass is a blog by writer Sara Gregson. We recommend you take a look as it pulls together the many functions grass plays in our lives – from providing food for the animals we eat, to providing the surface we kick a ball on – making us stop and think about something we so often take for granted. We like that kind of writing…
Her post 'Lawns are Far from Pointless' has several highlights, including telling us about the Salisbury Lawns, five and a half acres of lawn at Chatsworth house that is full of wild flowers. Delightful! Could we all have a lawn like that please…?
Or if you have the time, why not check out the Cricklade North Meadow? It is an undisturbed hay meadow near Swindon, a registered Site of Special Scientific Interest and filled with Fritillaria meleagris. We hope it inspires you as much as us!
And if you want a book about traditional lawncare (though we aren't sure why you would…)
But this book… well, now you're talking…
April 24 th 2014
Feb10
There seems to be some underhand shenanigans going on here. Bob Flowerdew is threatening to resign. We face losing the UK's cornerstone organic garden. So please take a look at what is going on via the Facebook group…. go on! Go Now! Save Ryton Organic Gardens!
Feb06
Today we will be looking at Garden Design Trends in 2018. Just so you are in the know about what is cool and what is not cool in the 12 months ahead…. For the past like, million years I have shared my thoughts on what the gardening industry tell us the latest trends are going to be. If you are interested, you can see here the garden design trends for 2017. Or take a peek at my favourite of all the posts I have written – Alternative Garden Design Trends. This is my individual take on what the latest garden design …
Feb06
Well now, this is interesting…. UK Plans 50 Million New Trees in Northern Forest Likely? See the pitfalls? We love the idea and wholeheartedly support as much tree planting as possible. But are seriously doubtful that this is more than a sticking plaster solution to England being so vastly 'under-treed'…. or should that be 'overfelled?' Yet whether this idea happens or not, all we ask is that you please make sure you plant as many trees as you can in your garden!