THE MODERN MINT BLOG
The most important lawncare question…
…is what do you want your lawn to do?
If you want a fine, green, healthy, thick, lush, short sward that is moss free, your children can play football on when it rains, cricket on when it is bone dry, the dog can urinate all over and can take a marquee stuck on top of it for a week… then you will need to invest a lot of resources to make that happen.
But if you want a hard-wearing lawn that looks good – that is possible, and can be achieved with a few simple treatments and a recommended cutting height, with sharp mower blades, at regular intervals through the year.
Let's be clear – a lawn is a big, dull monoculture that requires labour intensive work. It is not our idea of a modern garden feature for a modern lifestyle. But we have found most people insist on one, no matter the cost. (Click on the ads on this page to discover what you can buy for your lawn!)
Is this due to a lack of alternatives?
The chamomile lawn is muted as an option (still needs weeding) or matting with gravel on top (not good for the soil below.) Artificial lawn, moss and sedum lack a certain romance. Some have begun sowing meadows (the most important meadow question? What do you want your meadow to look like? Simple, modern gardening always seems to start with a riff on this question…) which we love, but it requires a lot of thought in the setting up and establishing of. If you don't have the patience or the long term vision, then a meadow may not be the option for you.
We would like to propose one other option though. Have a lawn. Don't deny yourself the pleasure. But if you have a lawn, do it properly. Have the 'lawniest of lawns' – the lushest, most verdant, well shaped and striped lawn you can achieve – take your lawn to the max and don't apologise for doing so.
But don't make it too big. Make it… just big enough, that it gives you that pleasant, restful sense that a large canvas of green gives. Then around it, using the remaining space that was previously just more lawn, put in ornamental grasses. Satiate the area with their dancing flowerheads.
The contrast between the mown lawn and the ornamental grass will look magnificent. The longer, undisturbed grass is a haven for wildlife. The work required to maintain it? Minimal. You get your fine lawn (the finest lawn!) and save yourself the hassle of mowing, strimming, edging and tidying every week. A bold move, but we think a fine one.
Take a look at this pool lawn designed by Tom Stuart Smith. It is the first and ninth picture of the Cheshire garden photos. It's a great take on a pool garden lawn and really makes us laugh. Would you be brave enough to go for something like this?
If you live in Essex or the surrounding regions and want to improve your lawn, or do something great like sow a meadow, Modern Mint can provide you with a simple, good value programme.
But before you call us, have a think about what it is you want from your lawn. It is, after all, the most important question.
(And you can have your questions answered here – the simplest lawncare book… it's a must-have if you insist on a perfect lawn…!)
January 27 th 2014
Nov17
This Autumn I have presented another 'Topiary Provocation' to keen gardeners and designers. If you want to know more about topiary, the report on what we discussed and where modern topiary is going can be read by clicking the link below: Topiary Provocation Report Autumn 2021 This report is free to post on your own website or blog, just credit Modern Mint, and don't change anything within it. Alternatively you can just share it with keen friends… or enemies?
Sep29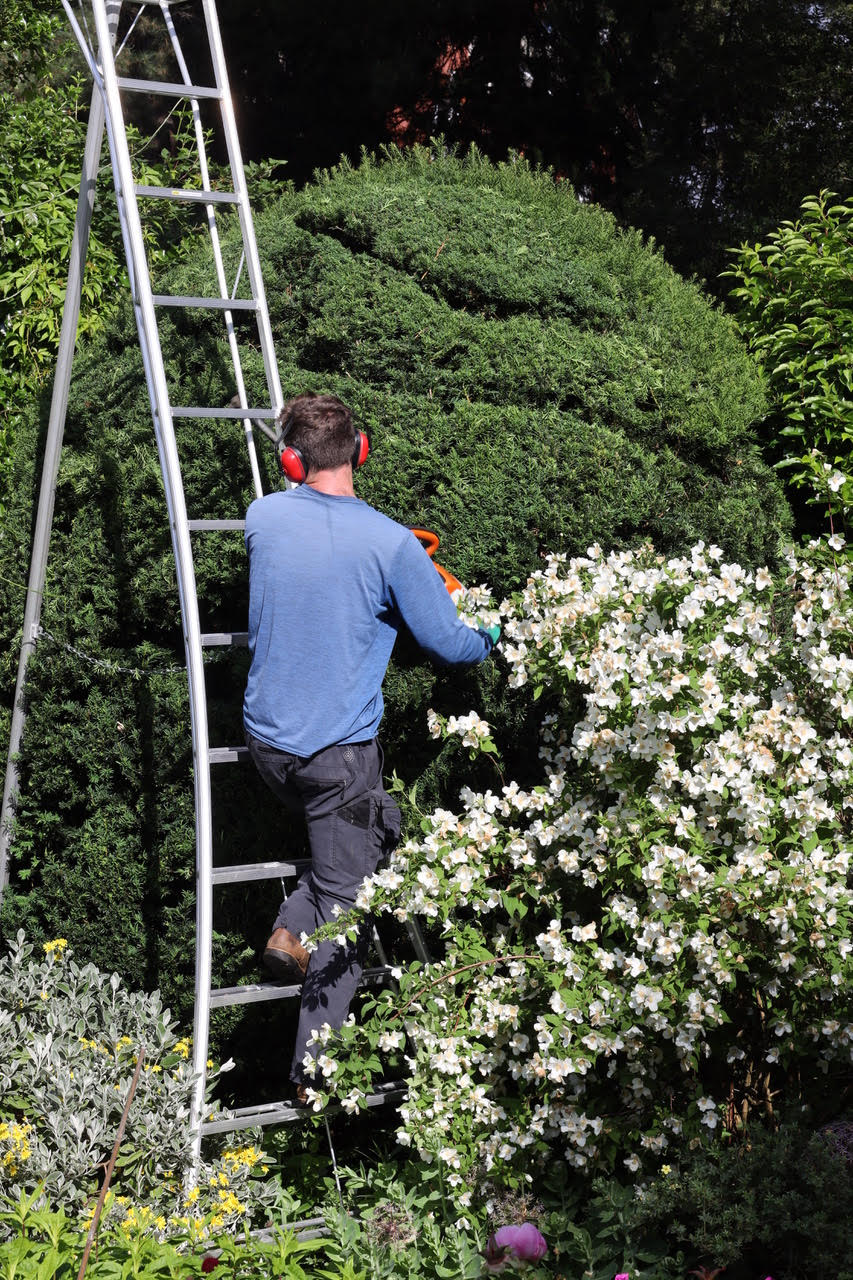 Making a new topiary out of the large, dull facade of a Taxus blob… My work was to change it up from a 'jelly drop' shape and give it texture, open it out and let the light through, and make it a sculptural feature in the background of the garden in summer… yet a major part of the garden in winter. A few more years before it becomes something special, but there was far more leaf and growth inside the plant than I thought and so it will not take too long for it to gain in character and become …
Sep27
Two weeks ago I was invited to teach topiary at the garden of Griselda Kerr, the author of The Apprehensive Gardener. I love teaching and sharing skills, but I was placed on the spot in the afternoon and asked to show how I would make a new topiary from an existing shrub. So below is a speeded-up video of me creating a cloud-pruned topiary from an old boxwood tree. I particularly love the ending when the class get involved….! See the video here. One hour was all it took, and though it needed a little tidying-up, it was made by …