THE MODERN MINT BLOG
We have had the brilliant good fortune to have been able to interview the people at Seedball, who kindly found the time to tell us a little more about their brilliant product for the garden (we have been expounding about these little tins for a long time now – you can even buy them in the Modern Mint Shop…)
Read on to find out more about who Seedball are and what wonderful work they are trying to do…
Can you tell us what Project Maya and Seedball do?
Project Maya is an environmental social enterprise established by a group of conservation scientists in 2011 to found a global network of permaculture nature reserves across the globe. The aim of these 'Maya Reserves' is to create a radically different approach to nature reserves, with space for both people and nature to be together in harmony. Each Maya Reserve will be within or close to an urban area, will be run cooperatively with the local community and will follow the same guidelines:
Principle 1: Maya Reserves look after the earth and re-build its capital. The Earth is a living, breathing entity. Without on-going care and nurturing there will be consequences too big to ignore. A Maya Reserve works to rebuild natures capital. A Maya Reserve must not damage nature and should work to increase biodiversity.
Principle 2: Maya Reserves look after people. We must look after self, kin and community. Maya Reserves encourage self-reliance and personal responsibility. Self-reliance becomes more feasible when we focus on non-material well-being, taking care of ourselves and others without producing or consuming unnecessary material resources. A Maya Reserve should work to look after people and increase community well being.
Principle 3: Maya Reserves are a place of sharing. Maya Reserves should redistribute surplus. There are many ways that we benefit from giving a fair share to others and the environment. A Maya Reserve should work to reduce inequality in resource distribution.
The concept is based on permaculture and on our own extensive research into conservation and what works. It's certainly an ambitious project, but one we feel that is necessary to address the degradation of biodiversity and increasing urbanisation of human populations. We aim to buy our first Maya Reserve plot by the end of 2015 and go from there! It's also possible for existing community projects with land to join.
While we work to raise funds to begin our land re-grab, we also run a number of campaigns and a blog series, all of which aim to promote/raise awareness of sustainability issues. Our latest campaign (to be launched on Sept 15th) is the Peat-Free Pledge campaign, which encourages gardeners to only buy peat-free compost, and is supported by a number of well-known organisations and celebrities. We're also involved in a number of research projects/grants on knowledge exchange for sustainability, while we offer training courses to academic and governmental institutions on how to embed impact in research.
Our main project of the moment however is 'Seedball'. Pretty soon after we started Project Maya, we decided to launch a commercial arm of our business to help us raise the capital needed to fund land purchases for Maya Reserves. We wanted to launch a product that would have a conservation impact, and, having come across the work of Japanese natural farming innovator Masanobu Fukuoka, we quickly realised the potential for manufacturing and retailing wildflower seed balls. Fukuoka revived the ancient technique of seed balls in the 1970's, where compost, clay and seed are mixed into marble sized balls and scattered to grow crops more efficiently, without damaging the soil and with very little human input. We instantly loved this idea as growing wildflowers from seed can be super challenging, and helping people grow more native wildflowers would be great for pollinators, who have struggled with the continuing loss of wildflower habitat since the Second World War. Scattered seed is very vulnerable to seed predators, and without careful propagation or management, much of it can be lost to birds and ants. With seed balls, the clay holds the ball together and prevents birds from reaching the seeds inside, while the compost provides nutrients for the newly emerging plants.
We've also added our own twist on Fukuoka's recipe to include chilli powder, as this provides an extra deterrent for seed/young shoot predators.
Why should we use Seedballs?
It's easy to overlook the impact that our gardens (or even window boxes and patio pots) can have to help wildlife (and their own well being). In the UK alone the area our gardens cover combined is more than the combined area of all our national nature reserves. So we felt that a wildflower seed ball product aimed at gardeners (and people with space for a few pots) was the right direction for our company. We officially launched Seedball in March 2013 and we're delighted with how things are going (and growing!). We've also teamed up with River of Flowers, an organisation working to increase urban wildflower habitat. They created the recipe for one of our Seedball varieties, and receive £1 from the sale of each tin towards their important work.
We really hope to inspire people to do what they can for wildlife, and to demonstrate to them how easy it can be. Once the seed is there, protect it, and leave things to nature as much as possible.
Part Two of this interview is coming soon…
Or here you can buy Seedballs…
September 30 th 2014
Sep29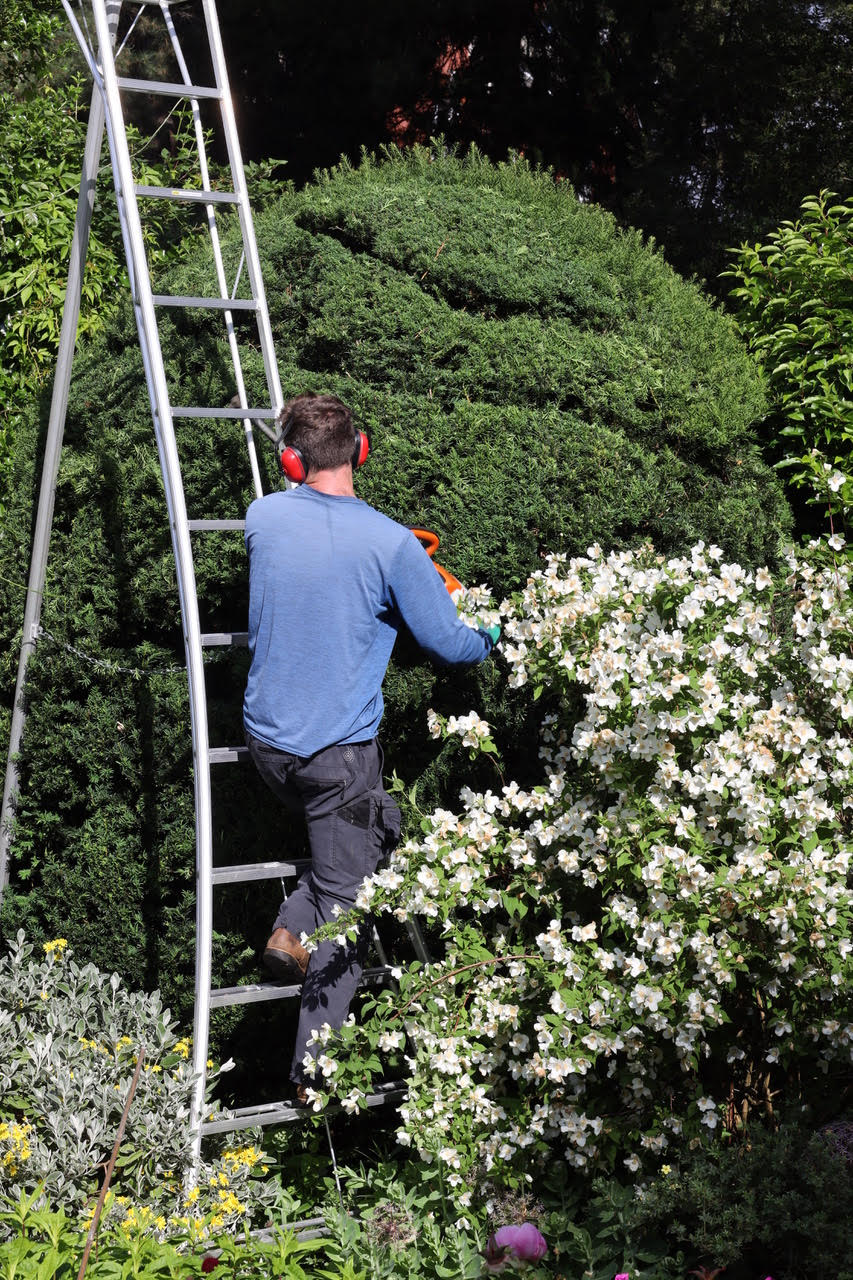 Making a new topiary out of the large, dull facade of a Taxus blob… My work was to change it up from a 'jelly drop' shape and give it texture, open it out and let the light through, and make it a sculptural feature in the background of the garden in summer… yet a major part of the garden in winter. A few more years before it becomes something special, but there was far more leaf and growth inside the plant than I thought and so it will not take too long for it to gain in character and become …
Sep27
Two weeks ago I was invited to teach topiary at the garden of Griselda Kerr, the author of The Apprehensive Gardener. I love teaching and sharing skills, but I was placed on the spot in the afternoon and asked to show how I would make a new topiary from an existing shrub. So below is a speeded-up video of me creating a cloud-pruned topiary from an old boxwood tree. I particularly love the ending when the class get involved….! See the video here. One hour was all it took, and though it needed a little tidying-up, it was made by …
Sep27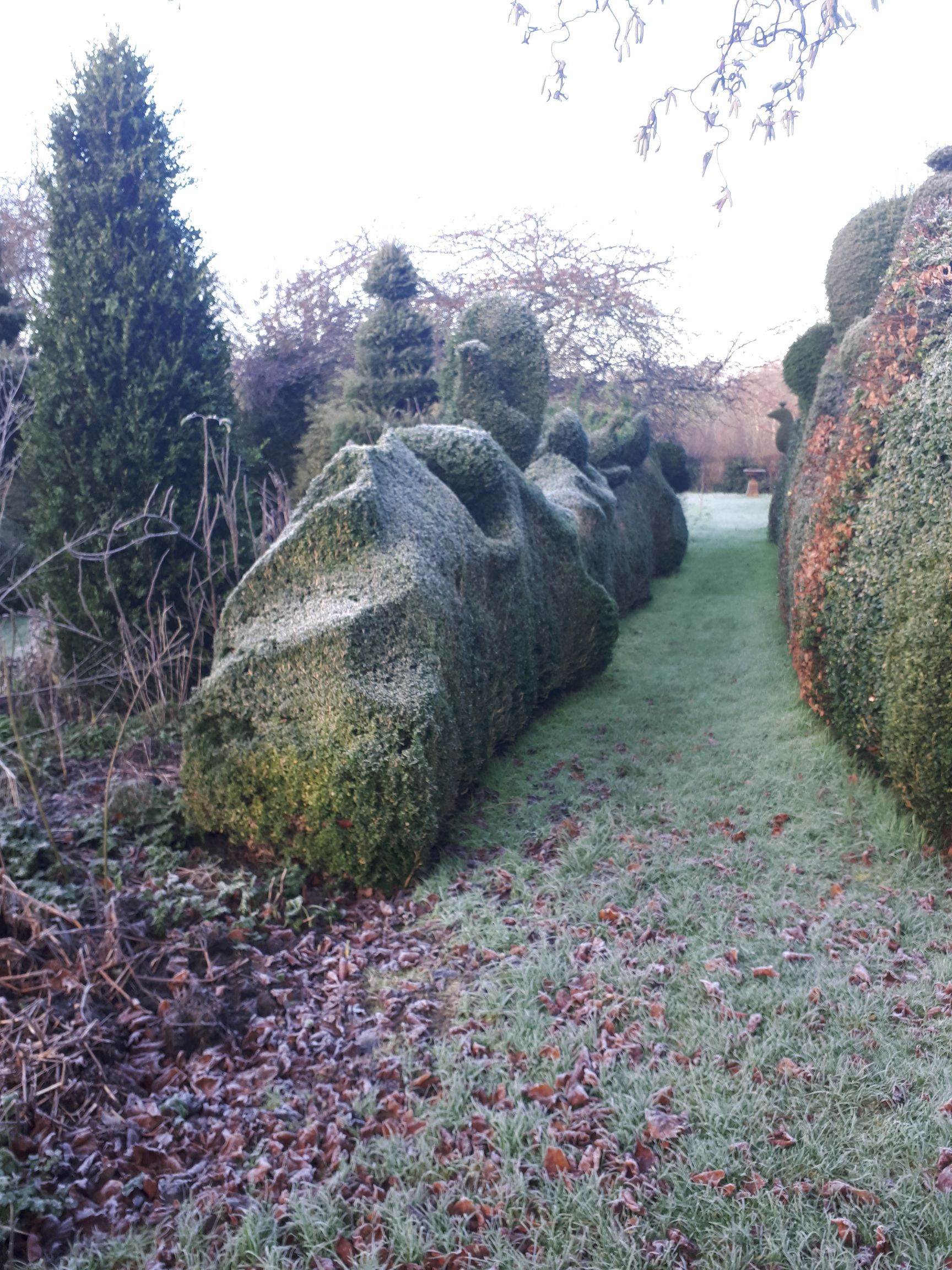 Charlotte Molesworth, my topiary mentor, and I are running our popular topiary workshop again in 2022. You can email me for details – or go here for information, your ticket and to find out about dates. Book A Spot On A Topiary Workshop, September 2022