THE MODERN MINT BLOG
Sepp Holzer (who wrote this book Sepp Holzer's Permaculture) is an Austrian farmer, who until recently farmed the Kramertehof – 45 hectares of land 1500m above sea level. He is known as a guru of Permaculture. Although it seems the methods he follows are similar in philosophy to those of permaculture – to live lightly on the land, to garden with instead of in opposition to nature – he has very much developed his own interpretation of how to grow food, keep livestock and earn a living off his land.
Here is Sepp Holzer on video – though it is in German, which we don't speak – but it may be something you can spend time enjoying, and is definitely worth watching just for the scenery on the farm…
We have recently been reading his book Permaculture for the third time. We still pick up new ideas on each read, but also feel more and more confused. The book is supposed to be a practical guide on how to garden the Sepp Holzer way, but we find it often does more to stir the imagination than provide solid practical advice. Perhaps we need to see the farm itself to gain a better understanding of how it works in practise – although as of 2013 the Kramertehof now belongs to Sepp's son, and Sepp is now gardening 23 acres in the driest region of Austria at a farm called the Holzerhof.
Reading a book that confuses you but also keeps you coming back to it is an exhilarating experience – you know there is something there to understand, but it is causing you discomfort (which you must learn to enjoy) and a lot of energy trying to discover what it is you are missing. This post is really just a gathering up of Sepp related material, rather than a critique, as we don't feel we 'get it' enough to start throwing around opinions…
Another video then of Sepp, in English…
And this is a large website full of articles written by a guy who spent time with Sepp discussing permaculture techniques… this is what he wrote about meeting Sepp, "it was bizarre to meet him and shake his hand! And his hands are freaky huge! My hands are freaky huge, but I'm a giant. His hands are bigger than mine."
This made us laugh a lot!
This is Sepp Holzer himself, from his book Permaculture…
On Helpers in the Garden
"Nature is perfect. Therefore, I must think about what effects my system has on nature… if I have too many aphids on my fruit trees, that means there are not enough natural predators (among these are ladybirds, earwigs, hoverflies, lacewings, various spiders, beetles and birds) and frequently there is not enough shelter or suitable habitat for them. If… the ground is richly structured with stones, branches and leaves, the number of creatures which prey on aphids will increase. It is not necessary to take additional measures."
On Waterscapes
"Water is life, so it is of great importance to deal with this resource carefully… in a permaculture landscape every resouce and advantage is made use of exactly where it is. This is why I often consider drainage to be a bad idea. Where water is found is where it should be made use of. If I want to make money out of wetlands I do not drain them, instead I cultivate plants like orchids or a variety of aquatic and marsh plants that prefer damp or wet conditions… by doing things this way and paying attention to the natural conditions of the land I have always had excellent results."
On Keeping Livestock
"In a time when the focus is always on high performance and this unhealthy drive for profit has affected the breeding and keeping of livestock, it is especially important to preserve diversity, which represents a significant cultural heritage. Old domestic breeds are not only significantly hardier, they are also more intelligent and adaptable than their over-bred and degenerate cousins."
You can support Old Breeds in the UK by giving £34 to become a member of the Rare Breeds Survival Trust. We are thrilled to help them this way.
On Soil
"A healthy soil that is rich in micro-organisms is a fertile soil. This is a fact that a farmer should never forget, because it is the main requirement for succesful farming."
Last of all then Sepp Holzer has written 3 books, including the one we have quoted from above. They are:
We hope this gives you a useful introduction to Sepp Holzer and his work. And do contact us if you have a better understanding of his books than we do – we would love to open this discussion up to more people with experience!
Thank you!
September 4 th 2014
Sep29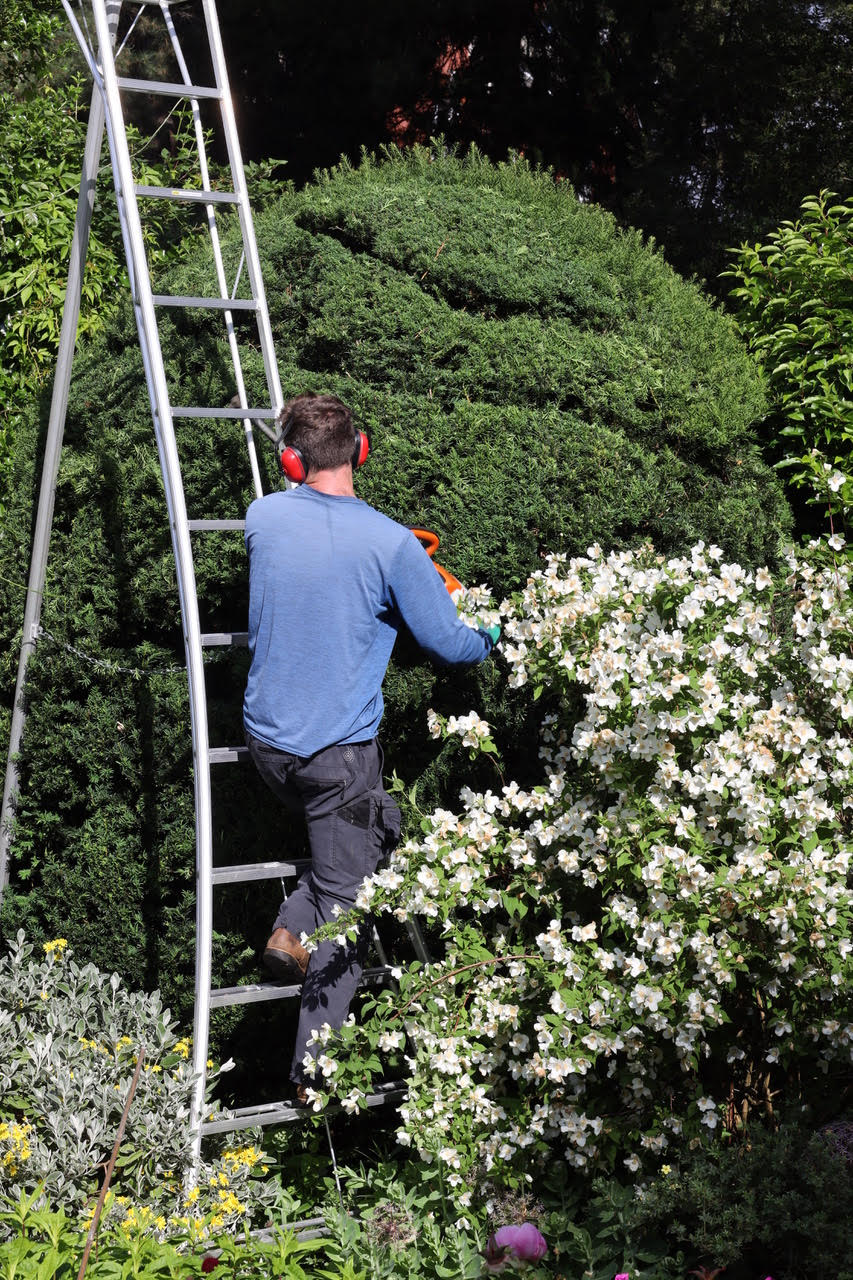 Making a new topiary out of the large, dull facade of a Taxus blob… My work was to change it up from a 'jelly drop' shape and give it texture, open it out and let the light through, and make it a sculptural feature in the background of the garden in summer… yet a major part of the garden in winter. A few more years before it becomes something special, but there was far more leaf and growth inside the plant than I thought and so it will not take too long for it to gain in character and become …
Sep27
Two weeks ago I was invited to teach topiary at the garden of Griselda Kerr, the author of The Apprehensive Gardener. I love teaching and sharing skills, but I was placed on the spot in the afternoon and asked to show how I would make a new topiary from an existing shrub. So below is a speeded-up video of me creating a cloud-pruned topiary from an old boxwood tree. I particularly love the ending when the class get involved….! See the video here. One hour was all it took, and though it needed a little tidying-up, it was made by …
Sep27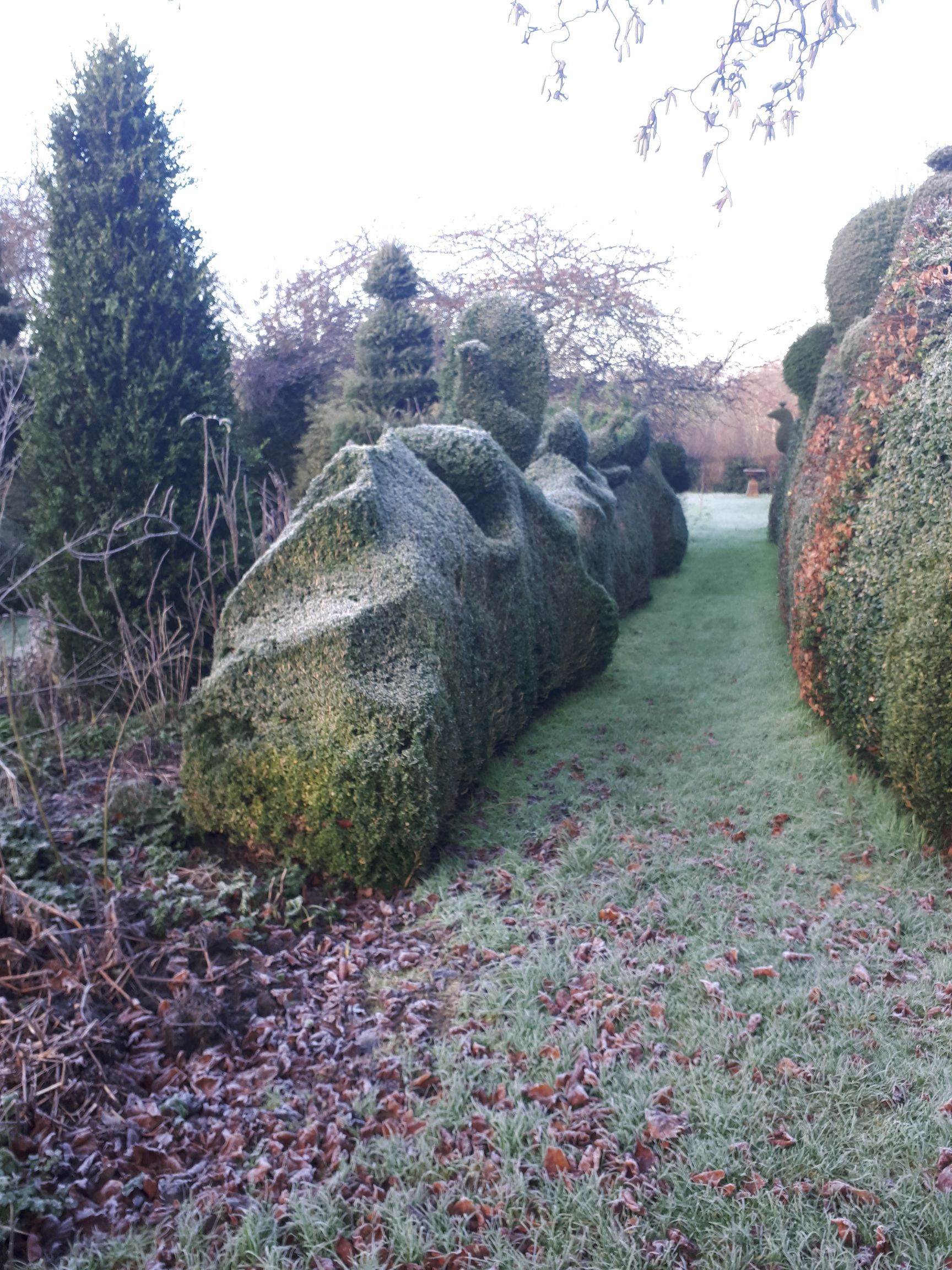 Charlotte Molesworth, my topiary mentor, and I are running our popular topiary workshop again in 2022. You can email me for details – or go here for information, your ticket and to find out about dates. Book A Spot On A Topiary Workshop, September 2022